Product: Solvit PetSafe Deluxe Telescoping Pet Ramp
Where to buy: Amazon
Price: See Amazon for pricing.  Usually around $100.
Size: Adjustable from 39″ to 72″
Weight: 13 pounds
Warranty: Limited Lifetime Warranty
My Rating: 4.5 stars out of 5 stars – because of the length and width.
I believe that the Solvit Telescopic Dog Ramp is one of the best dog ramps that you can purchase for your dog's safety.
It is also the best large dog ramp available, and I am going to explain what the features are of this ramp, what makes it a great ramp for large breed dogs and for SUV use, and how it has been reviewed by owners of the Solvit Dog Ramp.
Why The Solvit Telescoping Dog Ramp Is Good For Large Dogs
If you have a large dog, especially if they are becoming older, you will start seeing that your dog is having a harder time jumping into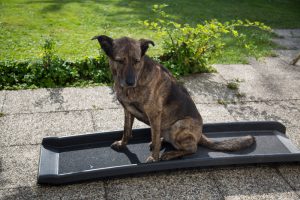 your vehicle. You might even see that they start to hesitate jumping out of the vehicle also, especially if you have an SUV or a truck
Large dogs and elderly dogs need a ramp to help them get in and out. I have a 90 pound Golden Retriever, and for the last year or so, he will no longer jump in or out.
If he doesn't have a ramp to use, he puts his front paws up in the vehicle, and I have to lift the back end. I realize I am only lifting a portion of his weight, but it can just kill your back trying to get him up there. I have the same issue when he wants to get into bed. Front paws up, and waits for me to lift the back end.
The Solvit Deluxe Telescoping Ramp is the one that I consider to be the best large dog ramp available. Here is why:
Telescoping Design. No folding or pinching of fingers you can experience from the folding models
Infinitely adjustable from 39″ to 72″. With this length, it allows you to create a gentle slope, making it easier on your dog to walk up the ramp, or a shorter ramp when you don't have much space or a short distance up. Again, on folding ramps, you only have one length available.
17″ wide. This is one of the widest ramps you are going to find. If you are using the ramp for a large dog, you need the ramp to be wide. Many ramps are only 14″ wide, and large dogs are going to be more nervous going on such a narrow ramp. Take into consideration how wide your dog is and how much extra room that gives him to the sides.
Raised guide rails. This is going to help your dog feel more secure walking up or down the ramp.
Four rubber feet on the bottom to prevent the ramp from sliding when in use.
Out of the above benefits, the two that I would really focus on for importance is how long you can make the ramp and the width of the ramp. There are few ramps available with either of these features and both are so important for your dog's safety, ease of use, and your dog feeling secure.
You will need to spend some time training your dog to properly use the dog ramp. Read the following training tips for getting your dog prepared to use the dog ramp safely.
Features Of The Solvit Dog Ramp
This dog ramp is only 13 pounds making it easy to move around. It is manufactured with aluminum and a plastic design, making it light and strong at the same time. Supports up to 400 pounds. It is recommended for dogs only and not people. Remember, a dog's weight is spread out over 4 paws distributing their weight more than our weight would be distributed.
Convenient carry handle on the side with a safety release latch to prevent accidentally opening when moving the ramp around.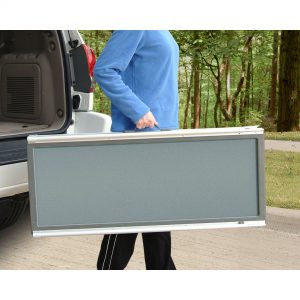 Easy to clean. Use a mild detergent or simply hose off the ramp when it needs to be cleaned.
High traction walking surface similar to a fine sandpaper. This helps reduce the possibility of your dog slipping on the ramp.
Infinitely adjustable from 39″ to 72″ long, making it the best dog ramp for SUV's but also works great for short deck stairs or getting up on a bed since you can easily change how far out you pull the ramp.
Raised guide rails making your dog feel more secure walking on the dog ramp.
Made in the U.S.
If you don't think this medium-sized Solvit Dog Ramp is big enough, they also have an extra long one available as well. It is 42% bigger than the Deluxe ramp. It is 20″ wide, weighs 18 pounds, supports 300 pounds and has an adjustable size from 47″ to 87″, and costs under $150. Between these two large ramps, one of them should work out great for your large dog.
The medium size ramp works best with most vehicles, cars, SUV and minivans.
The extra long size ramp works best where there are steep inclines such as veterinary tables, and all vehicles such as SUV's, trucks, cars and minivans.
There are accessories that are also available for purchase separately. They offer a ramp carry case for $29.99 and also a side door adapter if you are going to be loading your dog on the side instead of the back. This includes a harness to attach to help keep your dog safer without movement of the ramp. This side door adapter costs $19.95.
With the length, width, weight capacity and along with several other features Solvit has available, it is easy to see why I consider this to be the best large dog ramps you can purchase.
Reviews of Solvit Deluxe Telescoping Pet Ramp
Over 700 people have written reviews of this product with Amazon with over 50% rating this product with 5 stars out of 5 stars. You can see all the reviews here if you would like. Here are the highlights:
Pros:
Love how easy it is to open and close and store, including in your vehicle.
The extra length and width are an added bonus from many other ramps on the market.
Strong and sturdy with no flexing or bowing when large dog is on the ramp.
Rubber feet help prevent ramp from moving.
High traction walking surface shows up as a positive and a negative. Some felt that it was too rough on their dogs pads, and others felt that it offered good traction. I feel that the texture is fine, but if my dog didn't't like it, I would add a rubber covering.
Easier to set up than the folding ramps.
Able to adjust the length for different heights.
Cons:
Too heavy and awkward to handle. This one is surprising since the medium size only weighs 13 pounds, and the weight is listed anywhere you would purchase it from.
Too steep. With it measuring out to 72″, the angle isn't very steep for most applications. I am not sure if they didn't extend the ramp.
Sharp edges. There was an issue previously and these were from older reviews. PetSafe has since made some changes to remove the sharp edges.
Warranty
The Solvit Deluxe Telescoping Pet Ramp's warranty is a limited lifetime warranty. It is warranted to be free from defects in materials or workmanship for the life of the product. The only thing that is required for your warranty, is a copy of your original sales receipt.
They also have a 100% satisfaction guarantee. If you are not 100% satisfied with the product after you have tried it, you can return it within 45 days for a complete refund. That should give you the confidence to know that If you think this is the right product to use, try it. You do have the ability to return it if it isn't everything that you thought it was going to be.
Conclusion
I strongly feel that it is important to protect the stress that is put on our dog's joints from jumping in and out of vehicles or off of beds. Using a dog ramp is the best way that you can accomplish this.
It takes time to get your dog comfortable to safely use a dog ramp. Start slow with ramp laying flat and gradually increase the incline. When using a dog ramp, you should always be on the side of the ramp to help guide your dog up the ramp and to help prevent them from falling or jumping off.
It is important to make sure you get a ramp that is wide enough for your dog to feel comfortable on and one that is long enough to make sure the angle isn't too steep.
The Solvit Telescopic Dog Ramp is one of the widest and longest ramps that you are going to find. Your dog's safety is the most important thing to consider and that is why I feel these ramps are the best dog ramps you can get for a large breed dog.
If you have any questions or comments, please leave them below. If you are already using a great dog ramp, let us know which one you are using so we can share with everyone else.
Some of the links within this post are affiliate links of which I may receive a small compensation from the sales of certain items. That in no way changes our views about the products we are recommending.