Welcome to my website, Just For Your Dog. I am so happy you stopped by, and I hope you will find what you are looking for or that you will learn something here to help keep your dog healthy and happy. Please let me know if you have any suggestions of items you would like to see.
Me and my dogs
I live in Wisconsin, and currently have one golden retriever, along with a family. I have always really loved dogs, and most animals in fact. I have always had a dog since high school. First I had a Lhasa Apso next I had a Doberman, and for the last 20 years I have had Golden Retrievers. I seem a bit stuck on that breed currently, as there has been 3, and I think the next one will probably also be a Golden Retriever. The last time that I picked out a puppie, they were all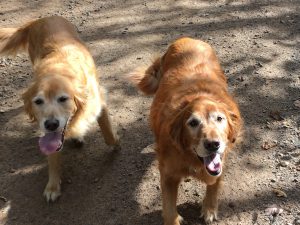 so cute, I ended up getting 2 males from the same litter. That was a bit challenging, but I loved them beyond belief.
Of the 2 puppies that I got, I only have one left and he is 10, and I'm grateful for everyday I still have. I lost his brother in November. He ended up getting cancer and after 3 months of pain medication, we had to put him to sleep. It broke my heart, and I miss him every day, but at least I still have his brother and now he gets double the love since he is the only one.
I feel dogs can bring such joy to our lives. I know for me, every time a see a dog out for a walk or riding in a car, they always make me smile. They love you unconditionally, and are always happy to see you when you get home. They have more love to give than any human I have ever met. Give them love, a walk, and of course some treats, and they will always be there for you.
(Updated 9/13/19)  About a month ago I lost my friend Hunter, one of the 2 brothers I had left.  He is the blonde one on the left.  He was almost 12, and for the last year he was really struggling with health issues.  Many of my past articles were inspired from health issues that he was experiencing.
When we are ready, there will be a new puppy coming to our home.  It will most likely be another Golden Retriever.  I would expect that he will also be inspiring many ideas for website, so soon there will probably be many articles on surviving with a puppy, how to train a puppy and activities for a puppy.
Why I Want to Help You
Because I have such a passion for dogs, and I believe most dog owners also have a passion for their dogs, I decided I wanted to work on a plan to try to make life better for dogs and their owners. If someone would ask me what type of work would make me the happiest, I would reply working with dogs. It wouldn't really feel like work, but rather just spending my time with something I really enjoy. And isn't that what all of us hope to do.
People get busy with work, family and all kinds of other activities. It would be great if my site could help you save time getting what you need for your pet all in one location.
My Goal
I would like to provide you a place that has your dog's needs from treats, bones, food, vitamins, clothing and accessories. I would like to provide you with savings when available and include new product ideas along with general information about caring for a dog.
I also want to help educate you on training ideas, review products so you know what is good and provide information to make life easier with a dog
If you ever have some ideas of things you want information on or have any questions, feel free to leave them below or email me at marla@justforyourdog.com and I will be more than happy to help you out.
All the best,
Marla
Justforyourdog.com
Marla@justforyourdog.com