Having a dog with allergies can be a real struggle for you and your dog. Red skin, chewing off their fur on their paws or belly, and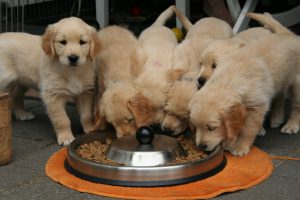 frequent ear infections are just to name a few of the problems they could be facing.
Dogs and food allergies can be a real struggle for you and your dog, and you need a dog food for dogs with allergies to help get it controlled.
Food allergies in dogs are genetic and are passed on from their parents. Before getting a new puppy, always ask if the parents had any allergies. Trust me, this can really help in the future, as I have experienced this exact situation.
Below you will find information better explaining food allergies, what are the common ingredients causing food allergies, how to test for food allergies, and what is the best dog food for dogs with allergies.
Food Allergies In Dogs
Dogs more commonly suffer from food sensitivity/intolerance. This is a more gradual reaction, rather than a full on allergic reaction requiring immediate emergency treatment that in known with true allergic reaction.
Over time, the intolerance for the food they are receiving can cause skin reactions, ear infections, or upset stomach. The problem occurs when breaking down the proteins in the problem ingredient. The top allergy causing foods are nearly all proteins.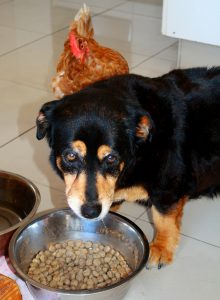 Another issue that many dogs suffer from is Gluten intolerance. Just like many humans have a problem with Gluten and feel like a different person when removing Gluten from their diets, dogs have the same problem. When you look at the ingredients in your dog's food, you will almost always find that their diets are loaded with Gluten. Look for foods that Gluten Free.
Options that you have if your has food allergies are receiving a prescription food from your vet, you can make your own dog food, or you can purchase commercial dog food with limited ingredients. The dog food I have listed below is going to be the commercial dog food with limited ingredients, grain free dog food, and proteins that aren't the common ones that cause dogs to have allergies.
Most Common Ingredients For Dog Allergies
There are many things that your dog could be allergic to, but there are several very common ones that most dogs that have food allergies will have an issue with. The problem with this list, is that most regular dog food that you will purchase will probably have several of the following ingredients in their food.
Corn
Wheat
Beef
Chicken
Lamb
Pork
Rabbit
Fish
Dairy
Egg
Soy
Testing For Food Allergies
There are a few ways that you can go about finding out what your dog is allergic to, and they will range in price depending on which method you choose to go with.
You can have a blood test done. There are kits for this that you can purchase online.
You can have a commercial skin test done. This is a very expensive process. I had this done for one of my dogs that had very severe allergies. I took him to a specialist and they shave a patch on the belly and actually pricked him with several different things to see what he would have a reaction to.
This was about 15 years ago, and I believe at that time it cost over $600. At the end of the testing, we knew everything he was allergic to, and it was a lot, including dead flies. They are then able to mix up shots for you to give to your dog to help with their allergies. It helped greatly, but it was costly.
There is also NutriScan available. Click the NutriScan for the link or for more information or to order if you are interested. Let me explain how this one works.
You will order their kit online and it will test for food sensitivities and intolerance. The test is fairly simple to do. You will hold a cotton rope that they provide against your dog's gums for 2 minutes to collect saliva. Place the rope in a test tube and you mail it to their lab.
NutriScan checks for IgA and IgM antibodies in the sample, which are produced by your dog's immune system in reaction to food sensitivities. They will then send you a report. If you have problems understanding exactly what you need to avoid from the report, you can contact them, and they will give you a better idea of all the ingredients that you need to avoid.
The kit costs just under $300, but if you have Pet Insurance, they could cover up to 90% of that expense.
There is also is an affordable pet intolerance test that is available.  The link will take you to the review of this product.
Another method of testing what food is affecting your dog and the most thorough way, is process of elimination.
With this method, you would remove all the food ingredients that your dog is currently eating and put them on food that they have never had before. Once the dog improves, you start reintroducing the old food that you think might have caused the problems.
If he has a reaction, which usually takes a few days to a few weeks, than you will know the problem food. Now you will know which food you can make sure isn't in any of the dog food that you purchase.
The Best Hypoallergenic Dog Food
Not all dog foods are right for all dog food allergies. The higher quality of these foods will cost more than an average diet of what you may have been feeding your dog before. The dog food that I have listed here are foods that are going to be grain free dog food, include 1 protein that commonly doesn't cause allergic reactions and be healthy food for your dog.
I am listing them in order of the lowest price per pound based on what the pricing is when I am writing this article. The prices could vary slightly, but it should give you a good idea what range the dog food is fitting in.
Just 6 By Rachel Ray Nutrish – Only 6 ingredients total in this dog food. Lamb meal, brown rice, ground rice, beet pulp, chicken fat and chicken meal.
This is a very affordable, grain free dog food. The only possible issue here is that it does have chicken, and some dogs do have problems with chicken, but no corn or wheat or dairy products.
Pricing ranges around $1.03 per pound based off of a 28 pound bag price.
Available at local grocery stores and pet stores, or you can purchase here through Amazon.
Updated August 30, 2018 – I am removing this from food you should feed your dog at this time.  There is currently a lawsuit on this food, and until the verdict is in, I don't recommend this food.  I will keep it updated as I learn more.  There have also been known heart issues from this dog food.
Blue Buffalo Basics Limited-ingredient Dry Adult Dog Food – This is also a grain free dog food. It uses a single animal protein source and is enhanced with vitamins and minerals. It never contains chicken, beef, corn, wheat, soy, dairy or eggs. No artificial flavors or preservatives.
This product comes in a wide variety. Moist or dry food, diet food, senior food and small breed food. Available flavors are turkey, duck, lamb and salmon.
Pricing on this product for what you are getting is a very reasonable price. Pricing ranges around $2.25 per pound based off of a 24 pound bag price. The price will go up for various flavors and moist food.
You can purchase here through Amazon.
AvoDerm Natural Dog Food – Made with avocados to maintain a healthy skin and coat. Supports healthy immune system and is a rich source of vitamins, minerals and antioxidant nutrients. Natural ingredients.
Wheat free, corn free, soy free and no artificial flavors or preservatives.
Available in lamb, salmon and chicken flavors. Also, has senior health, weight control, and small breed available.
Pricing comes in around $2.27 per pound based on a 15 pound bag. The price will vary on flavors and specialty food.
Acana Single Protein Formula – 50% of the ingredients is the featured meat protein (which is very rare). The rest of the ingredients are fruit, vegetables and a bit of probiotics.
It is made with no grains at all, and made with ingredients deemed "fit for human consumption." Produced in the U.S.
Available in lamb and apple, duck and pear, pork and squash or wild mackerel flavors.
The price will vary depending on the flavor, but is around $2.78 per pound based on a 25 pound bag of lamb.
Tender & True Organic Turkey & Liver Dry Dog Food – Features all-natural ingredients. Only uses grain free recipes, no added hormones or antibiotics.
Main ingredients are made from U.S. farm raised turkeys. Comes with added vitamins and minerals. No artificial flavoring, colors or preservatives.
Pricing ranges around $3.67 per pound based on a 20 pound bag of food.
Hill's Prescription Diet Skin/Food Sensitivities – Many vets will recommend you start with this and they may even sell it themselves at their office.
The positive, is it will probably quickly get your dog's health on the right track. You can adjust your dog's diet as you figure out what ingredients are affecting your dog.
The negative is that it is made with highly processed food and some unrecognizable ingredients
It is grain and soy free and uses single protein source. The protein is broken down molecularly, so there is no allergen left.
Flavors are venison, salmon or duck as the protein.
Prices will vary for different flavors. The venison flavors runs around $5.62 per pound based off an 8 pound bag.
Wellness Simple Limited Ingredient Diet – Uses whole single protein and meat meals (meat meal is a low cost, high protein ingredient made by cooking all the water out of the meat). It also uses good, recognizable ingredients.
Grain free. Made with all natural ingredients. No gluten, wheat, fillers or artificial additives. Made in the U.S.
Flavors are salmon and potato, duck and oatmeal, salmon and peas, lamb and oatmeal, turkey and potato and have a healthy weight available.
Pricing is around $5.82 per pound based on a 10.5 pound bag.
Summary
So, what is the best dog food for dogs with allergies? Any of the above dog foods would be very beneficial for your dog if what their problem is having a sensitivity to food items. If you decide that you need to look for other foods that might work well for your dog, I would suggest starting with grain free dog food, or Fresh Dog Food.
Dogs and food allergies can be frustrating until you find what is causing your dog the problems.  There are many options for dog food for dogs with allergies, you just need to figure out what works for you.  Testing for food intolerances will speed up the process.
I also recommend if you decide to go ahead and try dog food for dogs with allergies and if you have had your dog on this diet for several months and you see no improvements, that you have your dog tested to see what they are actually having a reaction to. I recommend one of the above testing methods or talk to your vet to see what they think the best next step would be for you and your dog.
If you have any questions or any suggestions that you would like to share, please comment below. All of us working together to help our dogs be healthier is a good thing and can help others that are struggling.
Some links within this post are affiliate links of which I might receive a small compensation from sales of certain items. That does not change the price that you will pay for any of the products.