Cleaning my dog's teeth is not one of my favorite activities, but it is important to keep your dog's teeth clean. How clean your dog's teeth are will also determine how healthy your dog is. Here are some great suggestions for the best dog treats that clean teeth.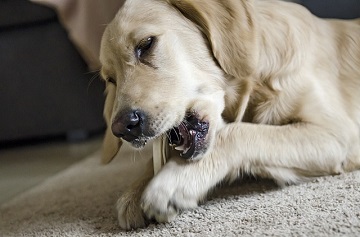 They are not a substitute to you brushing their teeth, but they can help keep your dog's teeth clean in between those brushings that you don't want to do every day.
If you are anything like me, it might be hard to brush their teeth once a week. These dog treats will help remove tartar before it turns into plaque on your dog's teeth.
I call them my hacks for cleaning my dog's teeth. No work for me, cleaner teeth for my dog, and my dog loves getting the treats.
The number one disease in dogs is periodontal disease. These dog treats can help prevent your dog from periodontal disease and keep them healthier overall.
Yummy Combs – Dog Dental Treats
This is a new product that was just introduced to the market in May 2020, but it is now my top recommendation for the best dog treat that cleans teeth.
It has a unique six sided patented honeycomb shape that is designed to actual floss your dog's teeth. The design helps reach around and between teeth to improve dog oral care and dog breath.
They clean above and below gum lines.
It is filled with small hexagonal pockets, that allows this design to simulate teeth flossing and deterring periodontal disease. The hard inner hexagonal walls help scrape the teeth clean, with thin walls that allow dogs to break down the chew.
Who knew you could floss your dog's teeth?
Yummy Combs were developed by Pet's Best Life, which is dedicated to improving pet health and nutrition. They are located in Kansas City.
Not only are these dog treats great for keeping your dog's teeth clean, they are also healthy for them.
They are made with a protein rich recipe, primarily made of chicken. They also contain many essential vitamins and minerals. There are 12 ingredients for wellness in every treat, including dried honey and salmon oil.
These vitamins and minerals will boost energy, provide joint health and mobility and overall wellness.
Yummy Combs are cooked at low temperatures, so active ingredients are not comprised.
There are no amino acids, artificial colors, flavors, preservatives, gluten or GMO's. They are grain free, helping dogs that are sensitive to grains.
Each treat is highly digestible and dissolves rapidly. They are individually foil wrapped to ensure freshness.
Yummy Combs come in 5 sizes. It is best to get the size that is appropriate for you dog.
Extra-small is for 5.5 – 12 pounds. Small for 13 – 25 pounds. Medium is for 26 – 50 pounds. Large is for 51 – 100 pounds and extra large is for over 100 pounds.
This is a safe way for removing tartar build up and it has never been easier.
Greenies Dental Treats
Greenies have been around for quite some time. My dog loves them, and it does help him to have fresher breath.
Greenies are a toothbrush shaped dental chew that cleans to the gumline. They say that it can reduce tartar build up to 60%.
It only uses natural ingredients that are easy to digest. Vitamins and minerals are added to help provide a healthier treat for your dog.
Greenies are available in several flavors and several sizes to find the right one for your dog.
Teenie is for dogs 5 to 15 pounds, Petite is for dogs 15 to 25 pounds, Regular is for dogs 25 to 50 pounds and large is for dogs 50 to 100 pounds.
Make sure to choose a size that is appropriate for your dog.
You can also choose puppy Greenies that help support teeth and jaw development and have calcium added for your puppy.
There is the original flavor, weight management, grain-free, fresh (natural mint flavor) and aging care (50% softer texture). Whatever stage your dog is in life, there is a Greenie that will work for them.
Greenies are VOHC accepted. Made in the United States.
Purina DentaLife Dog Chews
These dental dog treats are made with a proprietary blend that includes honey and spirulina (superfood) that is highly nutritious. It has antioxidant and anti-inflammatory properties.
There are no artificial colors or flavors.
DentaLife fights bad breath at its source, and doesn't just cover up bad breath. On average, 57% reduction in tartar buildup.
They are made in the United States and are VOHC approved (Veterinary Oral Health Council).
Nine distinct ridges help reduce the amount of tartar buildup. They are available in 3 sizes: mini, small/medium and large. Mini size if for dogs 5 to 30 pounds, small/medium and large size is for dogs over 15 pounds.
This treat is not suited for puppies under 1 year of age.
What To Look For In Dog Treats That Clean Teeth
There are a few items that I always look at before purchasing a new treat for my dog.
Highly Digestible – I have heard too many horror stories of dogs getting a blockage from the treat that they have eaten. Stay away from raw hides or other dog treats that are not digestible.
Nutritional Value/Natural Products – You don't want to be giving your dog a treat that isn't good for them.
Proper Sizing – Dog treats come in a variety of sizes. Make sure to purchase a dog treat based on your dog's weight.
No artificial colors, flavors or preservatives
Made in the United States
If you follow these few suggestions before choosing dog treats that clean teeth, you should be on the right path to choosing something that is good for your dog.
Summary Of Best Teeth Cleaning Dog Treats
When it comes to choosing the best teeth cleaning dog treats, there are many to choose from. That is why I have created a short list of teeth cleaning dog treats for you to look at. It can get very confusing trying to pick the best one.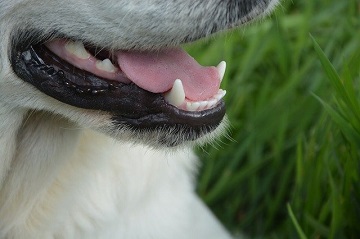 My list includes treats that I give my dog and what seems to work for him. I also review the reviews of these products along with many others that I didn't feel comfortable recommending.
Review the list of what to look for before choosing the right teeth cleaning dog treats for your dog.
Also, remember, these should not be a replacement for brushing your dog's teeth. Brushing is still very important, and can save you money in the long run by not having to pay that big teeth cleaning bill to your veterinarian.
Check out the related articles below for additional help in keeping your dog's teeth clean and healthy.
Related Articles:
Ultrasound Toothbrush For Dogs
Clean Dog's Teeth Without Brushing
If you have any questions or comments, please leave them below and I will get back with you. You can follow justforyourdog.com on FaceBook or Pinterest for all the latest updates on dogs.
Some of the links within this post are affiliate links of which I might receive a small compensation from sales of certain items.