There are a lot of E collars available for your dog, but if you have a dog that is out in the field hunting or running around, the Sportdog X Series is designed with that in mind.
The X series is a newer line that Sportdog has designed having 3 things in common throughout the entire series line.
I am going to explain what all of them have in common, and then let you know how they differ, so you are able to figure out what is the Sportdog E Collar X Series that will work best for your situation.
Sportdog X Series Collar
Sportdog training collars have been around for a long time. They are continuing to update their collars and make them work for whatever situation you need. A large focus of the Sportdog is providing a collar for active dogs.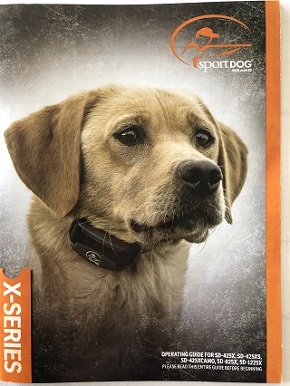 Choosing the right E collar for your dog can be confusing. There are so many to choose from. It is helpful deciding on some of the items that you will require of your E collar. Then it will be easier looking at the differences after that.
If you have a hunting or field dog, you know how much they like to kick up their heels and run. Nothing makes me happier than being able to see my Golden Retriever run through the field or woods. You can just see the joy and happiness that it brings him.
The problem is, sometimes he gets too far ahead of me or leaves the property and I lose sight of him.
The Sportdog X Series collar has greatly helped me with the stress you can sometimes feel when your dog is running free.
A Sportdog collar offers me everything I need for an active hunting dog that likes to run.
What All Sportdog X Series Collars Have
There are 3 common attributes that the entire line of Sportdog X Series have. That means choosing the right collar for your dog comes down to simply the range that you need.
What all Sportdog X Series have in common:
Drytek Technology – All Series X collars are waterproof and submersible to 25 feet.  This includes the controller.
3 Stimulation Types – They all come with 21 levels of static stimulation, as well as vibration and tone.
Rechargeable Batteries – They use Lithium-ion batteries that have a 2-hour quick charge.
All 3 of these features are at the top of my list when I am looking for the right E collar for my dog.
I have a sporting dog that loves to hunt and loves water just as much. Making sure that your collar is waterproof for hunting dogs is critical. Most will be able to find some water hole that they are going to jump in whenever possible.
Three stimulation types is equally important. Most times my dog will simply come when called or when he hears the tone.  But when a hunting dog gets on the trail of something that smells good, they won't always respond to you and they might be putting themselves in danger.
The Series X allows you to find a stimulation level that makes sure that even the most distracted dog will realize that you want their attention.
The battery life is long on the Series X. I usually only need to charge my unit about every 3 to 4 days. A quick 2-hour charge helps for when you want to get going again, without a long wait time to be fully charged.
Differences With A Sportdog X Series
The main difference that you are going to find between the collars in the X Series is the distance or range that your collar will have. I do think it is better to error on the larger distance. I have purchased one, and quickly realized I need a larger range, and than purchased a different one.
The Field Trainer is the first line that is available. This line is the smallest and lightest unit that Sportdog makes. It is built for close working dogs, as the range is up to 500 yards. It is available as the 425X and the 425XS which is for more stubborn dogs. Supports up to 3 dogs.
Read the review of the Field Trainer 425X here.
The next level of Sportdog X Series is the Sporthunter line. This is considered the long range line. There are 3 available options in this line, with the main focus on distance or range.
The 825X has a range of 1/2 mile (880 yards) and supports up to 3 dogs. The 1225X has a range of 3/4 mile (1320 yards) and supports up to 3 dogs. The 1825X has a range of 1 mile (1760 yards) and supports up to 6 dogs.
I currently have the 825X, and that distance seems to work great for when my dog is just on walks or when he is hunting.
The last level is the Wetlandhunter. This series is designed for the waterfowl-hunting environment. It is wrapped in Realtree Max-5 camo. The Wetlandhunter is available in the 425X with a range of 500 yards and supports 3 dogs, and the 1825X with a range of 1 mile (1760 yards) and supports 6 dogs.
Both of these units are the same as the above 425X and 1825X with the exception of the collar and controller being camo.
Choosing The Right Sportdog X Series Collar
Since the Sportdog X Series is consistent on all models with the stimulation levels, the Drytek technology and the batteries, you only need to focus on the distance that you will need for your dog.
I believe going slightly longer on range is better than just getting what you need. The price doesn't change that much when you go to the next level up.
You will also lose some of your distance if you are out where there is lots of interference like trees, long grass or hilly terrain.
Don't spend your money on something that isn't going to cover the area that your dog is traveling, or you will end up being disappointed and end up purchasing another one like I had to.
Quick Review
The Sportdog E Collar X Series makes it easy for you to choose the right training collar for your dog. The line remains consistent on the top features for whichever X Series that you choose.
Having only to figure out the range that you need on your training collar, should help you wade through all the options that are available to choose from.
All Sportdog X Series will have the exact same stimulation levels, same water resistance and same battery life with quick charge.
Just pick the distance you need and go and have some fun with your dog.
If you have any questions or comments, please leave them below and I will get back with you. You can follow justforyourdog.com on Pinterest or FaceBook for all the latest updates.
Some of the links within this post are affiliate links of which I might receive a small compensation from sales of certain items.