This Whistle 3 GPS Pet Tracker Review will give you the information you need to know if you want to purchase this GPS Tracker and activity monitor.  I believe you will see that the number of features it has for the price makes it a worth while purchase.
Product: Whistle 3 Pet Tracker Price: Under $100
3 Colors Available: Grey, Blue and Green
Where to Buy: Get your Whistle 3 Direct from Amazon
Warranty: 1 Year
My Rating: 4.7 out of 5
I am going to take a look at the Whistle 3 Pet Tracker, tell you why I think it is the best GPS tracker for dogs, and share pet tracker reviews – mine and others.
Benefits To Having A Pet Tracker
Dogs seem to like to wander at times or run away.   It might be because they are bored, a rabbit or squirrel ran through their yard, they caught a whiff of something interesting, a dog or person walked by, they hear something, or they may have gotten frightened.
The list is large on what might make your seemly trained dog go where they aren't supposed to go, and possibly get into a situation of either being lost or injured.
I had 2 Golden Retrievers that frequently would decide to make a quick escape. I would be in the backyard with them, making sure they weren't bored and playing with them, and all of a sudden, they would take off on me. I would call them, look for them, and have even driven around in a car trying to find them.
When they would return, I had no idea where they had gone, and they usually came running back with something that they had stolen from somewhere. They came back with squirt guns, hats, gloves and balls. (I also called them a couple of hooligans when they were growing up, because together the two of them could find trouble.)
If I would have had a GPS Pet Tracker back then, I would have been able to locate them before they decided they had enough fun for the day, and I would have been able to return the items that they thought we needed in our yard.
Microchips can work once your dog has been found and turned into a location that can read the chip, but a GPS dog tracker will let you know at all times where your dog is and get him returned quicker to you.
What Does The Whistle 3 Pet Tracker Do – How Does It Work
The Whistle 3 uses advanced GPS and cellular technology to pinpoint your dog's location anywhere in the U.S. The product requires a subscription plan with 3 different options to choose from. Monthly subscription costs $9.95/month, One year subscription costs $7.95/month, and a two-year subscription costs $6.95/month.
Whistle 3 runs on AT&T network, but it will communicate with whichever cellular provider you use on your phone, and provides Nationwide coverage.
The Tracker requires a WiFi network during activation. A WiFi network is required and is associated with your dog's safe place. This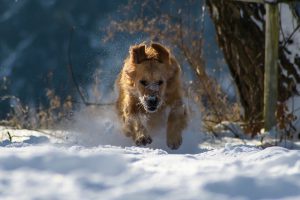 will communicate your dog's location and activity data to the Whistle App. The system will recognize when your dog is out of their safe place, and send you a location alert.
You can receive alerts through the app, email or text notification when your dog leaves their safe area before they get too far away. You can also follow what your dog's trip and location for the last 24 hours to see where they went and when.
If your dog has traveled beyond the WiFi range, the device uses cellular and GPS technology.
The Whistle 3 Tracker also allows you to monitor your dog's daily activity. You can track how much exercise they are getting and also how much rest. It is very similar to the Fitbark if you are familiar with that. It will allow you to put information into the app for the breed and size and age of the dog, which will help you know if for your breed of dog they are getting enough exercise.
If you need to track your dog, swipe up on the location menu and you will see a start tracking button. The location will update every 90 seconds. Tracking turns off when your dog returns home, or within 30 minutes to conserve the battery. You will need to manually set the tracking again at that point. The app sends notifications every 90 seconds listing the nearest street address.
The app that you use with the Whistle 3 Tracker is free, and it is designed for any dog over 8 pounds. You would need an additional Whistle 3 Tracker and subscription for each additional dog.
Product Details For Whistle 3 GPS Pet Tracker
What's in the box: Whistle 3 GPS Pet Tracker and activity monitor, collar attachment, USB charging cable, and quick start guide.
Dimensions: Width – 1.45″, Height – 1.82″ Thickness -0.61″, Weight – 0.92 ounces.
Waterproof – rated IPX7 – will continue to work if your dog goes swimming, just dry off before charging.
Battery – lasts up to 7 days. You will receive a notification when the battery life is down to 20%, so you know when to charge it. Full recharge takes 2 hours.
Attachment – attaches to any collar or harness up to 1″ wide.
Compatibility: Apple iOS 10.0 or later or Android 5.0 or later.
Reviews
Pros:
Small and weighs less than an ounce
Attaches easily and securely
App shows a shaded circle around the dog's estimated location and generally they are within 10′.
You can set multiple safe areas. If needed, you can set one up when traveling or visiting family members or others who watch your dog. The WiFi at each area will designate the safe area.
Customer support is very good. You can call or email. Emails usually get responses within 2 hours.
Switches from GPS to WiFi when in safe area to save battery time.
App can be installed on multiple phones for all family members to have access.
Long battery life.
Low price.
Cons:
Sometimes slow with notifications that your dog has traveled out of their safe zone.
Deletes tracked information every 24 hours.
Areas that do not have good cell phone coverage will have problems tracking your dog.
Warranty
The Whistle 3 warranty is only for the original purchaser. The warranty covers material and workmanship defects under normal use for 1 year from the date of purchase.
They also have a 90-day money back guarantee. If you don't love it, they will take it back and give you a full refund.
Conclusion
The Whistle 3 GPS Pet Tracker review shows the numerous features this product has, along with what is included with your purchase.
For the price, size, and battery life, I feel that the Whistle 3 Pet Tracker is ahead of the others. It offers more features that the more expensive trackers have for less money. The size is small and light, to not be a nuisance to your dog.
Whistle 3 Pet Tracker not only comes with GPS Tracking, but it allows you to monitor your dog's activity levels to help keep your dog healthy.
I would be careful though if you aren't sure of your cellular coverage. My recommendation to you would be to start out with the monthly plan to make sure it is working properly for you, and if it isn't, you can return for a full refund within 90 days, and if the coverage is good, you can later change your subscription to one year or two-year to save money.
Click here to purchase your Whistle 3 GPS Pet Tracker now. You will be directed to Amazon's website to order direct.
Please leave any questions or comments below, and I will get back to you. If you are currently using the Whistle 3 or using a different tracker, let me know how it is working for you.  You can follow justforyourdog.com on Pinterest, FaceBook or Twitter for all your latest dog updates.
Some of the links within this post are affiliate links of which I might receive a small compensation from sales of certain items.