Are you looking to get a Golden Retriever to add to your family? If so, and you are wondering if one sex is better than the other, you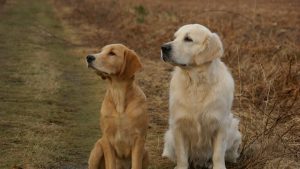 have come to the right place to find out about Golden Retrievers. Male vs Female Golden Retriever, let's take a look at how they are the same, and how the two might differ from one another.
Size Difference Between Male and Female Golden Retriever
According to the Golden Retriever Club of America, a standard sized male Golden Retriever ranges between 65-75 pounds and is 23″ – 24″ tall at the withers. Female Golden Retrievers are slightly smaller, but not by a lot. Their average weight is between 55 – 65 pounds and have a height of 21.5″ – 22.5″ tall at the withers.
Depending on what age you decide to spay or neuter your Golden Retriever will make a difference on how tall your Golden will get and their overall health.  Goldens that get spayed or neutered at a young age (6 months), tend to grow taller.  Also, make sure that you are feeding your dog large breed puppy food, this will help them grow at the rate that is best for larger dogs.
Structural Differences Between Male And Female
Male Golden Retrievers are going to have broader heads, longer coats, thicker ruffs and increased musculature (more muscles). Male Golden Retrievers will have much more of a mane, with longer coat around the neck area, similar to male lions. Female Golden Retriever heads and noses are much more narrow, and the fur is going to remain slightly shorter than the male counterparts.
Differences In Personality
There is very little difference in temperament between a male Golden Retriever and a female Golden Retriever. According to R. Ann Johnson who has a Master's in Zoology from Rutgers University and author of "The Golden Retriever Puppy Handbook," but she does believe that the male Golden Retrievers tend to display the ancestral survival trait of worshiping their pack leaders.
This is exhibited by a dog's concern for his owner's moods and feelings. Female Golden Retrievers don't worship their owners to the same extent as males, but are still devoted and loving.
It has been said "to summarize the temperament differences between male and females, females love you. Males are in love with you," according to Genuine Goldens.
Neither sex is easier to train than the other. Golden Retrievers respond best to "positive training methods," as Goldens really like pleasing their owners. You will see that you will find very few differences between a male vs female Golden Retriever especially if your Golden Retrievers are spayed or neutered at a young age.
Neither are easier to house train than the other and they are equally intelligent, affectionate and sweet. Both are great with kids and both are an excellent companion or hunting dog.
Females tend to be more independent, stubborn and territorial than males, but it is very slight, and doesn't affect having a great family dog. You might see that males are more affectionate, attentive and attached to their owners.
Males are easily motivated by praise and food and eager to please their owners, which might make them just slightly easier to train, but not by much.
Golden Retrievers In General
I am assuming, but may be wrong here, that if you are researching this topic, you are looking to add a dog to your family, and possibly a Golden Retriever. If that is the case, let me share a bit about Golden Retrievers and what you should know about them.
Golden Retrievers are true family dogs, and they will make sure that they are part of the family at all times unless they are napping, which they do frequently. They love people, are friendly, and want to be included in whatever you are doing.
Over the years, I have had 3 Golden Retrievers which a new puppy coming in a few days, and all of them have had completely different personalities, but there are a few things that are very consistent in all Golden Retrievers that I have known or met.
They will love you beyond belief. You will be very important to them, and you will see that by them wanting to be as close to you as possible. Some think they are lap dogs, even when they weigh over 70 pounds.
They are great with kids. I had 2 Golden Retrievers that were only 7 months older than my son, and never for a minute was I concerned for my son around my 2 Golden Retrievers. Instead, as he got older, they all became the very best of friends. All of them getting into trouble together.
They need their exercise and they need mental stimulation. They are very intelligent dogs and active dogs. Whichever sex you choose, you will need to take them on daily walks and make sure that they get plenty of run time.
They want to be petted. If you don't want a dog that needs your attention, then this isn't the dog for you. They want to be close to you, and they will make sure you know that they want to be touched and petted.
They will get their way. They can have the saddest looking eyes that if you are a softy to dogs, you will give in and allow them on the couch, or bed and before you know it, you will be sleeping with your knees up to your chin, because they are taking up over half of the bed.
These points are going to be the same no matter if you decide on a male vs female Golden Retriever.
Conclusion

In my opinion, male Golden Retrievers that have been neutered tend to be a bit calmer in nature than female Golden Retrievers, but I really don't think you can go wrong with either one of them. I might be a bit impartial since I have owned 3 male Golden Retrievers.
When comparing male vs female Golden Retrievers, you will find that both are affectionate, loving, want to be part of the family and are very intelligent dogs.
They tend to always want to be by your side and want to be included in everything that you are doing. It can be very hard to leave them behind when you need to leave, since they can have the saddest looking eyes, and I believe they are intelligent enough to know exactly what they are doing when they give you that sad look.
If you are getting a new puppy, take a look at this checklist for a new puppy.  It will make sure you have everything you need before you bring your new puppy home.
Please leave any questions or comments below. I would love to hear about your Golden Retrievers or if you have questions about Golden Retrievers, I will be happy to get back to you.