Tired of frequent trips to the vet or you dog not being as healthy as he should be?
Are you worried about all the dog food recalls, and if your dog is getting all the nutrients he should be getting?
I have had the same worries about feeding my dog dry dog food because of all the health issues they have had over the years.
Dry dog food has the right balance of vitamins and nutrients for a dog to survive, but don't you want your dog to thrive? I do, which has lead me to search out a better meal plan to keep my dog healthy.
The Farmer's Dog Food Review will discuss why I feel a fresh diet is better, the ingredients and the cost of Farmer's Dog customized fresh dog food.
Why You Should Feed Your Dog Fresh Dog Food
A fresh dog food diet consists of fresh ingredients that are gently cooked at low temperatures. Cooking at the lower temperatures will help preserve the nutritional integrity of the food.
Dog obesity, cancer and diabetes are currently rising at alarming rates for dogs. There is scientific evidence that points to the health benefits of a fresh dog food diet to help reduce these risks.
There are many health issues associated with many commercial dry dog food manufacturing processes.
Unlike fresh dog food, dry dog food is processed at high temperatures in a pressure cooker. The process strips away the original nutritional integrity, providing your dog with only the most basic nutritional needs.
Fresh dog food never has any preservatives, artificial favors or fillers, since it doesn't require the shelf life that dry dog food needs.
You might decide that you want to create your own fresh dog food for your dog, but I caution you on that. Homemade dog food isn't always better for your dog.
In a study done by UC Davis Veterinarian School, it was found that 95% of home cooked recipes are not complete and balanced enough for daily feedings. These were recipes that were found on the internet, in pet care books and created by veterinarians.
You should only use recipes that you know have been created by veterinarian nutritionists.
The Farmer's Dog
The Farmer's Dog is a service that delivers balanced, freshly made dog food directly to your home.
It was developed in 2014, when one of the owners had a lot of medical issues with his dog and he started preparing a fresh diet to help improve his dog's health, which worked.
They only use human-grade meat and veggies in simple recipes that even you could eat.
Their fresh dog food is prepared in USDA kitchens, which requires higher safety standards than dry dog food.
All of the proteins are clean USDA proteins that are mixed with simple produce and balanced with vitamins and minerals.
They never use feed-grade ingredients, which is a lower grade, and don't process the ingredients to be shelf-stable. Meaning the dog food either needs to be frozen or refrigerated for freshness.
All shipments of their dog food come frozen and packaged with dry ice in Eco friendly packaging. Shipping is free and deliveries are flexible. You can request more, or put your deliveries on hold at any time.
All of Farmer's Dog food is made in the United States and is available to be shipped to all 48 continental states.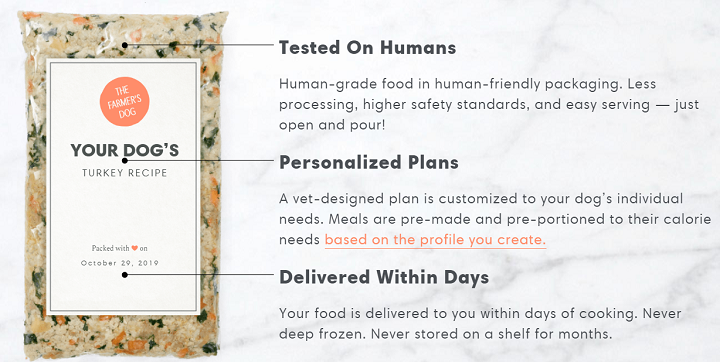 Customized Fresh Dog Food
Every person has slightly different nutritional needs or may need to adjust your diet as you age, shouldn't your dog be the same?
Dogs of different ages have different needs with their diet.
The nutritional needs for a dog will vary depending on their age, breed, weight and any health issues they may have, like certain food intolerances. The Farmer's Dog takes all of that into consideration when they develop a customized diet just for your dog.
The Farmer's Dog work with nutritional veterinarians to figure out the optimal meal plans based on breed, age, activity level, idea weight and sensitivities.
They will design a personalized meal plan for your dog, that is pre-portioned to their calorie needs based on the profile you create for your dog.
Each bag that you receive, is one day's worth of food for your dog. You just open the bag and pour it into your dog's bowl.
Your dog's food is delivered within days of being cooked, and comes with your dog's name on the package and a date when it was prepared.
There are 3 choices of food to choose from: Turkey, Beef or Pork.
The proteins will include a variety of vegetables like parsnips, chickpeas, carrots, broccoli (believed to provide anti-cancer benefits), spinach and more. Each recipe will have at least 3 vegetables.
The recipes will include fish oil and 9 essential nutrients found in their "nutrient blend."
The link below will give you 50% off your first order of The Farmer's Dog.
Benefits Of The Farmer's Dog Fresh Dog Food
There are many benefits your dog will receive in their overall health, with less risk of diseases, since their immune system will be stronger with a fresh diet. Here are other benefits that you will notice with your dog.
Fewer visits to the vet
Increased vitality
Clear skin and shiny coat
Less dog odor
Solid poop
Higher energy
Cost Of The Farmer's Dog
There is no question that fresh dog food costs more to feed your dog than dry dog food, but the results can be worth it.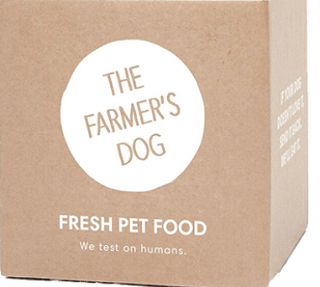 Pricing of the Farmer's Dog will vary depending on the many factors that go into planning your dog's diet. Pricing can start as low as $3 per day. A good estimate of cost would be around $4 to $5 per day for a 25 pound dog and $8 to $9 per day for a 55 pound dog.
Not everyone can afford to pay that for their dog food. If you feel you aren't able to pay that much for your dog food, another alternative would be to use in combination with your current dog food.
You could mix half of your dog's dry food with half of The Farmer's Dog. That way you are providing your dog with many nutrients that they would never receive with their regular diet.
Pros And Cons Of The Farmer's Dog
Pros
Healthier Dog
Better Weight Management
Only Feeding Your Dog Healthy Ingredients
Less Vet Visits
Customized Meal For Your Dog's Needs
Human-grade Ingredients That Aren't Processed
No Artificial Flavors Or Preservatives
Fast – Free Shipping
Cons
Expensive
Food Can Go Bad If Not Properly Stored – If you have a slow eater, you should put it back in the refrigerator until they are ready to eat.
Who Is The Farmer's Dog For
It doesn't matter if you have a healthy young dog or a dog who already has health issues. Feeding your dog a fresh diet will be beneficial to keep your healthy dog healthy, and improve the health for a dog with health issues.
What we feed our dogs is the best way to keep them healthy and living longer.
Overall View
I realize that feeding your dog a fresh diet is much more expensive than dry dog food, but every time I have lost a dog, it has always been too soon.
The Farmer's Dog Food Review should help you see the benefits for your dog and providing your dog with a customized fresh dog food diet will help your dog live a longer healthier life.
After losing my last 2 dogs to cancer, I have made it my mission to learn as much as I can about what I can do for my next dog to keep him more healthy.
Everything has come back to providing the right diet that has all the nutrients that a dog needs, not just for them to survive, but for them to thrive. That is my mission for my next dog that is moving in just a few days from now.
If you have any questions or comments, please leave them below and I will get back with you. You can follow justforyourdog.com on Pinterest or FaceBook for all the latest doggy updates.
Some of the links within this post are affiliate links of which I might receive a small compensation from sales of certain items.