This is a Big Barker dog bed review to help you decide if this is the best orthopedic dog bed for large dogs.
Price: Under $250 for Large, Under $285 for XL, Under $400 for Giant See Amazon for exact pricing.
4 Colors Available: Burgundy, Khaki, Chocolate, and Charcoal Gray
Where to Buy: Amazon – you can click on any of the above links to go directly to Amazon
Additional Options: Headrest/Flat Bed, Waterproof Liner
Warranty: 10 Year Warranty
My Rating: 4.9 out of 5
Why Big Dogs Need A Good Dog Bed-The Problem With Most Beds
Big dogs, as they age, tend to have problems with their joints and with arthritis. Up to 80% of large dogs experience joint pain or soreness as they age. It is often hard to know if your dog is in pain, because many are very good at hiding the fact that they are in pain, because most dogs try to hide any signs of weakness.
You may start to notice that your dog is slow to get up off the floor or having difficulties getting up. They may no longer go on couches or beds that they once used to think that they owned, or they may be having problems going up the stairs, or aren't as excited to go on their walks they once couldn't get enough of before. These are all signs that they could be having pain in their joints.
There are lots of dog bed available, but they aren't all made the same, and they don't all offer the support that a large dog needs.
A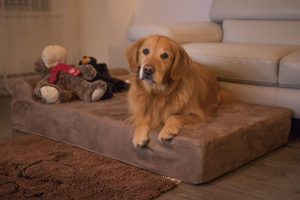 large dog experiencing joint pain needs a dog bed that comforts all the pressure points when they are laying down.
Most dog beds are made from polyfill or cheap memory foam, which usually leads to your dog sinking to the ground when they lay on them, creating uncomfortable pressure points.
I have purchased several dog beds over the years for my dogs, and they become as flat as pancakes, and I end up stacking 3 or 4 of them on top of each other just to have some kind of support for my dog.
The Big Barker dog bed is a therapeutic mattress for dogs over 50 pounds, uniquely engineered to keep dogs youthful for longer and bring older dogs back to their best. I am going to show you why I believe this is the best dog bed and review why that is.
Comparison Of Big Barker Dog Bed And Normal Dog Bed
| Big Barker Dog Bed | Normal Dog Bed |
| --- | --- |
| Supports joints The foam construction can support the weight of over 300 pounds of dog. Protecting joints from painful pressure points. | No joint support for a large dog. |
| Big enough for big dogs, and large enough for dogs to fully stretch out. | Too small for big dogs. Bigger dogs can't fit and definitely can't stretch out. |
| Made in USA. Handmade in Northern California | Mass produced in China. Made on assembly line. |
| 10 year warranty. "Can't flatten, won't flatten" motto, or they will send you a new one. | No warranty. Will flatten like a pancake and then you will have to buy a new one. |
Features Of Big Barker Dog Bed
The features of this dog bed are plentiful. It might help to understand a bit of background of the founder to understand why this bed is made so many steps above other dog beds. The founder owns a dog that was diagnosed with hip dysplasia as a puppy, so his mission to create a great bed for large dogs was a mission close to his heart.
Elevated 7″ height. Allows your dog to walk off their bed and not struggle to raise themselves from the ground like normal dog beds.
Contours to your dog's skeletal frame providing optimal support distribution.
Stays cool. Uses "open cell" foam, which allows air to move freely through the bed. Memory foam is "closed cell," which traps hot air between your dog and the bed.
Machine washable, non shrink microfiber cover comes off easily. Uses up to 150″ of zipper surrounding 75% of the bed.
Durable cover. Strong microfiber cover holds up against digging and nesting.
Waterproof liners available as an optional upgrade.
Use of support form. The core layer can support 180 pounds per square inch, however, support foam on its own feels stiff and inflexible, so they sandwich the support layer between two layers of comfort foam.
CertiPUR-US Certified. This is the testing to make sure your dog bed is safe. If it doesn't have this certification, you run the risk of having your dog sleep on a bed that contains lead, arsenic, or other harmful materials that have been found in other non-certified dog beds.
Big Barker Dog Bed Reviews
From a dogs point of view, it appears that they are all loving this dog bed. They are laying on it instead of somewhere else, they are having an easier time getting off of the bed, and you will notice an improvement in their activity during their awake hours from the relief on their joints due to the comfort the bed provides.
From dog owners, the reviews are also positive. Their dog now has a place of their own, and older dogs are acting much young then prior to the Big Barker dog bed. It is easy to clean and remove the cover and easy to put the cover back on because of the large zipper.
The bed holds is shape and thickness, and it is an attractive cover so you can put it anywhere in your home.
The warranty is a big bonus, since most dog beds have no warranty and most dog beds need to be replaced within a year. This truly is the last dog bed you will have to purchase for your dog, and you will be giving your dog so much relief from their aging pains that most large dogs will get.
The only negative to this dog bed is the price. It is a hefty price, but when you consider you will never have to purchase another one for your dog and the added comfort they will have, it is well worth the investment.
Knowing that they warranty the bed for 10 years that is will keep at least 90% of is shape is reassuring that you are purchasing a quality product. Also, the 1-year guarantee that if you aren't happy with it they will completely refund your money along with paying to ship it back to them is an assurance that your money is being well spent.
99% of reviewers would recommend this bed to a friend.  Take a look at the reviews yourself from customers on why they love the Big Barker Dog Bed.
One of the highest rated dog beds on Amazon.
Sizing Of The Big Barker
The Big Barker offers 3 large sizes.
Large – for Labrador Retrievers, Golden Retrievers, Boxers and other dogs under 25″ tall. Size is 48″x30″x7″
Extra Large – for any dog bigger than a Lab, but smaller than a Great Dane. Size 52″x36″x7″
Giant – This massive bed is specifically designed for Great Danes.
If you have a dog under 50 pounds, this isn't the bed for you. This bed is specifically calibrated for the comfort of a big, heavy dog.
Big dogs have more demanding support requirements than smaller dogs. If your dog is less than 50 pounds, take a look at the Barker Junior– which uses foam more suitable for small and medium-sized dogs.
Requirements For Each Big Barker Dog Bed
All Big Barker beds are made having the top layer be 2″ of comfort foam for the bed surface, 3″ support foam for the high density core, and 2″ comfort foam for the bed base. If you purchase a bed with the headrest, that will be an additional 4″ contoured foam.
The fabric must pass 3 tests before it is used on this bed.
Must look great in your home.
Must be machine washable – won't shrink – wash in cold water.
Must hold up against digging and nesting.
Only American made zippers and American parts on all portion of the construction.
Warranty of Big Barker Dog Bed
The warranty of the Big Barker Dog Bed is pretty much unheard of.  I have never known there to be any kind of warranty offered with any dog bed that I have ever purchased, and usually within a year, I have had to purchase a new dog bed.
Big Barker's warranty is a 10-year warranty. What that means is that if the bed doesn't keep over 90% of its original shape and support for at least 10 years, they will replace the bed for free.
I have never found any other dog bed to do that. Besides this great warranty, Big Barker offers a 1-year trial. Try it for 1 full year, and if it isn't everything you expected, return the bed for a full refund and they will even pay for the shipping to return it.
Big Barker Is The Dog Bed Your Dog Needs
This Big Barker Dog Bed Review shows you that they offer everything that you need for the best orthopedic dog bed for large dogs.  This bed is specially made with large dogs in mind.
Everything about this dog bed is a real positive, and if you have a large dog, you need to purchase this for your dog even if your dog isn't old yet. Eventually your dog will become old, and the pressure you can take off your dog's joints at any age will help your dog feel better later in life.
This is a company that truly has the best interest of dogs. They worked several years to develop a bed to help dogs that really need it. They believe in American made products only and a substantial percentage of profits go towards giving their therapeutic mattresses to dogs who need them the most, but wouldn't otherwise have the ability to get one.
To purchase your Big Barker Dog Bed now directly from Amazon, click on this link.
Please leave any questions or comments below, and I will get back to you. Please, if you have a Big Barker or get one in the future, let us know what you think about the dog bed. Happy to hear about any other dog bed successes out there as well.
You can follow justforyourdog.com on Pinterest, FaceBook or Twitter for all your latest dog updates.
Some of the links within this post are affiliate links of which I might receive a small compensation from sales of certain items.