What could be better than having your dog feast on fresh food every meal, having it delivered directly to your home and knowing that it is only made with human grade food?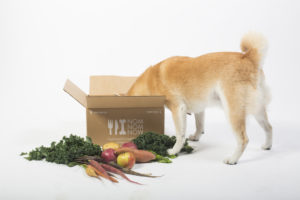 Well, I am going to share with you some even better information than just the best fresh dog food delivery service available. Please read on for all the benefits that you and your dog will get using NomNomNow Fresh Dog Food to deliver your dog's meals.
Fresh Dog Food
All of the dog food that NomNomNow prepares is made fresh to order every week, using only restaurant quality ingredients that are never frozen. The food is prepared in an FDA compliant kitchen, giving you the assurance that their standards are high.
All ingredients are from the United States, and the headquarters is located in Oakland, CA. NomNomNow only uses human grade food in all of their meals.
This dog food is fresh dog food, not raw dog food. Cooked dog food increases the digestibility of the meal and helps release nutrients such as proteins and carbohydrates.
Cooked food also decreases the bacterial content and risk of harmful diseases.
Most dogs don't get a fresh food diet, since it requires time and energy preparing a balanced veterinary formulated recipe and then you still have to actually cook the meal. Many dog owners don't have the time or knowledge to do this.
Feeding your dog fresh dog food allows your dog to receive optimal concentrations of the nutrients and ingredients right away, before unknown changes happen with the nutrients of frozen food.
Delivery Service

Your dog's food will be prepared fresh each week and delivered free of charge to your door within days of the food being freshly prepared. You can safely store your dog's fresh food in the refrigerator up to 7 days, just in time for their new batch of food to arrive.
You can put your dog's food on hold if needed, change their meal plan or cancel at any time.
NomNomNow is the only pet food company that pre-portions meals specific to your dog and delivers fresh dog food.
Customized Diet For Your Dog
Every meal plan is customized to fit your dog. Every dog has different needs and those needs even change for your dog as they age.
Every pet owner will create a unique profile for your dog. It will include your dog's age, weight, activity level, breed and any health issues your dog may have. This can also include if your dog has food intolerances to certain food.
All meals will be tailored for your dog's needs and they are ready to serve when you receive your delivery. There are no preparations that you will need to do.
Just cut the bag open and you will have a single serving meal all ready to pour into his bowl. No scooping of food, and no guessing how much food to give your dog.
Who Can Benefit From A Fresh Dog Food Diet
All dog breeds of all ages can benefit from a fresh dog food diet, including overweight dogs. Like I mentioned before, your dog's needs will change as they age, and NomNomNow's nutrients, vitamins and supplements will change as your dog changes.
Puppies have specific dietary needs that are different from adult dogs or senior dogs. It is also hard figuring out the exact amount to feed them, since they are so quickly changing in size. NomNomNow will take all the guess work away from you, adjusting your puppy's needs as they grow.
Senior dogs also have a whole different side of food requirements that should be addressed. They may need additional supplements for their joints, nutrient adjustments and more.
For overweight dogs it always seems like a guessing game of how much should I feed my dog so he can lose weight, but not starve him. With NomNomNow, they will figure the appropriate calories for your dog that will give him the food that he needs, but make sure he is getting enough food. Making weight loss for your dog easier.
Benefits Of Fresh Food Diet From NomNomNow
More Energy – Fresh food is more digestible and more of the food is absorbed for energy.
Stronger Immune System – NomNomNow's diet is rich in Vitamins A and C as well as zinc, making your dog's immune system stay strong and healthy.
Shiny Coat, Healthy Skin and Bright Eyes – Zinc, B Vitamins and fatty acids from fish oil help promote healthy skin and coat and Vitamin A makes healthier eyes. All included in NomNomNow diet.
Less Waste – Every ingredient in this diet is intended to contribute essential nutrients that your dog needs. Fiber is helpful for your dog's health, but they only include what is necessary, meaning fewer piles to pick up in the yard.
Healthier Weight
Better Overall Mood
NomNomNow Recipes
All recipes that NomNomNow use have been developed by Dr. Justin Shmalberg, DVM. Dr. Shmalberg is a practicing vet and Clinical Associate Professor and is 1 of less than 100 board-certified specialists in small animal clinical nutrition in the country.
All meals are portioned based on Dr. Shmalberg's recommendation and are measured and vacuum sealed in their own bags helping to keep your dog's meal fresh.
There are 4 fresh dog food recipes to choose from. You can pick pork, chicken, turkey or beef. The only ingredients in each recipe is the chosen protein, vegetables, healthy oils, vitamin and nutrient blend. That is it. No additives or artificial ingredients.
Summary
NomNomNow offers the best fresh dog food delivery service available with their customized diets, food only made with human grade fresh food and portioned with the right nutrients for your dog's needs. No more guessing how much to feed your dog or if your dog is getting everything that they need in their diet.
NomNomNow will figure all of that out for you and in return, you will have a healthier dog and a dog that will be excited when meal time comes around.
Each pet owner will be provided with a free nutrition consultation to make sure your dog's need are being met.
Check out NomNomNow to see how they can make feeding your dog an easy and pleasant experience.
If you have any questions or comments, please leave them below. You can follow justforyourdog.com on Pinterest, FaceBook or Twitter for the latest dog updates.
Some of the links within this post are affiliate links of which I might receive a small compensation from sales of certain items.