If you are a dog owner, your dog is probably part of your family, like they have always been for me. That means when the family is taking a vacation, you might want to take them with you.  I am going to provide you with tips for traveling with a dog no matter which method of transportation you are using including public transportation.
Depending on what your vacation is, they may be able to join you, but there are lots of things to consider on how to travel with a dog.
You are going to want to make sure that you have done your research before you travel, to help make sure the vacation is the best experience for all of you.
Traveling and being away from home can already be stressful, so it is best to be informed ahead of time what you might be facing.  This can help remove some of the stress.
Are you going to be traveling by car, bus, train, boat or airplane? All of these methods have different things to consider when traveling with your dog. I am going to offer you some tips for traveling with a dog, no matter which method you are using.
No Matter Which Form of Travel, Things to Do Ahead of Trip
Take your dog to the veterinarian for a checkup before going on an extended trip. Make sure all of his vaccinations are up-to-date, and take the shot records with you. This will help if you have any situations on the trip.
Also, bring your dog's regular dog food with them. It is best to keep them on their regular diet, and you don't want the extra stress of trying to find their food when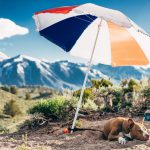 you are away from home, or run the risk of them getting an upset stomache from a change in their food.
Changing your dog food while away from home, won't be good for any of you. It takes time and a mixture of old food with new food to make the transition easier for all. Bring plenty of bottled water along for them, and bring any medications they may need while you are traveling.
If you aren't traveling by car, there will be even more planning that will be required. Make sure you do your research well in advance of the planned trip to avoid any unexpected surprises.
Car Travel With Dogs
By all means, this is the easiest to accomplish, with the least amount of pre-planning.
Make sure your dog is accustomed to riding in the car before leaving on your trip. If they haven't gone for many car rides, take them on short rides prior to the trip.
To avoid car sickness, have them travel on an empty stomach, but make sure to provide they with plenty of water at all times.
Keep the car well ventilated, and if they are traveling in a crate, make sure that fresh air can travel into the crate.
Stop for frequent potty breaks and exercise breaks.
Never leave you dog in the vehicle unattended, especially in the summer when the temperatures will rise too high for your dog to remain in the car if you stop for lunch.
Traveling By Bus With A Dog
Your dog won't be allowed to travel on a bus unless it is a service dog, so this method won't work for you if you want to take your dog along.
Traveling By Train With A Dog
Amtrak only will allow dogs to travel with them if they are under 20 pounds and there is a $25 fee for them to travel with you. Large dogs are not allowed.
Traveling By Boat With A Dog
The QE2 luxury cruiser, which sails from New York to England/France, provides special lodging and free meals for your dog. However, you should check the policies of the cruise line or ship you will be traveling on before making plans to take your dog on a cruise with you. You will be very limited on the Cruises that you can take your dog along.
Traveling By Airline With A Dog
This by far, has the most challenges to accomplish and takes a lot more planning. First of all, you need to determine if your dog can travel in-cabin or cargo.
If your dog is small enough to fit in a carrier, which goes beneath the seat in front of you, it is the best way to go for a safe and worry free trip.
Your dog will have to be able to stand up and turn around in their carrier. Most
 major airlines are still accepting one dog per passenger. Size and weight restrictions vary from airline to airline, but most require that your dog and carrier together not weigh more than 20 pounds.
Below is a great pet carrier that is approved by airlines.
You can click on the picture to go directly to Amazon to check this one out or others.
Not all airlines allow dogs to fly in cargo or checked baggage. Certain dog breeds won't be accepted. Many airlines refuse to transport short-snouted dogs in cargo compartments because of fears for potential breathing problems. The banned breeds vary by carrier, but no-travel lists often include : Pit Bulls, Boston Terriers, Chow Chows, Pugs, Bulldogs, Boxers and more.
Pets need reservations. You can not just show up with a dog, and many airlines require you to phone them in. Call ASAP, since most airlines limit the number of in-cabin dogs.
Weather can be a factor. Most airlines won't allow dogs to travel when current or forecasted temperatures are above 85 degrees F or below 45 degrees F at any location on the itinerary.  Your dog could be turned away, even after all the reservations have been confirmed, if the weather is considered dangerous.
Most airlines will require papers showing your dog is up-to-date on shots and in good health. If your don't have the paperwork, your dog may not fly.
There are also restrictions on pet carriers. Most airlines have specific size requirements for carriers and they need to be constructed out of certain materials. Some airlines also require you to embed written information on the carrier such as dog's name and flight itinerary.
Some airline's policies are that they will only accept dogs if they are "odorless." You might want to give them a bath before your flight, or they might turn your dog away from the flight.
Where you are traveling matters. International and certain domestic itineraries can hold pitfalls for dogs. For example, Hawaii has extremely tough regulations regarding dog entry and if your dog does not meet all requirements, including having specific vaccinations, the dog could be in for 120 day quarantine period or turned away altogether.
European countries may require your dog to have tattoos or a microchip.
Pricing for Dogs on Airlines
You can click on any of the airline links to go directly to their pet policy, They do change without notice.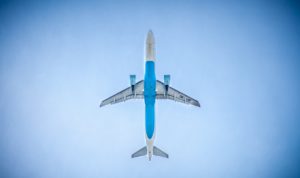 Alaska Airlines – In-cabin $100 each way, cargo $100 each way
American Airlines – In-cabin $125 each way, cargo $200 each way
Delta Airlines – In-cabin $125 each way, cargo $200 each way
Frontier Airlines – In-cabin only $75 each way, cargo in not available
Hawaiian Airlines – In-cabin $35-$175 each way, cargo $225 each way
JetBlue Airlines – In-cabin $100, cargo is not available
Southwest Airlines – In-cabin $95, cargo is not available
Spirit Airlines – In-cabin $110, cargo is not available
United Airlines – In-cabin $125, cargo fees vary based on weight
Virgin Airlines – In-cabin $100, cargo is not available
(Fees can and do change without notice.)
Service Dogs fly for free on U.S. Airlines.
Safety First
These tips for how to travel with a dog should have you all prepared to start making your reservations.  If you are in need of traveling with your dog on public transportation, and especially if you are trying to plan a trip that includes airline travel for dogs, you will need to plan far in advance.
Remember, not all hotels will allow dogs.  Here is some information on dog friendly hotels to help you in your search.
The most important factor when traveling with your dog is making sure that your dog is safe. Prepare ahead of time by making sure you have water, food and veterinarian records with you. Also, make sure that the mode of travel you are planning accepts your dog.
Sometimes bad stuff happens. Despite the best efforts of everything to be properly prepared, accidents can happen and sometimes dogs die on planes.
If your dog is too big to travel by your feet, and they are getting older, you might want to consider if they are better off staying home. When they are part of our family, we always want them included in what we are doing, but keeping them safe is the most important thing you can do for your dog.
Since you now know how to travel with a dog and have read all the tips for traveling with a dog, it is now time to have fun on your trip.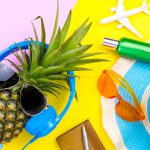 Please share if you have traveled with your dog and how successful it was. I would love to hear your stories, and so would others. If you have any additional comments or questions, please leave them below.  You can follow justforyourdog.com on Pinterest, FaceBook or Twitter for all the latest updates on dogs.