There can be a large variety of reasons you might be searching for a new dog food, but one thing everyone searching has in common, is that they want to provide their dog with a healthy nutritional dog food.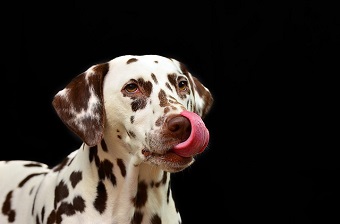 I am going to provide you with an Ollie Dog Food Review to help you find if Ollie Dog Food will provide you with the solution for why you are searching for a new dog food.
What Is Ollie Dog Food
Ollie Dog Food is a dog food delivery subscription that delivers freshly cooked, customized dog food to your door every 2 weeks. The company was developed in 2016.
The food is customized and tailored to your dog's meal plan based on their age, breed, activity level, allergies and ideal weight.
They will take all these variables into consideration when designing the perfect meal plan to meet the needs of each dog.
It is produced with high-quality meat that is sourced from family run farms in the United States and Australia.
Recipes are designed by veterinary nutritionist, to ensure each recipe is complete and balanced according to AAFCO nutritional standards.
All food is produced in small batches and cooked at low temperatures in an USDA regulated facility located in Pennsylvania.
Products are hand packed and shipped fresh, for optimal nutrition and flavor, and every batch is lab tested to ensure it hasn't been contaminated.
Orders will ship within 1 to 2 business days of being ordered with expedited shipping, to ensure it arrives fresh. The food is vacuum sealed for freshness and arrives frozen with 2 freezer packs in packaging to keep the product cold.
Ollie Dog Food is available for delivery to all 48 states in the continental United States.
Benefits Of Ollie Fresh Dog Food
There could be many reasons that you are searching for an alternative to your dog's diet. It seems that several times a year, there is some type of dog food recall, the latest being for excessive Vitamin D in dog food.
If you have ever done any research about how dry dog food is manufactured, you may have discovered that dry dog food isn't providing your dog with all the nutrition that they need to stay healthy and that many of the ingredients in dry dog food could be causing health issues for your dog.
Dry dog food is also pressured cooked at extreme high temperatures, removing the nutritional benefits that were once in the dog food before being cooked.
It seems that dogs having diabetes, cancer and liver failure is becoming more common than ever before, which might lead you to believe that your dog's diet has a direct link to the increasing poorer health of our dogs and the life expectancy decreasing.
There are several benefits to fresh dog food as a whole, and Ollie addresses all of the concerns that I have listed above. Here are the health benefits of Ollie Fresh Dog Food.
Health Benefits Of Ollie Dog Food
More Energy
Less Allergies
Shinier Coat
Healthier Weight
Fresher Breath
Improved Eyesight
Regulated Digestion
Smaller Stools
Besides the health benefits that Ollie Dog Food provides, there are many other benefits that you will find from using their delivery service.
Additional Benefits Of Ollie Dog Food
Only use human-grade ingredients
Use high-quality meat source
Fruits and vegetables included in all recipes, but only gently cooked to preserve their nutrients
Uses Superfoods
Zero fillers – no by-products, no artificial flavors, no preservatives
Delivered to your door and shipping is always free
Customized meal plan just for your dog's needs
Freshly cooked and shipped immediately after
No corn, soy or wheat – ingredients that can cause allergies for many dogs
How To Create Your Dog's Customized Ollie Meal
It is very simple to create your dog's customized meal with Ollie. You simple go to https://www.myollie.com/, and click on the "get started now" button.
From there you will create an account for your dog by filling in their profile. You will be asked to provide your dog's age, breed, activity level, weight, any allergies, overall health and a few other questions. This will allow Ollie to design your dog's recipes based on their profile information.
When your dog's recipes are created, they will take into consideration things like if they are a puppy or an older dog.
Puppies might need extra calcium and Vitamin D for their growth stage or older dogs may need extra vitamins and minerals to stay sharp and full of energy.
Whatever your dog's needs may be, Ollie will provide them in the meal plan that is customized for your dog. All of these variables are used when designing the perfect meal plan to meet the need of each dog.
You will receive a summary of your dog's nutritional needs, including total daily calorie needs and how much food he should be fed every day.
Make sure that if health of your dog changes for any reason, that you update your dog's profile so their meal plan can reflect the changes.

Meal Choices From Ollie And Ingredients
There are 4 different choices when it comes to which proteins you want to feed your dog.
Beef with key ingredients of sweet potatoes, peas and rosemary
Chicken made with peas, blueberries, carrots and key ingredients of spinach and cod liver oil
Turkey made with pumpkin and lentils and key ingredients of carrots, blueberries and chia seeds
Lamb (this one is perfect for dogs with allergies) made with cranberries and key ingredients of butternut squash and kale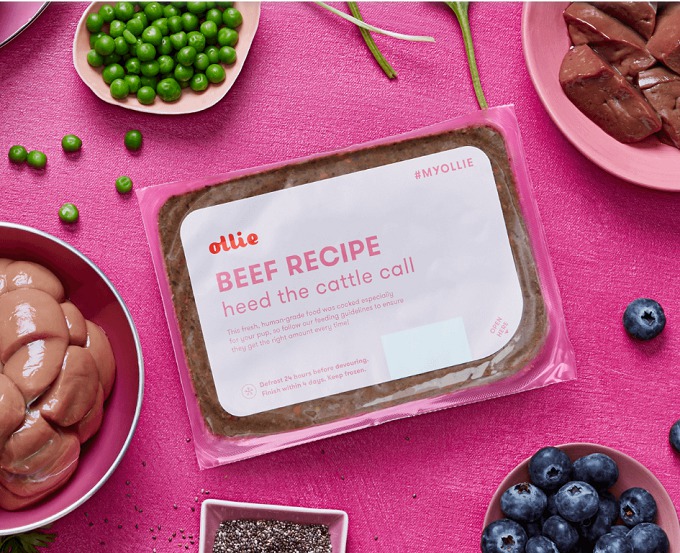 What These Ingredients Do For Your Dog
Sweet Potatoes – high in essential minerals and dietary fiber.
Peas – good source of lutein – for skin, eyes and heart health
Rosemary – safe and natural anti-microbial
Spinach – high in iron and antioxidants
Cod Liver Oil – omega 3 acids for heart health
Carrots – full of phytonutrients for eye health
Blueberries – high in antioxidants that fight free radicals
Chia Seeds – great source of copper, zinc and manganese
Butternut Squash – vitamins, minerals and fiber for digestion
Kale – high in beta carotene for healthy skin and fur

How Ollie Dog Food Is Packaged
When you order up your dog's new dog food, it will arrive at your front door in an Ollie cardboard box. Inside it will be packaged with 2 freezer packs to keep your dog food frozen.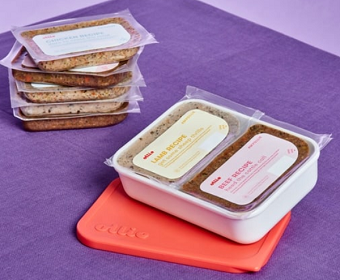 You will receive 2 weeks of dog food that will be divided into 3 boxes, each containing 7 trays of dog food. Each tray contains 2 days worth of food.
The trays are vacuum sealed for freshness and will come with a rubber lid to keep it fresh once you open it. There is a plastic scoop for serving the right portion of food for your dog, and a bandanna for your dog to wear.
You should store the trays in the freezer and thaw in the refrigerator for 24 hours before serving. The dog food can be kept in the refrigerator for up to 4 days.
Cost Of Ollie Dog Food
Any fresh dog food is going to be more expensive than the average kibble you purchase at your local retail store or order online, but the quality is so much better for your dog.
It is more affordable than most freeze-dried raw dog food options that are available, which can run up to $15 per pound.
Ollie Dog food has plans that start as low as $3 per day, but the average price is in the $6 per day range, depending on your dog's needs. Obviously a larger dog will cost more than a small dog.
If it turns out you feel this price is a bit more than you can afford or are willing to pay, you have the option of mixing the Ollie dog food with kibble for it to stretch the fresh dog food further. Be careful with the amount of calories you are giving your dog if you are combining the two.
If you choose to go this route, you are still providing your dog with many nutrients that they wouldn't receive from just their kibble, but you will be able to stretch your budget a bit further.
The only place that you can purchase Ollie Dog Food is directly from them. If you click on the picture below, it will take you directly to Ollie, and you will receive 50% off your first order.
Who Is Ollie Dog Food For
Ollie is perfect for any dog owners who want to make an improvement in their dog's nutrition and health.
It is great for overweight dogs that need a structured plan to get them to their idea weight, and it is beneficial to dogs with allergies.
If you want to make sure your dog is getting all the nutrients that he needs, you should try Ollie dog food and wait for the changes you will see in his overall health within 2 weeks.
Negatives Of Ollie Dog Food
Unfortunately, it seems everything that is good, has some bad with it as well. I want to make sure you have the good and the bad of Ollie Dog Food.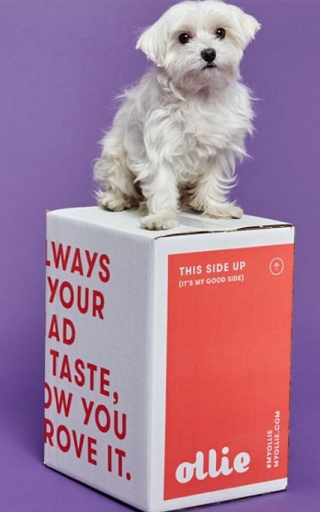 If you have a large dog, it is very expensive to feed them only Ollie dog food.
Customer Service – there are reviews of people having problems with getting credits or when there has been a need to make a change in the shipment schedule. It seems that there are several times that customer service doesn't follow through with changes very well.
There are some complaints of dog food arriving that was no longer frozen. That can happen when there is extreme heat, but the replacement orders take a while to arrive. That means you can be without dog food.
It is a subscription that you are signing up for, so you will keep getting charged and receive shipments until you cancel. You do not reorder every 2 weeks, shipments come automatically.
Summary
If you are looking to make a change in your dog's diet, this Ollie Dog Food Review should help you see the benefits that a freshly cooked customized dog food can provide.
I realize that not all dog owners can afford to purchase the very best of everything, but when I compare Ollie dog food with other fresh dog food delivery subscriptions, their price is slightly less. Like I mention above, you always have the option to mix the Ollie dog food with your kibble to help stretch it out.
Even with combining fresh dog food with dry dog food, you will be providing your dog with much more of their nutritional needs than regular dry dog food can provide.
Give it a try today, and let me know what you think after a few weeks.
If you have any questions or comments, please leave them below and I will get back with you. You can follow justforyourdog.com on Pinterest or FaceBook for all the latest doggy updates.
Some of the links within this post are affiliate links of which I might receive a small compensation from sales of certain items.