If your dog is anything like my dog, nothing makes him happier than getting a treat. But wouldn't it be great to make sure the treat you are giving your good friend was something that had healthy ingredients in the dog treats?  I am going to show you how to make healthy dog treats.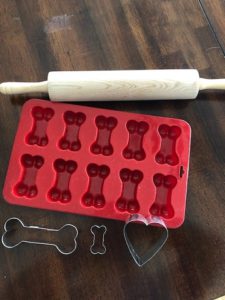 There are many simple dog treat recipes that are made from all natural ingredients, and ingredients that you probably already have in your home.
There are some ingredients you want to make sure you avoid when making dog treats and there are many ingredients that have real benefits for your dog.
I am going to give you information on what to avoid, what to include and why homemade dog treats are good for your dog. Also, I will include a free easy dog treat recipe that you can try out yourself.
Why Homemade Dog Treats Are Better
Store bought dog treats contain unhealthy additives. Many brands of commercial dog treats are filled with preservatives, which help extend their shelf life.
Also, store bought dog treats are often made from fillers and byproducts as opposed to natural and high quality ingredients. We hear the word byproducts often, but do you know what that actually is? It is the clean parts of a slaughtered animal, not including the meat.
These parts include lungs, kidneys, brain, spleen, liver, bone, blood, stomach and intestines. I know I don't want any of these parts in my food, and I would think we wouldn't want them in our dogs either. If you have a dog with allergies, homemade treats are also a good way to go, so you can control what is actually going into their system.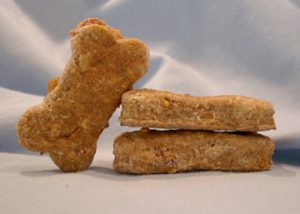 Ingredients to Completely Avoid
Never make dog treats with the following ingredients. They are toxic to dogs.
Onion/garlic
Grapes
Raisins
Chocolate
Artificial Sweeteners
Artificial Colorings
Nutmeg
Macadamia Nuts
Great Ingredients to Add – Their Benefits
As you are working on your recipes, the following list are great ingredients to add to recipe. They have great nutritional benefits, and are flavors that your dog will enjoy.
Pumpkins – help with cataracts and heart problems. Also great for weight loss and digestion.
Peanut Butter – high in protein, vitamin B and E and niacin.
Yogurt – high in calcium and protein. Aids in digestion.
Salmon – helps with healthy shiny coat and supports robust immune system.
Eggs – full of protein
Oatmeal – excellent source of soluble fiber.
Cinnamon – helps relieve joint pain.
Parsley – helps freshen breath.
Peas and carrots – an excellent source of vitamins and minerals. They also provide a flavor dogs love.
Oatmeal – is a heart smart food that is an excellent fiber source and is clinically proven to lower cholesterol.
Turmeric – stimulates the liver's bile production and prevents excess cholesterol accumulation.
Orange peels – contains oils that stimulate the immune system (used in cancer treatments).
Other General Tips For Making Great Dog Treats
If you want your dog treats to be harder, leave them in the oven for a few hours after the oven is turned off.
How to store them – store them in an airtight container in the refrigerator for at least 2 weeks, or in an airtight container in the freezer for at least 8 months. Just remove about 15 minutes before handing them out to your dog.
All purpose flour can be substituted for whole wheat flour. They will turn out just fine. Most recipes list whole wheat flour because it offers more nutritional value.
Free Easy Dog Treat Recipe
Peanut Butter Dog Treats
Ingredients
2/3 cup pumpkin purée
1/4 cup peanut butter
2 large eggs
3 cups whole wheat flour
Directions
Preheat oven to 350 degrees. Sprinkle baking sheet with corn meal (or line with parchment paper or a silicone baking mat).
In large bowl, add pumpkin purée, peanut butter, and eggs and mix with electric mixer until well blended, about 2 minutes. Gradually add 2 1/2 cups flour at low speed, beating until completed blended. Add additional flour 1/4 cup at a time, just until dough is no longer sticky.
On a lightly floured surface, knead the dough until it comes together (about 5 times). Using a flour covered rolling pin, roll dough to 1/4″ thickness. Use cookie cutters to cut out and place on baking sheet.
Place in oven and bake until edges are golden brown, about 20-25 minutes.*
Let cool completely.
*Baking times will vary depending on size and thickness.
Banana Bread Soft Chew Dog Treats
Ingredients:
1/2 cup coconut flour
1 tablespoon ground flaxseeds
1/2 cup pure pumpkin puree
2 large eggs
1 mashed banana
1 tablespoon coconut oil
Directions
Preheat oven to 350 degrees F and line a 13″ x 9″ baking sheet with parchment paper.
In a small mixing bowl, add coconut flour and ground flaxseeds.  Mix together.
In a separate bowl, mix together pumpkin puree, eggs, mashed banana and coconut oil.
Combine the 2 bowls of ingredients and mix thoroughly
Spoon batter onto the baking sheet evenly and let it set for about 5 minutes.
Score both horizontal and vertical lines creating little squares.  Don't go all the way through the batter.
Bake for 35 minutes.
Remove from oven and transfer to a wire rack to cool.
When completely cool, break or cut treats along the scored lines.
Store in the refrigerator in an airtight container.
Thoughts
I hope learning how to make healthy dog treats will get you motivated to try some yourself.  Making dog treats for your dog can be both fun and rewarding for your dog. Children will enjoy making them with you as well.
Try out some of the free easy dog treat recipes I have supplied, and check back again for new recipes that get added.
I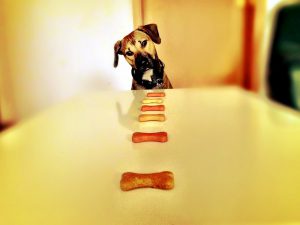 know I have never had a more enthusiastic taste tester of something I have made, then my dog trying out his new treats. He is much more excited to receive a homemade treat than a store bought treat (but he has never turned down a store bought treat either).
I would suggest if just starting out making homemade dog treats, that you stick pretty close to the recipe until you have tested it out. After that, if it is a recipe that is easy for you to work with, and if your dog is enjoying the treats, you can start adding other ingredients to improve the nutritional value for your pet.
I believe you will be able to give your dog healthier treats just by eliminating the preservatives, fillers and byproducts.
Have fun creating and making something that will be truly enjoyed by your dog. You can use regular cookie cutters to test your new adventure out, and if you decide you want to continue developing new treat ideas and making them regularly, you might want to invest in getting cutters more targeted to dogs. There are many available: Bones (in several sizes), fire hydrants, paws, hearts, etc.
Please comment or ask questions below and I will get back to you. Also, check back regularly, as I am going to provide new dog treat recipes. If you have proven dog treat recipes you want to share, feel free. Enjoy and have fun.