With hurricane season back in full swing again, it is best to be prepared not only for yourself, but also to prepare pets for a hurricane.
Since Hurricane Katrina, laws have been passed to accommodate animals during natural disasters. During Hurricane Katrina, 250,000 pets were abandoned and it is estimated that 150,000 of those pets died. As a pet owner, we need to do everything possible to protect our pets.
The best way to protect our pets is by being prepared ahead of time in case the situation arises. These tips are great for hurricane victims, but they are also a great plan to have in place for any time a natural disaster that could arise. It could be a tornado, wild fires or extreme flooding. Having a plan in place will help keep everyone safe.
Dog Collar And Leash
Make sure you have your dog's collar around their neck. You also need their name and current phone number on the collar in case you get separated to help get your pet back.
Leashes are necessary. Have at least two leashes in case one gets misplaced or someone else needs a leash. I suggest getting a slip knot type leash. When dogs are afraid, they have a way of slipping our of their collars, and a slip knot lead will help with them not escaping.
Dog Crate
Make sure to have a crate that is big enough for your dog so they can stand up and lay down in their crate. Shelters that accept dogs
often require that dogs are restrained at all times. If you end up going to a hotel with your dog, many times they also require a pet to be restrained if you need to leave the room.
Get your crate ahead of time and have it ready. If your dog doesn't usually get crated, start making them acquainted with the crate to help them adjust easier if the need arises.
Copies Of Pet's Vet Records
Most shelters may require proof of vaccinations. Also, if you end of boarding your dog for some time until you can return home, you will be required to supply your dog's records of vaccinations.
Keep your vet's phone number handy also in case you need to quickly contact them for information.
Get them put together ahead of time and put them in something that is waterproof. Even a zip lok bag will work. Have them in an emergency bag you keep packed, so you have them when you need them.
Pack Food And Bottled Water
You will want to plan to have enough dog food and bottled water for your pet for at least 2 weeks, just to be safe. If you feed your dog canned food, also make sure to have a can opener if your food requires that for opening the cans.
You will also need to plan on having your dog's medications if they take any, and plan on a 2-week supply for that as well. Give your dog heart worm and flea preventatives before putting your dog in an evacuation facility even if they don't need them yet. They will be exposed to many more things there, and it is better to be proactive ahead of time to keep your pet safe.
Know Where Your Local Evacuation Sites Are
Most of the evacuation sites will be listed on your county's website. Usually they will also list if pets are accepted at their location, but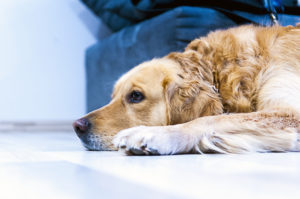 if they aren't listed, phone ahead to find out. You want to know where you can go with your pet before you actually need to leave.
Leave Early
If you know you are going to be getting hurricane or other natural disaster, leave early to protect your family and your pets. Find accommodations with friends or family members if possible that are in a safe area.
You should be able to find dog friendly accommodations in a safe area. If you are having problems, try the Bring Fido App. You just need to supply your location, and it will give you a list of hotels that are nearby that accept animals.
Other Tips
Carry an up-to-date photograph of your dog with you. This will help claim your dog if you get separated.
Label your dog crate with your dog's name, breed of dog, sex, date of birth, current address and phone number.
Have a dog first aid kit put together ahead of time in case you have a situation that requires any medical attention for your dog. They are easy to put together yourself, or you can purchase one at your local pet store.
Pack some other items that are your dog's favorites, like treats, blanket or a favorite toy.  This will help them remain more calm having things that are important to them..
Having your dog microchipped helps you get your dog back if you get separated. If your dog is microchipped, make sure that your have current phone numbers and addresses listed.
Summary
The biggest thing you can do to keep yourself safe, your family safe and your pets safe is making sure to prepare pets for a hurricane and prepare yourself for a hurricane or other natural disaster. There isn't time to put these things together when the situation is upon us. We have to have it ready to easily grab if the situation arises.
If at all possible, never leave a pet behind to take care of themselves. There is a good chance that they won't make through it alive. If
you absolutely have to leave a pet behind, do not leave them chained up outside. Take them into your home and leave them to freely roam. Put out lots of water and food. Leave the toilet open, with the seat up for additional water if needed. I strongly advise against this approach though.
Download the FEMA App to receive updated weather alerts for your area. This will also help you to be on the ready if necessary.
Above all, stay out of the disaster if at all possible. Leave your area when asked to leave to help keep everyone you care about safe. BE SAFE!!
If you have any questions or comments, please leave them below and I will get back to you.