RCA Pet Camera Reviews
Product: RCA Pet Camera
Price: Usually under $100.  See Amazon for exact pricing.
Where to Buy: Amazon
Warranty: 12 Month Limited Warranty
My Rating: 4.5 Stars out of 5 Stars
Contents: Includes HD WiFi Camera, 10′ wall mount power cable, power adapter, wall mount hardware and quick start guide.
WiFi Router required, but not included.
Why a Pet Camera is a Good Purchase
Do you have a dog that gets into trouble when you aren't home? Do you miss your dog when you aren't home and wonder what is going on at home when you aren't there? Do you have a dog that suffers from separation anxiety? All of these are reasons for you to invest in a pet camera.
I wish these would have been available many years ago to watch a Golden Retriever named Max that I used to have. He was always fine
when I would leave for work, since I guess he knew that routine, but at night or on the weekends when I would leave, he would get mad if he wasn't invited along.
When I would get home, he would have tossed the couch pillows on the floor, thrown the bed pillows on the floor and scratch back the covers on the bed. There was a time that I forgot something and came back into the house within 5 minutes of leaving and I caught him in the act. He would run to my bed as fast as possible and be getting busy before I even pulled out of the driveway. It always made me laugh, since he never damaged anything, but how I would have loved to see him in the act.
I also miss my dog when I am gone, and with a pet camera you are able to check in on your dog and see what he is up to and make sure he is OK. Also, I hate missing what is going on with my dog. I know most of the day they are sleeping when we are gone, but if they are up to something cute, I would rather not miss it.
If you have a dog that suffers from separation anxiety, I believe a pet camera is a must. With the pet camera you can make sure your dog isn't doing anything to injury themselves, and also you will be able to talk to your dog which can be very reassuring to them to hear your voice.
Features of RCA Pet Camera
This pet camera works with an iPhone, Samsung, LG, Google, or any smartphone/wireless device.
WiFi remote that allows you to pan, tilt and zoom the camera which allows you to watch your dog from all angles live.
High Definition Video.
Remote viewing on any Smart phone device
Free RCA WiFi camera app.
Infrared night vision. Able to see your dog at night even if there aren't any lights on.
Allows you to see and hear your furry friend 24/7 from anywhere you have WiFi.
3 easy steps to set up. Plug in camera, download app, connect to WiFi network. You are set to go.
Record video or snap pictures to your mobile device.
Add a micro SD card to auto record motion and sound alerts for free.
Two-way talk allows you to talk to your dog when you are gone.
Sound, motion and temperature detection with alerts sent to your Smartphone.
Ability to add up to 3 additional cameras (sold separately). Pair up to 4 cameras at a time (quad view mode) so you can view multiple areas of your home and check in on multiple dogs at the same time.
Multiple devices can check on your dog at the same time. This means that all family members can get into your system to check on your dog during the day.
No cloud or storage/app fees.
Can monitor the temperature inside your home.
Can be used as a home security system.
Watch this video to see the app on your phone
Review of RCA Pet Camera
I really have positive reviews for this product. I love everything about the camera. The picture is very clear and it has a 360 degree view which helps give additional flexibility for placement of the camera. It takes great pictures and the talk feature is an added bonus that makes the system even better.
Operation and set-up is easy to do. There are only 3 steps to get it up and running and the app is easy to use. Five minutes after you get the pet camera, it will be up and running for you.
Having the capability to add additional cameras helps you cover more of your home, so you can see your dog in all of his favorite places to hang out, or watch several dogs all at the same time.
Infrared feature works great, and helps when you are gone in the evening to still see what your dog is up to even if you didn't leave any lights on in your house.
As long as you have WiFi available to you, you will be able to access your camera.
Sound alerts help you quickly know if your dog is barking, crying or having an issue. This helps you to not have to watch the screen while you are busy at work, but you will know if there is a problem by being alerted to noise when or if it happens.
The same camera you are using for your dog can also help you monitor your home for security issues, all with the same system.
There are 2 areas that I believe are a bit of a negative. You are not able to access the system from your laptop, which means you will have extra drain on your phone battery. Also, depending on how far away from the camera your dog is, the sound is harder to pick up. This problem is diminished by additional cameras throughout your home.
Warranty
The RCA Pet Camera offers a 12-month limited warranty. The warranty is valid for 12 months from the date of purchase for the original person who purchases the product. RCA will repair or replace defects without charge for labor or materials. The warranty is not transferable and only covers products that are purchased and used in the United States or Canada.
Conclusion
The RCA Pet Camera is a great purchase to keep an eye on your dog for whatever your reason is and at a very affordable price. It really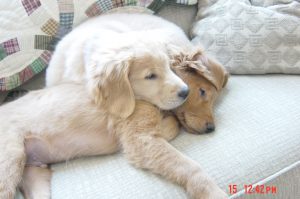 offers some great benefits and is very easy to use.  RCA Pet Camera Reviews are very favorable on this product.
I have 2 recommendations to help you love your RCA pet camera even more. Install the camera high up. This will help make sure that there aren't any obstructions getting in the way of your view.
I also stronger recommend purchasing a SD card to save videos directly into your system. This will help you see what you are missing when you aren't home and aren't monitoring the camera. Dogs do so many silly things and you are sure to get some videos that will make you laugh and smile over what your dog is up to.
Click here to purchase the RCA Pet Camera now.
Please leave any questions or comments, or share about your dog below. It helps others that are looking into similar information.