Have you ever seen your dog chasing bubbles around. They love the activity, it gives them exercise and is great for mental stimulation. There are safe bubbles for dogs that you can purchase to make sure if your dog is a really big bubble popper, they won't get an upset stomach.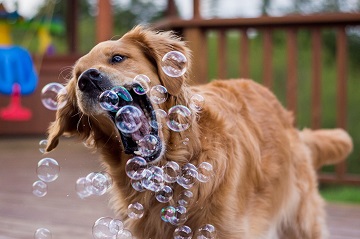 Bubbles Are A Great Way For Your Dog To Have Fun
In order to keep your dog from getting bored, it is important to change up their activities. Chasing bubbles is a great game for dogs to have some fun and get some exercise.
If you have never blown bubbles for your dog, you really need to try it. It will be fun for both of you. I discovered what fun it could be by accident when I was blowing bubbles for my son, and it became an all out race who could get the bubbles first. My dogs, or my son. It turned into quite the competition between them and was fun for everyone.
Who could catch them in the air, or popping them when they landed on the ground. Both were equally fun.
Dog Safe Bubbles
Unless your dog is popping really a lot of bubbles in their mouth, regular kids bubbles are probably fine for them. Some dogs might get an upset stomach if they end up popping a lot of them in their mouths.
There are bubbles that are made for dogs that are non-toxic and also kid safe, and there are some benefits to the dog safe bubbles. They even come with flavors.
The dog bubbles that I would recommend are Pet Qwerks Doggy Bubbles. They come with a flavor infused in the bubbles. You can choose either Peanut Butter or Peach for dogs, but they also have catnip for your feline friends as well.
These bubbles are slightly thicker than kid's bubbles. They will dry in the air meaning they are more likely to land on the ground completely intact for your dog to come and pounce on them.
They are made in California, unlike many bubbles that come from China.
If you have never blown bubbles for your dog, I suggest you get some today, and watch the fun your dog will have chasing the bubbles around the yard.
Try A Bubble Machine
If your dog likes chasing bubbles, you might want to invest in a bubble machine for even more bubbly fun. There are bubble machines that are made especially for pets, but I think you will be happier with one that is designed for kids. It will work great with the dog safe bubbles, and it is a better operating machine.
The 1byone Bubble Machine would be my recommendation. It can shoot out 1500 bubbles every minute from 6 spinning wands. There are 2 speeds to choose from and it has a capacity of 12.8 ounce capacity. You can either use batteries to operate it in the yard or at a park or a power cord if you are using it in your home.
Outdoor Use Of Bubbles
Although you can use bubbles indoors or outdoors, I would recommend using bubbles outdoors. It will give your dog a better area to run and jump without damaging anything, and most dogs prefer to be outdoors.
Bubbles used in the house can cause a sticky residue where they pop. It might leave a white non-staining residue after it is popped that can be wiped off with your hand or a damp cloth. There have been people that have complained about the stickiness though.
I always use them outside, but I have a Golden Retriever, and he is a bit big jumping around in the house without knocking something over.
If you were looking for some indoor exercise for your dog, you might want to check out the ideas listed in this article.  There are many ways to get your dog indoor exercise.
Summary
Bubbles for dogs can be a great way for your dog to get exercise and both of you will have fun during this activity. Safe bubbles for dogs gives you the reassurance that your dog won't get sick from the bubbles that they ingest, and I know I feel better that they are made in the United States.
Get your dog some bubbles today and let the fun begin.
Please leave any questions or comments below. You can follow justforyourdog.com on Pinterest, Twitter or FaceBook for all the latest dogs ideas and updates.
Some of the links within this post are affiliate links of which I might receive a small compensation from sales of certain items.