Many dog owners are tired of all the dog food recalls, or have concerns with health issues that dry dog food seems to be causing their dogs.
I am one of these people. I have spent several months researching the effects of dry dog with regard to dogs getting cancer, having problems with their mobility and just generally having a shorter life expectancy than what they had 30 years ago.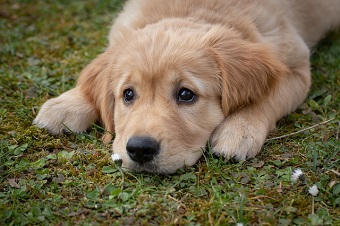 Golden Retrievers, for example, used to have a life expectancy of 16 years and currently it is 8 to 9 years.
People are living longer, shouldn't we at least be able to not shorten our dogs life expectancy?
I believe that it all comes back to the food that we are feeding our dogs.
There are many health concerns for our dogs because the ingredients in dry dog food aren't fresh, low quality ingredients, the way dry dog food in made, and all the preservatives that are added to give it a shelf life of 2 to 3 years.
This has all led me to look at feeding our dogs a fresh cooked diet, and the benefits of fresh dog food for our dogs.
I am going to share with you the 3 best fresh dog food delivery services that I have found, and hopefully one of them will be just what you are looking for to provide your dog with the healthiest life possible.
What Is Special About Fresh Dog Food
There is a difference between a fresh dog food diet and a raw dog food diet.
Fresh dog food is human grade ingredients that have been lightly cooked at low temperatures. This will help keep the nutritional integrity of the ingredients.
All 3 of the companies I am going to discuss, prepare their fresh dog food in USDA kitchens, use high quality human grade ingredients and include veggies, vitamins and minerals in all of their recipes.
None of them ever add artificial flavors, preservatives or fillers to their meals.
The fresh dog food is only produced when there is an order for it, and never mass-produced and stored until needed.
NomNomNow
NomNomNow is considered my #1 choice, but all 3 are very close in my opinion.
All of the recipes for NomNomNow are created by Dr. Justin Shmalberg, DVM. He is the Chief Nutrition Officer and 1 of less than 100 board certified specialists in small animal clinical nutrition in the country.
He is a practicing veterinarian and Clinical Associate Professor.
NomNomNow only uses human grade food, all vitamins are natural and no additives, preservatives or artificial ingredients ever.
They only use U.S. ingredients and all meals are gluten-free.
Their recipes exceed AAFCO standards and all of the meals are produced in FDA compliant kitchens.
All of the meals are customized for your dog based on their weight, breed, age, activity levels and any health issues they may have.
You have a choice between Heartland Beef Mash, Tasty Turkey Fare, Chicken Cuisine, and Porkalicious Potluck.
Use the link I have provided below, and you will be able to find everything that is in the recipes and why it is included in the recipe.
You can easily create a profile for your dog on their website, and as your dog ages, they will adjust your dog's meal plan to help with needs for older dogs.
Meals are portion sized packaged, never frozen and delivered to your door within days of producing. Boxed and shipped with ice packs to keep it fresh.
As you might expect, a fresh dog food diet will cost more than dry or canned dog food.
According to NomNomNow's website, here is what an average meal will cost, but it can vary depending on any special needs your dog may have.
Small dog weighing 10 to 20 pounds $4 per day
Medium dog weighing 30 to 40 pounds $7 per day
Large dog weighing 50 to 70 pounds $10 per day
There is also the option of feeding your dog half of their regular food and half of NomNomNow. This will greatly reduce your costs, but you will still be providing your dog with the vitamins that are so important to their overall health.
If you have never been to NomNomNow's website, I highly recommend going and taking a look around. They have so much valuable information available, even if you haven't joined their program.
You will receive 50% off your first order with this link.
You can learn more about NomNomNow from this NomNomNow full review.
The Farmer's Dog
The Farmer's Dog uses only human grade meat, veggies, fish oil and 9 essential nutrients in each recipe.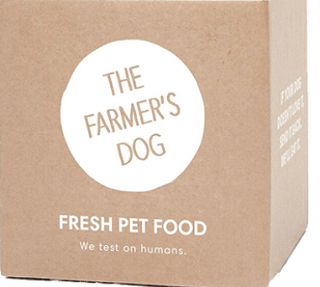 It is produced in USDA kitchens that only uses clean USDA proteins mixed with simple produce and balanced with vitamins and minerals.
They never use feed-grade ingredients, no preservatives, fillers, artificial favors or byproducts.
Each meal is customized for your dog based on weight, age, breed, activity level and health issues or concerns.
The meals are pre-portioned to their calorie needs, and one bag is one day's worth of food for your dog.
All recipes are designed by nutritional veterinarians.
Packages arrive frozen, packaged in dry ice in Eco friendly packaging and shipping is free.
Your dog's food will arrive within days of being produced and will come with your dog's name on each package along with the date the food was prepared.
You can choose between turkey, beef or pork, and each protein will have at least 3 vegetables included.
Pricing can start as low as $3 per day, and depends on what your dog's needs are.
25 pound dog cost approximately $4 to $5 per day
55 pound dog cost approximately $8 to $9 per day
I make the same recommendation that I made above. You always have the option to supplement your dog's diet with half dry dog food and half Farmer's Dog to make it more affordable if needed.
You can read the full review of The Farmer's Dog here for more information.
The link below will give you 50% off your first order of The Farmer's Dog.
Ollie Dog Food
Ollie Dog Food only uses high-quality meat from family run farms in the United States.
All of their food is produced in a USDA regulated facility and is hand packed and tested for contamination.
The meals are designed by veterinary nutritionist to provide a complete and balanced diet according to AAFCO nutritional standards.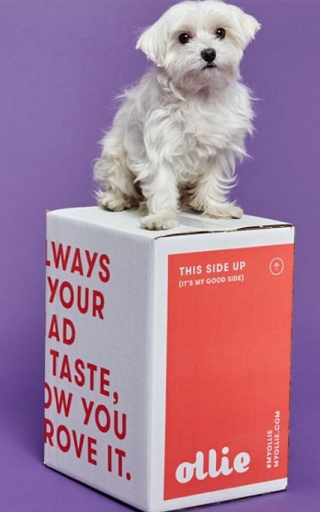 All meals are customized for your dog, based on age, breed, activity level, allergies and ideal weight.
Ollie only uses human-grade ingredients and include fruits and vegetables in all of their recipes.
They never use any corn, soy or wheat in their recipes or preservatives, artificial flavors or byproducts.
Each meal is vacuumed sealed and arrives frozen for optimal nutrition and flavor. It will arrive packaged with freezer packs to make sure it stays fresh.
You can choose from beef, chicken, turkey or lamb which is a great choice for dogs with allergies.
Pricing can start as low as $3 per day
Average price is $6 per day – depending on your dog's size and special needs.
You can read the full review of Ollie Dog Food here for more information.
You can receive 50% your first box of Ollie Dog Food from the link below.
Benefits Of Fresh Customized Dog Food
There are several benefits that your dog will receive from eating a fresh dog food diet, no matter which of the 3 that you choose.
More Energy
Less Allergies
Shinier Coat
Healthier Weight
Fresher Breath
Better Digestion
Smaller Stools
Summary
When choosing the best fresh dog food delivery service, I feel that with all 3 of these choices, you would be happy.
I lean a bit more towards NomNomNow, since there is so much information that they provide that can help you be better educated about keeping your dog healthy.
NomNomNow is slightly more expensive that the other 2 choices, but I believe that there is more that goes into the food that they are preparing for your dog.
I have a new puppy moving in soon, since I have lost my last 2 to cancer (the reason for all the research). I plan on feeding my puppy NomNomNow. I don't believe that I will be able to completely afford it as he gets bigger, so I am going to go the route of half of the best dry dog food I can find with half of the NomNomNow diet.
I truly don't think you will be disappointed with your dog's health with any of these 3 choices.
Let me know which one you chose and why.
If you have any questions or comments, you can leave them below and I will get back with you. You can follow justforyourdog.com on Pinterest or FaceBook for all the latest doggy updates.
Some of the links within this post are affiliate links of which I might receive a small compensation from sales of certain items.