Looking for dog Christmas present ideas, I have ideas that your dog is going to love getting for Christmas.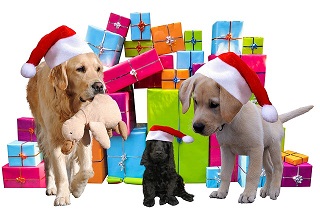 These presents don't include the winter dog coat, or any of those other practical presents, these are Christmas gifts for dogs that your dog is going to be excited to receive.
If you dog is anything like mine, he is just as excited opening Christmas gifts as a child. Kids don't like getting socks and underwear for Christmas, and our dogs don't want those type of gifts either.
They are looking for some yummy treats, a new stuffed animal, a toy that entertains them and something that they can enjoy right when they open their gifts.
Let's get going looking at my top 10 dog Christmas presents that will earn you some loving back, and something they will love opening on Christmas.
You can click on any of the pictures to find pricing from Amazon.
Bubbletastic Bacon Bubble Machine For Dogs Or Kids
Chasing bubbles is a great indoor activity for your dog. Just turn on the Bubbletastic Bacon Bubble Machine and a whirlwind of colorful bubbles will be your dog's dream. The bubbles are bacon scented, making them even more alluring for your dog.
They are 100% non-toxic, tear free and safe for dogs and kids alike. There is one 8 ounce bottle of bubbles that are included with the machine, but you might want to pick up a couple more bottles at the same time you order your machine.
It is a fun interactive dog toy that will not only entertain your dog, but you will be entertained as well.
The bubble machine will run for hours on 4 AA batteries. These batteries are not included, so make sure to pick some up ahead of time so your dog isn't disappointed when he opens his Christmas gift.
Himalayan Gold Yak Dog Chews
Your dog will love these. These Yak dog chews are mouth-watering and made with only Yak and cow milk, a little salt and lime. There are no preservatives, additives or artificial ingredients. Packed with nutrients.
They are completely odorless and will keep your dog busy for hours. Even great for aggressive chewers.
They will help prevent plaque buildup and they are easy to digest.
These Yak dog chews are 100% gluten-free and Lactose-free.
Made in the United States.
Jerky Treats
What dog doesn't love the taste of beef jerky, but these jerky treats are good for your dog too.
Getting your dog some jerky treats will be a present that they can sniff out themselves and find their own presents under the Christmas tree.
These jerky treats contain 15 vitamins and minerals and calcium. They also include Omega 3 plus 6 fatty acids for healthy coat and skin.
All Jerky Treats are made in the United States using American beef only.
Not only will your dog love this present, you will be doing something good for his health as well.
Bully Sticks
Dogs go nuts for these sticks. They are high in protein and made with 100% high-quality, all natural beef. Made from free-range, grass fed beef only.
Bully sticks are a bit more expensive than some of the other chews you can find, but they are worth it. They are durable and long-lasting, and work for however an aggressive chewer your dog is.
They promote dental health by scraping away tartar and plaque from the gumline.
Bully Sticks are fully digestible, never splinter and are safe for your dog. There are no additives, hormones or unhealthy chemicals. Manufacturing follows USDA and FDA quality control protocols.
A great alternative to raw hides, which are hard for your dog to digest.
This brand is odor free, but you can get the bully sticks with odor if you think your dog will prefer them. If you get the sticks with odor, you might want to restrict them for outdoor use, or at least keep them off the carpet with their stinky stick.
Claudia's Canine Cuisine Santa Paws Dog Cookies
These treats are freshly backed cookie shaped Christmas dog treats.
There are approximately 50 assorted treats in this 11 ounce package, each treat is about 1 1/2 inches long.
All treats are crafted in the United States with human grade ingredients.
Your dog will think they have a yummy taste and the aroma is a scent of fresh baked cookies. Smell good enough for us to eat.
These treats contain wheat flour, palm oil, corn syrup, honey, vanilla and yogurt. You might want to avoid if your dog has allergies to grains.
iFetch Ball Launcher
If your dog loves to fetch the ball, this is the perfect gift for them. It is an automatic ball launcher that will keep your dog entertained until they are too pooped out to fetch.
It is great to prevent dog boredom and provides them with not only exercise, but mental stimulation.
There are 2 sizes available. The iFetch is for smaller dogs and will launch mini tennis balls 10 feet, 20 feet or 30 feet.
The iFetch Too is for larger dogs. You can adjust the launch to 10 feet, 25 feet or 40 feet and there is a random distance setting as well, to challenge your dog even more. The iFetch Too uses standard sized tennis balls.
You teach your dog to drop the ball in the top of the machine, and wait for the ball to be launched. Once they fetch the ball, they can keep repeating by dropping the ball back in.
Works great indoors or outdoors, and your dog can completely entertain themselves with this toy.
The smaller unit uses either a power cord or batteries, and the larger unit comes with rechargeable batteries.
This is a Christmas present your dog will love, give them physical exercise and mental stimulation as well.
Sealy Orthopedic Dog Bed
Getting your dog a new dog bed will not only provide them with comfort and a place of their own, a good dog bed can help support their joints and keep your dog feeling better longer.
I recommend the Sealy Dog bed. Sealy has been making mattresses for humans for years, I trust that they can make a comfortable dog bed as well. You can read the full review of the Sealy Dog Bed.
Dogs of all ages and all sizes can benefit from a quality dog bed. Supporting your dog's joints can help them have more mobility as they age.
The Sealy dog bed has a cooling energy gel that will help regulate their body temperature. It dissipates heat away from the sleeping surface. A dog bed that they can use even in the warmer months.
There is a layer of memory foam that conforms to your dog's body, a layer of bio orthopedic foam which eliminates pressure points and evenly distributes your dog's weight and a pro-charcoal HD foam base that provides an additional layer of support and aids in absorption of odors.
The cover is machine washable and there is a waterproof liner to protect the mattress.
Your dog will love the comfort of his new orthopedic dog bed.
Multipet Swingin Slevins Dog Toy
What dog doesn't love a big collection of stuffed animals. I have found that purchasing stuffed animals that are overstuffed don't last as long.
The stuffed animals that are not plumped up with a large supply of stuffing tend to last longer, and there is less to clean up when they finally ripe it open.
I have had great success with the Multipet Swingin Dog Toy. It works great for both puppies and full-grown dogs.
The long limps make it fun to whip around and there are squeakers at the end of each limp and one near the head.
It is made of soft plush material and measures 30″ long. I currently have a puppy, and it is his favorite toy.
They are available as a cow, pig, duck and frog.
All dogs love tossing around a stuffed toy, and my puppy is using it as a pillow or a snuggle buddy when he is pooped out.
Lobeve Dog Toys
This toy comes as a 10 piece assorted pack to provide lots of variety for your dog.
There are 3 plush toys that have no stuffing (less clean up for you) and 3 squeakers in each toy. It is made with non-toxic thick plush material.
There are also 3 interactive toys that work great when you participate with your dog in play time.
One dog rubber ring, 1 dog rope ball, rope style Frisbee disc, and chewing dumbbell.
The rope toys will help clean your dog's teeth and massages their gums to help keep their teeth healthy all the while they are having fun playing with it.
Varram Pet Fitness Robot
Let's face it, it is hard leaving our dog home alone when we have to leave. The Varram Pet Robot will help keep your dog entertained when you aren't able to be there.
The robotic toy plays with your dog by zooming around the room and rewards their interaction by dispensing treats for them.
It encourages your dog to be active and decreases their sadness and anxiety.
You can manually control the robot with a Smartphone application, or have it operate with preset motions. The more your dog interacts with it, the more it will zoom around and toss out treats. Set a schedule ahead of time and control the amount of treats that your dog is getting.
There are 16 preset motions and sounds to help engage your dog.
The robot is made of poly-carbonate material and durable even for tough chewers.
It works on a variety of indoor surfaces, letting your dog enjoy the robot in all rooms of your home. This is not for outdoors.
The robot can run continuously for 4 hours or up to 24 hours when inactive. It is rechargeable with an included USB cable.
You can manage play time, treats, sleep and more all from your phone. The app will track how much your dog moves around when you are gone.
Summary
Whichever of these dog Christmas present ideas you decide to choose for your dog, you will be making sure your dog feels special during the holidays. I would consider these to be some of the best Christmas gifts for dogs.
There are treats, toys and comfort included for you to choose from.
Make sure that your furry buddy has something special under the Christmas tree this year, and save the collars, leashes and clothing for some other time.
Get your dog something for Christmas that they can find immediate joy from.
If you have other great ideas for Christmas gifts for dogs, please share them below to help others find the best Christmas gifts to give our dogs.
If you have any questions or comments, please leave them below and I will get back with you. You can follow justforyourdog.com on Pinterest or FaceBook for all the latest updates for dogs.
Some of the links within this post are affiliate links of which I might receive a small compensation from sales of certain items.