When the temperatures start to drop, you might find that you have a hard time getting your dog to go outside. Or you might have a dog who loves to go outside no matter what the temperature is, but you worry about him getting too cold if he stays outside for more than 10 minutes.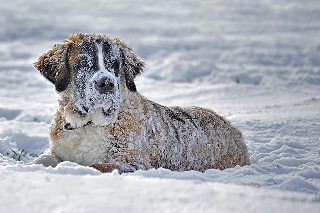 It is important that we help keep our dogs safe when those temperatures start dropping below freezing. The best way to keep your dog safe in the cold temperatures are by protecting your dog's muscles and internal organs. The right dog winter jacket can do just that for your dog. You should be looking for a waterproof winter dog coat.
Do dogs need winter coats might be something that you are unsure about. This can depend on the temperature, the age of your dog, their general health, and if they have long fur or short. Learn how to keep your dog safe in cold weather.
This review of Hurtta Winter Coat will show you the features of this extreme dog winter jacket, options that are available and who can benefit from this dog winter jacket.
Hurtta Extreme Warmer Dog Winter Jacket
The Hurtta Winter Jacket was developed by people from Finland, who are no strangers to how unrelenting winter can be. They were originally clothing designers, and wanted to develop functional jackets for dogs that really works.
The Hurtta Extreme Warmer Dog Winter Jacket is the warmest winter jacket that they offer for dogs. Not only will it protect your dog's muscles and internal organs, it comes with a high collar that can be pulled up to protect your dog's ears and head.
It is created using a heat reflective material. This unique foil lining material reflects the dog's heat and stimulates his blood circulation efficiently, unlike a regular winter jacket.
The surface material of the product is laminated with a breathable, water and wind resistant material. Having a waterproof outer layer will help your dog stay warmer. When your dog gets his fur wet from the snow, their fur isn't as good as an insulation for their body as when it is dry. Dog jackets that aren't waterproof will only make your dog more cold when they get wet.
The lining is a smooth polyester fabric that will not tangle your dog's fur. It is soft flexible material that is comfortable to wear, and allows complete freedom of movement.
Technology has greatly changed over the years, and no longer do you need big bulky fabrics for warmth. This dog jacket is lightweight but warm and will allow them the freedom to run around.
There are reflective piping seams on the back of the jacket and the seams on the rear section. This will help with your dog's visibility in the dark.
It is water and dirt resistant. You can machine wash in cold water, but it is recommended that you wash it inside out and air dry. Don't use fabric softener when washing. This can damage the water resistant coating.
There is a leash opening for collar or harness attachment on sizes 12 or bigger. The size 10 jacket has a ring for fastening a leash directly to the coat.
Special Features Of Hurtta Winter Dog Coat
There are several features of the Hurtta Winter Dog Jacket that I feel should receive special attention.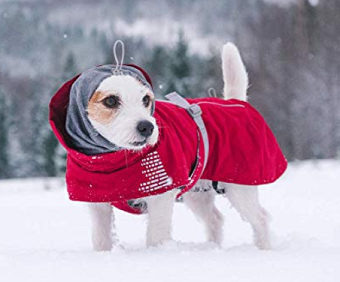 Waterproof Winter Dog Coats – Many winter dog coats are not waterproof which will lead your dog to getting more cold if their coat gets wet.
Unique Foil Lining – This feature is what helps this dog coat be an extremely warm dog coat.
Adjustable Back Length, Collar And Waist – Nothing is worse than your dog's jacket sliding around sideways on your dog. That is why many dogs don't like wearing a dog coat. With the adjustable length and waist, you will get your dog coat to fit properly, and keep it where it belongs. The adjustable collar will allow you to raise or lower it to either cover your dog's ears and head, or leave around their neck.
Warming Tricot Hood – Not many winter dog jackets come with a hood to protect your dog's ears. Dog ears can be very susceptible to getting frostbite.
Bottom Section Covers The Abdominal Area – If you dog likes to lay in the snow, or the snow is deep, their abdominal area doesn't have as much fur to protect it from the cold. The Hurtta winter dog coat covers the abdomen.
Sizing For All Sizes – Between the adjustment straps and the length available every 2″, you should be able to make sure your dog's jacket fits properly. It should fit snug, but not tight.
Hurtta Winter Dog Coat Sizing And Options
The most important measurement and really the only measurement you will need is for the length.
You should measure your dog from their withers (this is the ridge between the shoulder blades) to the base of their tail (where the tail attaches to the body). Your dog should be standing in a normal position when you measure them.
Use this length when ordering the proper sized winter dog coat. Just a cautionary note: This dog jacket tends to run big, so if you are in between sizes, I would go down one size.
The Hurtta winter coat comes in 10″, 12″, 14″, 16″, 18″, 20″, 22″, 24″, and 26″ long (withers measurement).
It also has 5 different colors to choose from: Coral Camo, Granite, Lingon (red), Orange, and Pink Camo.
Pricing does vary depending on sizing.  You can check pricing for the size you need from Amazon below.

Who Is The Hurtta Winter Dog Coat For
I recommend this winter dog coat for dogs of all sizes and ages. Dogs that will benefit the most with this winter coat are short-hair breeds, senior dogs, puppies and dogs with medical conditions.
If you live in an area where the weather drops to freezing and below, your dog can really benefit from having a winter dog coat.
Review Of Hurtta Winter Coat
This is the perfect winter coat for your dog if they have short fur, are puppies or older or have medical issues. I would consider this winter dog coat to be warmer than most you will find, and having it be windproof and waterproof winter dog coat only add to the value of this dog coat.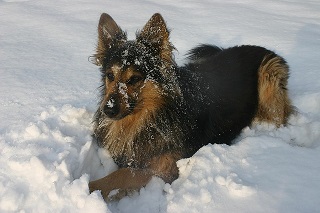 You are only going to need a winter dog coat if you get cold temperatures, so if you live in an area that experiences the harsh winter, I wouldn't waste my money on in between coats or ones that will get wet and make my dog more cold. I would choose the warmest winter dog coat, and one that is waterproof.
When the weather gets cold, it isn't only your dog's body that needs protecting from the cold. You also need to protect your dog's paws in winter.
Snow boots for dogs is the best option to prevent ice balls in between their toes. Take a look at the best snow boots for dogs to find ones that will stay put on your dog's paws.
If you have any questions or comments, you can leave them below and I will get back with you. You can follow justforyourdog.com on Pinterest or FaceBook for all the latest updates on dogs.
Some of the links within this post are affiliate links of which I might receive a small compensation from sales of certain items.