Any dog owner knows how much their dog likes to be included in everything, and it seems that most dogs really love going for car rides. But how do we keep our dog safe in our cars and make sure that they are getting all the enjoyment that deserve from the car ride?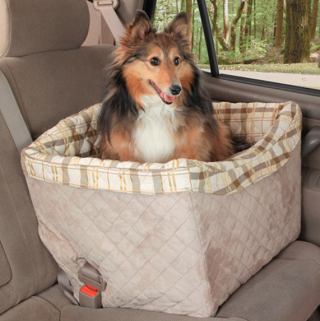 Dog booster seats for cars will allow your dog to travel safely with you, and enjoy the trip even more. Dogs love to look out the window, hang their head out the window and see what is going on. Smaller dogs have a hard time being tall enough to see out the window.
PetSafe Safety Seat For Dogs provides your dog with the extra inches they need to see out. This PetSafe Safety Seat For Dogs review will provide you with features and benefits of this dog booster seat and the pros and cons of this product.
Why A Smaller Dog Needs A Booster Seat
It has been some time since I have had a smaller dog, but I remember all too clearly what riding around in a car was like with her.
She was too short to see out the windows, so she was either crawling on my lap or putting her paws up on the arm rest, which sometimes would either lock or unlock the doors or put the window up or down. Distractions all over the place for me the driver.
I always love a dog on my lap, even when it is as large as a Golden Retriever, but I do know it can be difficult to drive a car with a dog crawling on your lap. They put their weight on your arm that is supposed be steering the car, do spins on your lap (sometimes getting stuck against the steering wheel if their isn't enough room), and block your vision from the road.
Has your dog ever starting working the window buttons up or down? I am not as concerned when they go down, but if your dog has their head hanging out the window and they adjust their paws on the arm rest, the window can start shutting on their head.
Keeping your dog in one place when you are driving is the best way to keep them safe in the car and help you be less distracted.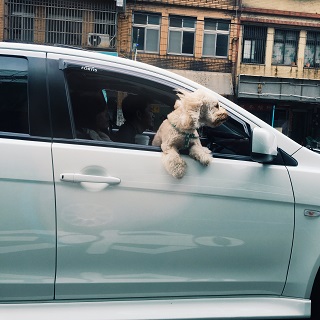 A booster seat for a smaller dog will allow them to see out the window, keep them in one location, protect your seats and help them enjoy the car ride so much more since they can see what is going on around them.
Providing your dog with a booster seat isn't much different than a booster seat for your child. It keeps them safe if you get in an accident, helps them see out the window and keeps them in one location instead of crawling around in your car.
PetSafe Booster Seat For Dogs
Just like their name, PetSafe provides all kinds of products to help keep our dogs safe, including wireless fences, ramps for cars, smart feeders, and so much more. Providing products that help keep your dog safe if their goal.
The PetSafe Solvit Jumbo Pet Safety Seat for dogs is designed for dogs 30 pounds or under, these are the guys that need help to see out the window.
The booster seat lets your dog ride in comfort with a padded and spacious interior. Their seat will sit 9″ above the vehicle seat, giving your dog a better view.
This design has been crash tested in a DOT approved facility and the safety tether has been tested to 2000 pounds.
It comes with a rigid interior structure that integrates with the vehicle seat belt for added security. There is also a safety tether that is included to strap to your dog's collar or harness to keep them in their booster seat.
Quick assembly which includes plastic panels that connect together without tools. Comes with step-by-step assembly instructions.
There is a quilted faux suede shell that comes in tan color only. The liner is a quilted plaid, tan in white. The liner is removable and machine washable.
This dog booster seat works for front seat or back seat and secures within 1 minute.
Dimensions Of PetSafe Solvit Safety Seat
The interior dimensions of this PetSafe Booster seat are 19.5″ wide by 14.5″ deep at the top of the booster seat and 18″ wide by 14″ deep at the bottom. The sides are 8″ tall.
The outer dimensions of the PetSafe Booster seat are 22″ x 17″ x 17″ tall.
Pros And Cons Of PetSafe Solvit Booster Seat And Rating
Pros
Safety tether included
Machine washable
Not foam based like most – doesn't trap in odors
Does not require headrest for attaching
Works in front seat or back
Many customers have stated that the booster seat was large enough for their dog to lay down in the seat as well. This probably depends on how large your dog is.
Cons
Consumers have complained about putting plastic structure together
Complaints that bottom padding isn't very thick
Hard or impossible to take apart once together
Overall, the Petsafe Dog Booster Seat has received 4.5 stars out of 5 stars with over 1200 customers reviewing this product. 72% of these consumers have rated this booster seat at 5 stars. Here is a breakout of the overall ratings.
Sturdiness 4.7
Security Features 4.5
Easy To Install 4.3
You can look at all of the reviews from this link.
Conclusion
Dog booster seats for cars are a great way to help your dog enjoy his car ride while keeping him safe, your seats protected from their nails, and you less distracted while driving.
I do feel that a dog booster seat for cars are a worthwhile investment to make if you have a smaller dog. If you feel that this PetSafe Safety Seat Review shows you that it isn't the right booster seat for you, don't give up on the idea of getting your dog a booster seat. There are so many different styles available, that you should be able to find just the right one for you.
Take a look at all the dog booster seats for cars right here. All of these have at least a 4 star rating to help make sure you are getting a better product.
If you have any questions or comments, please leave them below and I will get back with you. You can follow justforyourdog.com on Pinterest and FaceBook for all the latest updates.
Some of the links within this post are affiliate links of which I might receive a small compensation from sales of certain items.