Our dogs can give us immeasurable happiness every day. Isn't it time that we provide them with an immeasurable comfort for sleeping? So many dog beds are made with cheap materials and start dipping and sagging from our dog laying on them. They are generally cheap in price, but they are also cheap in providing our dog with comfort and support.
Just like we need support for our hips and joints, so do dogs and not just when they are old, but throughout their life. There are many orthopedic dog beds available, but when I came across the Buddyrest Memory Foam Dog Bed, I quickly came to realize that not all beds are created equal.
This Buddyrest Dog Bed Review will provide you with information on how the dog bed is made, the features and benefits of this dog bed and then you can decide for yourself if you too think this is the ultimate memory foam dog bed for your dog.
How Buddyrest Dog Bed Was Created
Buddyrest was founded by a dog lover who had growing concerns for his own dog that was having joint pain and knew that a dog's life can be shortened due to joint problems. He wanted to be proactive with his dog Buddy (that is where the name comes from for this bed).
He was in the human mattress industry and knew that sleep science for humans had progressed, but the pet industry was saturated with cheaply made dog beds that hadn't made any improvements in years.
Being part of the mattress industry, gave him a firsthand education on pressure relieving materials and different types of support, and he wanted to create a truly orthopedic dog bed that used the same science and technology used in mattresses for dog beds.
From consulting with some world-class veterinarians, he created the most advanced, highest quality orthopedic dog bed ever. The only dog bed that is made with a science based approach.
What Is Inside The Buddyrest Dog Bed
Although the cover of a dog bed is important, if you are looking for complete support for your dog's joints, it is what is inside that is really important.
The Buddyrest dog bed uses Visco elastic memory foam to conform to your dog's body and redistributes their weight evenly across the bed. This provides a pain free haven for dogs with arthritis, hip dysplasia and other joint problems. It removes pressure from the body, allowing nutrient rich blood flow back to areas of the body, which promotes healing.
This memory foam dog bed uses innovated technology to ensure comfort. Buddyrest uses the same high quality memory foam found in high end human mattresses, which is than bonded to the supporting foam.
The next layer is a high density support foam, which allows your dog to sink in to a certain point and no further. If you purchase a memory foam dog bed that doesn't have the supporting foam bonded underneath, you are not actually relieving pressure off your dog's joints. This can be detrimental to the long term health of your dog. This dog bed gets the weight off your dog's joints.
The memory foam is made with luxury gel which provides comfort and orthopedic support to improve joint health, but that isn't all that it does. The True Cool Memory Foam will eliminate heat retention. It is designed to keep your dog cooler in the summer and warmer in the winter. Most memory foam dog beds get hot, making them not as comfortable in the summer.
The cool memory foam is scientifically calibrated to promote joint health.
There is an overstuffed bolster around 3 sides of the dog bed that is made with high loft American AdatpaLoft cloud fluff. The bolster suits nesting instincts and promotes the feeling of security.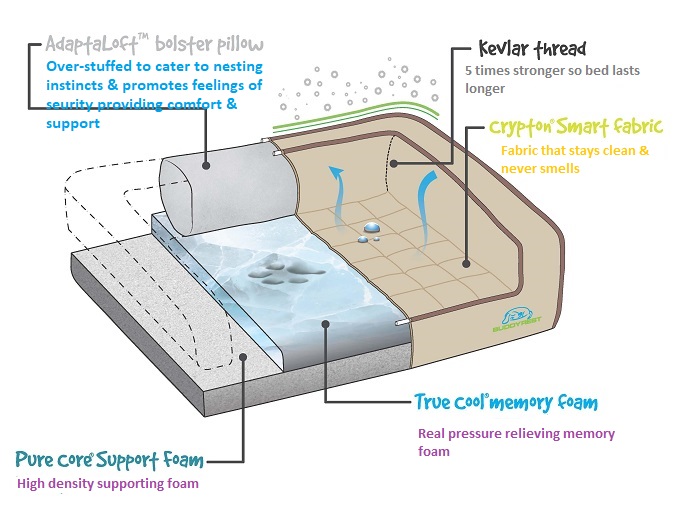 The Outer Layer Of The Buddyrest
The inside of this dog bed is made with state-of-the-art technology, but so in the outer layer of the Buddyrest.
The outer cover of this dog bed is made with high-tech Crypton performance fabric. It is designed to permanently resist stains and odors, as well as bacteria and mold growth. It prevents allergens and skin diseases.
It will stay clean, doesn't smell and rarely needs washing. The fabric works like a tarp, but has a nice soft suede feel. It is hypoallergenic and chew resistant.
These high end materials not only offer superior comfort and durability, but also eliminate odors, repels stubborn stains and spills.
The cover is waterproof and has a unique stay clean fabric. It is machine washable as well.
When sewing this cover together, they use Kevlar thread to sew all of their memory foam dog beds. Kevlar is much stronger than regular nylon that is used in most dog beds. This makes the bed incredibly chew resistant and almost impossible for your dog to destroy.
There are hidden protected zippers underneath, that your dog won't have access to, but allow you to remove the cover when you what to wash it.

Features And Benefits Of The Buddyrest Dog Bed
Relieves arthritic pain
Stays clean
Reduces joint stiffness
Increases mobility
Doesn't smell over time
Chew resistant
Prevents bacteria growth
Repels hair, stains and odors
100% waterproof
Keeps dog at optimal temperature
Hand made in the United States – one of the few remaining companies
Won 2012 Industry Recognition Award for Best Dog Bed in the Pet Industry
Vet recommended
10 year warranty
This dog bed is designed to improve your dog's life by promoting better joint health in all dogs of all ages.
If you still aren't convinced this is the best dog bed you can purchase, watch the video below.
You can read some of the reviews customers have written about this dog bed.
Sizing And Colors
There are 3 sizes available.
Medium – which measures 33″ long x 24″ wide x 11″ high. The inside dimensions are 25.5″ long x 21″ wide.
Large – which measures 40″ long x 30″ wide x 11″ high. The inside dimensions are 31″ long x 27″ wide.
Extra Large – with measures 48″ long x 32″ wide x 12″ high. The inside dimensions are 39″ long x 28″ wide.
You have 4 colors to choose from: Champagne Beige, Dark Chocolate, Fathom Gray and Iced Mocha.
Summary
I have purchased many dog beds over the years, and I have researched many as well. The Buddyrest Crown Supreme Memory Foam Dog Bed is several steps above all other dog beds that I have found. From this Buddyrest Dog Bed Review, you will see that the benefits for your dog make this the ultimate memory foam dog bed.
It doesn't matter if you have a large dog or a small dog, or if you have a young dog or an old dog. Providing all dogs the comfort and support that the Buddyrest dog bed provides will help your dog's overall wellness.
Having an older Golden Retriever has taught me many things that I will change with my next dog. I wouldn't wait for my dog to start having problems with his hips and joints before I start changing what I am providing my dog. My next dog won't be jumping in and out of my SUV or laying on a flat dog bed.
The best way we can give our dog's a longer healthy life is by being proactive right from the start. Helping to take care of their young joints will help the old joints not get as painful later in life. Giving our dog a dog bed that protects their joints all their life that will last their lifetime is one of the best steps to take.
If you have any questions or comments, please leave them below and I will get back with you. You can follow justforyourdog.com on Pinterest, FaceBook or Twitter for all the latest dog updates and please use the share icons to share this information with others.
Some of the links within this post are affiliate links of which I might receive a small compensation from sales of certain items.