Having an older dog requires a quality dog bed for arthritis and hip dysplasia relief. Laying on a hard floor can make it hard for any dog that suffers from joint pain to be able to get up off the floor.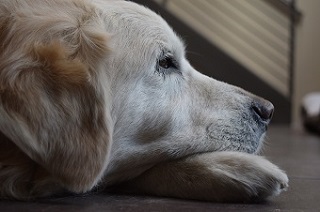 If your dog is struggling to get up, you will start to notice that they are less active, since it is just too painful to get up and get up and find you when you leave the room.
Providing your dog with a comfortable dog bed that can help support the joints will make it easier for your dog to get up, and they also won't have as much pain when they are up and moving around.
It is best to get your dog a dog bed that can support their joints at an early age, as it can be a preventative measure for younger dog breeds that are predisposed to joint conditions. This can help joints remain more mobile and less painful in later years.
The Dog's Bed Review is designed to help you decide if this is the right dog bed for your dog. It will explain the bed, options available and any concerns that I have with this dog bed.
The Dog's Bed Orthopedic Dog Bed
The Dog's Bed is a brand of orthopedic dog bed that is designed for helping to provide relief and comfort to tripawds, joint conditions like hip and elbow dysplasia, arthritis, patellar luxation and osteochodritis.
It prevents pressure sores due to immobility post surgeries and designed to make it easy for dogs with reduced mobility to be able to easily get in and out of the dog bed.
It has a heat sensitive mattress that supports your dog's skeletal system and removes any pressure points to help relieve the pain that so many older dogs experience.
This dog bed is made with premium grade, high density, orthopedic memory foam that is then placed over a solid base premium support foam. The memory foam provides the comfort, and the support foam provides the extra support that prevents your dog from sinking down to the floor.
On a medium-sized dog bed, the memory foam and support foam are each 1″ thick. The large, extra large and extra extra large dog beds all have a 2″ memory foam with a 2″ support foam underneath. Heavier dogs need thicker support.
The cover is machine washable in cold water, gentle cycle.
It comes with a waterproof cover that goes over the memory foam and under the outer cover.
Options Available For The Dog's Bed
There are plenty of options available for this dog bed to be able to find the right dog bed for your dog's size, your dog's sleeping style and to beautifully fit your home's style.
There are 4 colors available to choose from. Brown, Brown Plush, Grey and Grey Plush. The plush cover is like a soft blanket feel. I recommend that it you need an easy to clean cover because your dog sheds a lot, drools or is recovering from surgery, that you don't choose the plush cover. The other cover will be easier to vacuum or wipe clean.
There is a matching plush blanket that you can also order if your dog likes snuggling with a soft blanket.
You can choose from 4 different sizes, making sure to get one that fits your dog, or get a larger one if you have 2 dogs that like sleeping together.
Medium measures 25.5″ x 20″ x 6″ high
Large measures 36″ x 27.5″ x 9″ high
Extra large measures 43.5″ x 34″ x 10″ high
Extra extra large measures 51.5″ x 39″ x 10.5″ high
The larger dog beds have been tested to support 200+ pounds.
Bolsters Or No Bolsters Available
Dogs that like to nest, like sleeping curled up or like to drape their head over something when sleeping will like having a dog bed with bolsters. Bolsters help dogs to feel more secure and less vulnerable when sleeping. A bolster can help support their back, neck and head.  Pricing will range from around $60 to $210, depending on the size that you need.
The Dog's Bed is available with or without bolsters making it possible to choose a dog bed for whatever your dog's sleeping habits are.  If you decide to go without bolsters, there are more sizes and colors to choose from than what I have listed in this review.

My Opinion On The Dog's Bed And Reviews
I do feel that The Dog's Bed can properly support your dog with the memory foam and support foam provided to give your dog comfort and reduce the amount of pain from joint pain, arthritis and hip and elbow dysplasia.
By your dog's body getting some relief on their joints from their dog bed, they are going to feel better when they are up and moving, and be able to live a more pain free life.
This isn't a dog bed that is made with the cheap egg crate foam that quickly flattens out after your dog has been laying on it for a few months, but rather a memory foam that will continue to support your dog's joints and skeletal frame.
I do have some concerns with the waterproof cover though. I actually have a problem with most dog bed's waterproof covers. When reading reviews, there is always someone who complains about the waterproof cover not working.
If you have a dog that has the potential for having an accident on their dog bed, I think it is always best to get a waterproof mattress pad and wrapping the entire foam area. There are nice ones that you can get that don't sound like plastic every time your dog moves around. Dog beds are too expensive to risk wrecking from an accident.
I also caution you on dog beds that have bolsters. I haven't found one yet that has a waterproof cover for the bolsters, and this one is no different. If a bolster dog bed is the style you believe is best, I would also cover that foam if your dog has the possibility of an accident.
The reviews of The Dog's Bed are mainly positive from consumers who have purchased this dog bed. Over 78% of the customers have rated this dog bed 5 stars, and say that their dog's love their new bed almost immediately. You can read the reviews of The Dog's Bed here.
The most negative reviews are usually about it not being waterproof.
Summary
If you have an older dog and you are looking for a dog bed for arthritis and hip dysplasia relief, you should consider purchasing The Dog's Bed. The Dog's Bed Review was created to help you find a dog bed that will provide comfort and relief for dogs, and I do believe this dog bed will.
If you don't feel that this is the right dog bed for your dog, you can take a look at what I consider the best orthopedic dog beds for older dogs. It will give you some additional options that you can use to compare the different dog beds.
Remember, your dog is never too young to have a quality dog bed that will help support their joints. The care you give them now, will help them in their later years to not experience as much pain.
If you have any questions or comments, please leave them below and I will get back with you. You can follow justforyourdog.com on Pinterest, Twitter or FaceBook for all the latest updates on dogs.
Some of the links within this post are affiliate links of which I might receive a small compensation from sales of certain items.