Your dog needs his own special place to lay in your home, not to mention a way to keep him and his fur off your couch. A place where they are comfortable with a dog bed that supports his joints and body. A dog bed is great for dogs of all ages and sizes, but is especially helpful for mature dogs.
There are so many dog beds to choose from, so it is hard to know which dog bed is best for your dog. A dog bed that provides comfort, support, durable and doesn't look like you tossed a small mattress in your living room.
This PefFusion Ultimate Dog Bed review will discuss the features of this dog bed along with the good and the bad of this dog bed to help you decide if this is the best dog bed for you to purchase.
PetFusion Ultimate Dog Bed Features
Memory Foam
This dog be is made with a memory foam base, which will offer the most comfort for your dog. It will provide superior overall comfort, reduce joint pain and improved health, mobility and energy. It is the same memory foam that is used in human memory foam beds.
There are many different fillers for dog beds, and unless you are willing to get a higher quality filler, your dog won't get the support that they need and in a short period of time, your dog bed will be flat as a pancake. For more information in regard to different fillers, you can take a look at dog beds for senior dogs.
The memory foam will range from 2″ thick to 6″ thick, depending on the size of dog bed that you purchase. I will provide more information on this in the sizing options section below.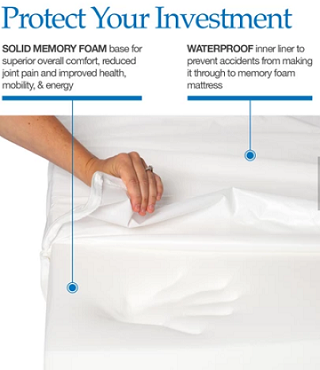 Side Bolsters
This dog bed provides side bolsters that can help with head and neck support along with back support. Many dogs feel more secure having something around their body or they like to drape their head over something when they are sleeping. A dog bed with bolsters can provide that support.
The bolsters are generously filled with recycled "green" polyfill.
Dog beds with bolsters work great for nesting dogs.
Cover
The cover is made with a durable and comfortable polyester (65%) and cotton twill (35%) material. It is water resistant and tear resistant. The water resistant cover will help slow absorption before reaching the waterproof inner liner. It also comes with a non-skid bottom to help from moving on wood or tile floors.
There are 2 zippers on the cover for easy removal. One zipper for the memory foam and 1 zipper for the bolster.
It is easy to clean the cover with a spot clean and to remove hair. The cover is also machine washable and tumble dry on a gentle cycle.
This cover passes stricter European REACH safety standards and the cover fabric is certified "skin contact safe."
It is a breathable cover that will help your dog's temperature stay more comfortable.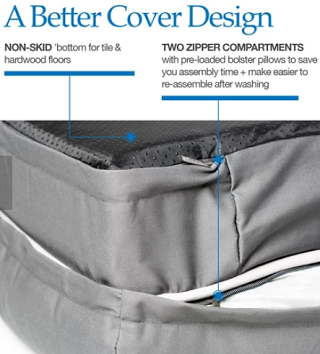 There are 3 colors available to choose from: Chocolate Brown, Sandstone, Slate Gray.
It is designed to blend into your home with a modern and neutral design.
Replacement covers are available to be purchased separately if you need a replacement or if you like to have an extra cover available when you are washing the cover.
Waterproof Inner Liner
There is a waterproof inner liner included to protect the memory foam from possible accidents.
Matching Blankets Available
If your dog likes to snuggle with a blanket (I have had one that always needed his blanket), there are matching blankets that you can order. There is a thin blanket available and also a quilted blanket that will match the cover of your dog bed.
Available Sizes For PetFusion Dog Bed
This dog bed has 4 options on sizing, helping you find just the right size for your dog or dogs. Many times 2 dogs will like sharing the same dog bed, so take that into consideration when choosing the right size. You can just get a larger size, so your dogs can share the same space.
Small – 25″ x 20″ with an interior dimension of 21″ x 16″. Supports dogs up to 50 pounds. Memory foam is 2″ thick.
Large – 36″ x 28″ with an interior dimension of 30″ x 22″. Supports dogs up to 100 pounds. Memory foam is 4″ thick.
Extra Large – 44″ x 34″ with an interior dimension of 36″ x 26″. Supports dogs up to 150 pounds. Memory foam is 4″ thick.
Extra Extra Large Jumbo – 50″ x 40″ with an interior dimension of 42″ x 33″. Supports dogs up to 200 pounds. Memory foam is 6″ thick.
The Good Of PetFusion Dog Bed
Memory Foam – great support for sore joints and arthritis.
Support Bolsters – great for nesters and dogs that like support for back, neck or head.
Machine Washable
24 Month Warranty
Waterproof Inner Liner For Memory Foam
The Bad Of PetFusion Dog Bed
No Waterproof Inner Liner For The Bolsters
My Opinion And Reviews
I do feel that the PetFusion Ultimate Dog Bed is a quality dog bed that will provide your dog with the comfort they deserve. The price is very reasonable for a memory foam dog bed and if you have never purchased a memory foam dog bed before, you will realize that they won't need to be replaced as often as egg crate type dog beds.
There are over 2600 customer reviews for this product with the majority of consumers being very happy with the dog bed. It is rated 4.6 stars out of 5 stars, with 81% of the customers rating this dog bed 5 stars. You can read their reviews here, if you are interested.
Here is how PetFusion Ultimate Dog Bed rated on features.
Easy To Assemble 4.7
Chew Proof 4.6
Water Resistance 4.6
Easy To Clean 4.6
Easy To Remove 4.3
The negative reviews of this dog bed were mainly focused around it being waterproof, with the biggest concern around there being no waterproof liner for the bolsters.
If you have a dog that might have an accident on their dog bed, you can handle this situation by purchasing child waterproof pads and inserting them under the cover over the bolster. I would probably add addition protection over the memory foam as well. If the memory foam gets stained, it will be hard to remove that odor.  Better to be safe.
Summary
Every dog has a different like for their dog bed and the way that they like to sleep.  That is probably why there are so many dog bed styles to choose from. This PetFusion Ultimate Dog Bed review is intended to help you decide if this is the best dog bed for your dog.
If you are looking for a different orthopedic dog bed, take a look at 2019 best orthopedic dog beds.
If you have any questions or comments, please leave them below and I will get back with you. You can follow justforyourdog.com on Pinterest, FaceBook or Twitter for all the latest dog updates.
Some of the links within this post are affiliate links of which I might receive a small compensation from sales of certain items.