I know when I leave my dog behind for the day, I always feel a bit guilty, and wondering what he does all day by himself. Have you ever tried to sneak quietly into the house, just so you could see what your dog is doing when you aren't home? I know I have.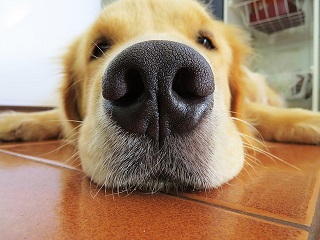 You don't have to wonder any longer or try to sneak in to get a peek at what your dog is doing. All you need is a Furbo Pet Camera to watch what is happening when you aren't home. This Furbo Pet Camera Review will show you the features and benefits along with what consumers think of the product.
Furbo Pet Camera Review Overview
The Furbo Pet Camera can send you an alert when your dog is barking or moving around, allows you to talk to your dog and you can toss him some treats when you want.
It is compatible with Alexa and comes with a 1080p full HD camera that includes night vision and a 160 degree wide-angle view to help capture more activity. You can toss your dog a treat when you want, or schedule with Alexa to toss a treat every hour.
There is a 2 way audio that sends you an alert when your dog is barking or you can talk with your dog through your phone.
Get Notifications Of Important Dog Related Events
Real-Time Alerts
Dog Activity Alert – You will receive an alert when Furbo detects dog movements, like them jumping on the furniture or tossing a pillow on the floor. It will also help you identify separation anxiety from your dog pacing, barking or licking their paws.
Person Alert – Receive an alert when a person comes into view. It could be a family member, dog walker or an intruder.
Dog Selfie Alert – Furbo will detect when your dog is facing the camera, and takes a selfie of your dog.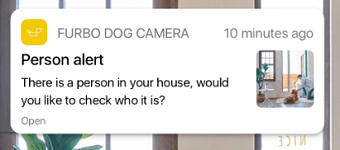 Event-Triggered Cloud Recording
See what you have been missing during the day. This recording will show you what your dog has been doing during the day and store it in the cloud.
Doggie Diary
You can see the highlights of your dog's day in a quick 60 seconds. It might just be him sleeping or maybe chasing his tail around, but without the recording, you have no idea what your dog is up to. You can download the recording and save in an album to watch again for years to come.
The Furbo comes with a 90-day free trial of cloud recording, smart alerts and a daily Doggie Diary. After that you can add the optional subscription, which can be canceled at any time. Without the subscription, you can still see your dog, talk to your dog, toss treats and receive Barking Alerts.
The cloud recording, smart alerts and Doggie Diary subscription after the 90 days will cost $6.99 per month or $69 per year with annual membership in the United States. In Canada, the cost is $8.99 per month or $89 per year annually. The reason for the charge is to cover server costs for the cloud storage.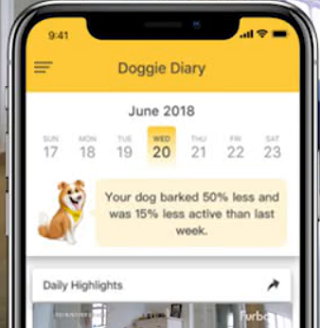 Furbo Features
The camera is 1080p high definition that allows you to monitor your dog from your phone using a 160 degree wide-angle view. It has both day and night vision, so you will be able to see your dog even if you didn't leave some lights on. There is also 4 times zoom, so you can really close and see what they are up to.
There is an adjustable Barking Alert that comes with 2 way audio. You can adjust the sensitivity of the barking sensor to more sensitive or less sensitive.
You can toss treats whenever you would like, or already have them scheduled with Alexa on a regular schedule. The treat dispenser has a clicking noise prior to tossing the treat, so your dog knows when the treat is coming. The dispenser fits over 100 pieces of treats, meaning you won't run out of treats quickly.
It is best to use round shaped treats with a diameter of around 0.4 inches. Some recommended treats by Furbo are Zuke's Mini, Nutro Mini, Natural Balance Mini-Rewards, and Crazy Dog Train-Me Mini, but any round treats that have a 0.4 inch diameter will work just fine.
There is a free Furbo App to use to monitor your dog and toss a treat.
Setting Up Your Furbo Pet Camera
Set up easy and quick to do. Just follow the 3 steps below and you can start watching your dog from work or anywhere else.
Plug into a power outlet using its USB cord.
Download the Furbo App.
Connect to your home WiFi.
Requirements To Make Your Furbo Pet Camera Work
Broadband Internet Connection (1Mbps upload recommended)
WiFi
iOS 10 or newer
Android 6.0 or newer
What's In The Box
Furbo Dog Camera
2m USB Cable
Power Adaptor
Quick Start Guide
Additional Furbo Information
Up to 2 people can watch your dog at one time, but only 1 at a time for tossing treats.
The Furbo Pet Camera comes with a 1-year warranty, free of all defects in material and workmanship for 1 year. They will repair or replace, free of charge, any part proving to be defective in material or workmanship.
Who Is The Furbo Dog Camera For
The Furbo Dog Camera is for anyone who has a love for their pet and wants to know what their dog is doing while they are away. It is a way to stay connected with your dog even when you aren't home and it is a great way to keep an eye on any dog that might be suffering from separation anxiety.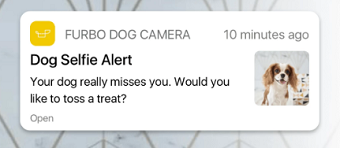 It will help you know if their is a problem at home or if your dog is upset about something. Plus I know I enjoy seeing the happiness my dog has from receiving an unexpected treat. I have always wondered what my dog is up when I am not home, but with a Furbo Pet Camera, you don't have to wonder any longer.
Overall Opinion Of The Furbo Pet Camera
I believe that the Furbo Pet Camera is a great investment for anyone who has a dog that has to be left home alone, which is most dogs. I feel that the best options are the ability to check in on your dog, make sure they are alright, and toss them a treat during the day will make your work day go better and will help your dog to not be as lonely when you are away.
Being able to talk to your dog and either correct a bad behavior or just calm them down if they are stressed will make both of you feel better at the end of the day.
Of the consumers who have purchased the Furbo Pet Camera and given it a Furbo Pet Camera Review, 64% of them have rated this product 5 stars. There have been some complaints as well. The 2 biggest complaints have been that the internet isn't always working, and the cost of all the features after the 90 days.
As to the internet problem, I am not sure if they have the speed that is required for the Furbo to operate properly. I originally also had an issue with having a cost for all the features, but I better understand the reasoning since it is for the storage in the cloud. Most of us don't even blink an eye paying for cloud storage with our phones, and this is no different.
You can read all of the reviews of the Furbo with this link if you are interested.
Summary
This Furbo Pet Camera Review should provide you with the information that you need to decide if this is the right dog camera for you. There are many different dog cameras that are available, but the lower priced cameras will not give you all the capabilities that the Furbo Pet Camera does. Most of them will not have the option of tossing your dog treats throughout the day, or even let you schedule them with Alexa.
If you aren't completely sold on the Furbo Pet Camera, but still want a treat tossing dog camera, you can take a look this review for Petcube. It has many of the same features available and you would be able to compare the two.
Please leave any questions or comments below, and I will get back with you. You can follow justforyourdog.com on Pinterest, FaceBook, or Twitter for all the latest dog updates.
Some of the links within this post are affiliate links of which I might receive a small compensation from sales of certain items.