If you take your hunting dog to large parcels of land to hunt, you need a GPS Tracker for hunting dogs to keep track of them.
This Garmin Astro review will take a look at the features of the Garmin 430/T and reviews of other hunters that have used this GPS Tracker. This should help you decide if this is the dog tracker that you need.
The Garmin Astro Tracker 430/T
Garmin has been specializing in GPS technology since 1989, and has been the leader with the newest technology available.
The Garmin Astro 430/T is the latest generation for GPS/GLONASS tracking for sporting dogs yet. They have improved upon their Astro 320, and have created their best dog tracker to date.
It has the expanded dog capability to track up to 20 dogs from a range of up to 9 miles. That is while giving virtual real-time updates for all your dogs. The screen refreshes at a 2.5 second update rate, providing the fastest tracking available which helps for dogs on the run.
Garmin uses GPS/GLONASS technology, which is a high sensitivity GPS and GLONASS satellite reception. It has the ability to track in more challenging environments than GPS alone.
This system can track even where there is no cell phone coverage or internet, so you have the piece of mind that it will work even in the most remote areas you may be hunting.
Garmin Astro 430/T Key Features
This dog tracker is loaded with features, making it one of the most state-of-the-art trackers available.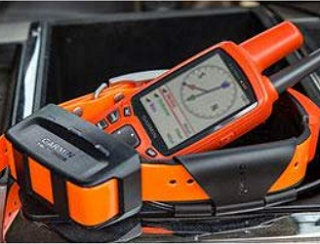 Track up to 20 dogs at a time.
Up to 9 mile range for the T5 collar and up to 4 mile range for the T5 mini collar
2.5 second update rate on your handheld device. That is almost seeing the movement in real time.
GPS plus GLONASS reception. Provides better satellite tracking than just GPS in challenging environments.
Come with preloaded TOPO U.S. 100K mapping and 1 free year of Birdseye Satellite imagery subscription.
Hunt Metrics will keep track of your dog's performance. Data will show distance traveled, time afield and their hunting patterns and behaviors.
The Astro 430 handheld device is easy to use and features a 2.6″ color display that can provide you will all the information you need for a good hunt.
The handheld devise measures 2.4″ x 6.3″ x 1.4″. It is big enough for you to keep track of it, but not too large to be a burden.
Battery life is up to 20 hours. It comes with an optional in-unit rechargeable nimh battery pack or uses AA batteries.
You can mark way points to know the exact location where you found your prey. Shows time of day, elevation and the number of birds you flushed. You can also set way points so you can find back to your truck or lodge, food plots or tree stands.
Never get turned around in a large field or woods again.
Keep Track Of All Of Your Dogs
You can set up a virtual fence, so you are alerted when your dog has traveled beyond the virtual fence.
Keep track of up to 20 dogs at once. You can quickly auto zoom the map page, so the location of each dog is displayed on the same map. You will be able to see your dog's current location and the trail of where he has been.
Switching to the Dog Track page will provide a compass, pointing to your dog's location and show where you are in relation to your dog.
Share your dog's track code with others in your group, and they will be able to track your dog on their unit as well.
Garmin Mapping
The Garmin Astro 430 comes with preloaded TOPO U.S. 100K mapping.
It does feature a micro SD card slot, (would need to purchase micro SD card separately) allowing you to add even more mapping options, like TOPO U.S. 24K or Huntview maps.
When you opt for City Navigator, you can turn your device into a GPS on the roads. It gives turn-by-turn driving directions on the roads.
Birdseye satellite allows you to transfer an unlimited amount of satellite and aerial images to your Garmin handheld unit through high speed internet.
It provides real life views of roads, buildings, terrain and shorelines.
Preplan your next hunting trip and mark where you will find the most game to hunt.
You receive 1 year free Birdseye Satellite with your Garmin Astro 430 purchase. If you want to continue your subscription, it will cost $28.95 per year after your first free year.
Download Garmin BaseCamp to help you view and organize maps. It is a free trip-planning software and allows you to share with friends and family.
BaseCamp shows contour lines and elevation profiles and can be displayed on your home computer.
Pros And Cons Of Garmin Astro 430
Pros:
High quality device and collar
Very accurate maps
Tracking up to 20 dogs
Track up to 9 miles
Able to download additional maps
Waterproof rating IPX7
GPS and GLONASS technology – works even where internet and cell phone service isn't available
Share wirelessly with compatible Garmin devices
2.5 second update rates
Cons:
Due to international regulations, this version is only approved for operation in the United States
Tone only, not a correction collar
More expensive than many other trackers, but more features
If you are looking for a tracking collar for hunting dogs that has correction as well, take a look at the Garmin Alpha 100 review.
What's In The Box
The model that I am talking about is the Garmin Astro 430/T 5 Bundle. You can purchase additional collars separately if needed.
Astro 430 handheld device
T5 dog device with rechargeable lithium-ion battery
1″ orange collar strap
5″ standard and 13″ extended range antennas for Astro 430
18.5″ standard and 22.5″ extended range antennas for T5
Belt clip
Charging clip
USB cable
AC adapter
Vehicle charging adapter
Manual
The Garmin Astro is also available with the T/5 mini collar bundle. The mini collar would be used for smaller dogs, and the range is 4 miles instead of 9 miles.
Overall Opinion
Because of the number of features, the durability and the simplicity of use, I do recommend the Garmin Astro 430/T.
Having the piece of mind to know where your dog is at all times can allow you to calmly let them have fun, but be able to find them when you need them back.
I only found positive reviews in regard for working in areas that are dense and mountainous. You can read the reviews from customers here if you are interested.
There is a complaint about the GLONASS satellite not working outside of the U.S., which I mentioned above in the cons.
Overall, I think it is a great dog tracker for sporting dogs, or dogs that have large areas of freedom.

Summary
If you have hunting dogs, which means they need to run free, the best thing you can do for yourself and your dog is to get a GPS Tracker for hunting dogs.
From this Garmin Astro 430T review, you should see that there are more features than many of the other trackers available, allows you to track up to 20 dogs, up to 9 mile range, and will work even where there is no cell service or internet service.
Many of the less expensive trackers are not going to provide you with the security that this Garmin Tracker can.
GPS technology is what Garmin specializes in, so why not go with the specialists and have the security of knowing it will work when you need it most.
If you have any questions or comments, please leave them below and I will get back you. You can follow justforyourdog.com on Pinterest or FaceBook for all the latest dog updates.
Some of the links within this post are affiliate links of which I might receive a small compensation from sales of certain items.