Having a dog is one of the best things in life, but having to leave them behind when you go to work or leave the house can be hard for you and your dog.
Most dogs prefer to spend every minute with their owners, and would rather you stay home or take them with you.
We all know that isn't possible, but being able to communicate with our dog when we are gone can make it easier.
The PetChatz Pet Camera Review will explain how you can video chat with your dog and more. They can see you and you can see them, they can hear you talking to them, and you can hear them bark or whatever funny noises that they make.
What Is PetChatz
PetChatz is a pet camera that allows you to interact and entertain your dog when you are away from home.
It has a two-way video chat. You can see and hear your dog, and they can see and hear you as well. There are several dog cameras available, but very few that allow your dog to see you when you are talking with them.
PetChatz allows your dog to play brain games or watch DOGTV to keep them entertained while you are gone. This will help them be less lonely, and will also help with separation anxiety.
The brain games will dispense dog treats when they are playing along, and you can also toss your dog a treat through the PetChatz app.
You can also release calming aromatherapy when you are speaking with your dog, to help them remain calm.
PetChatz is mounted to the wall over an electrical outlet. There are no cords to worry about, no corners or edges for your dog to injure himself.
It comes with a 110 degree angle view that has a motion sensor range of approximately 8 feet within a 54 degree angle from the PetChatz camera.
It is a HD color camera that works well even in low light.
How Does PetChatz Work
The PawCall allows your dog to call you on their own. They simply place their paw on the button, and you will be sent a message that your dog wants to chat.
You can connect with your dog using a smartphone, tablet or computer. Your dog will be able to see you and hear you, and you can see and hear them as well.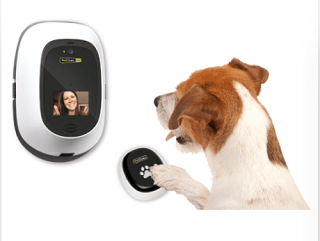 Set a preset time for the PawCall, and the button begins to flash. When your dog sees it, they press the button, a treat dispenses as a reward for knowing what to do, and you are notified that your dog is ready to connect.
Toss them some treats when you are talking to help you feel better for being gone, and your dog feel better when you are gone.
You can also program the PetChatz for 2 game modes or program it for DOGTV to let them watch something that will interest them. My dog watches TV all the time, and he really enjoys when there is wildlife shows on.
Game Mode will randomly blink lights on the PawCall button and dispenses treats when your dog presses the button. Approximately 20 treats will be delivered during each 8 minute game mode session. You program for how long and at what time.
Turn on the sound/motion sensor. This will trigger PetWatch video which will record and capture your dog's activity while you are away.
PetWatch will automatically record the last 30 funny, naughty or cute moments for up to 30 seconds long. You can watch later, download them to save or share them with others.
How To Train Your Dog To Use PawCall
You should be able to train your dog to use the PawCall with 2 to 3 training sessions.
Place the system in pet training mode.
The PawCall will have some blinking lights. Place your dog's paw on the button and a treat will dispense. Repeat 10 consecutive times. The training mode will end after 10 times.
Repeat later in the day, until your dog understands what to do when they see the blinking lights.
What Is Included In The Box
HDX PetChatz Unit
Mounting bracket
1 package of PetChatz Treats
1 package of PetChatz Scentz pads
A sample of PetChatz Sentz Essential Oil Drops (calm aromatherapy)
PetChatz network service features unlimited audiovisual streaming, over the air software upgrades and unlimited customer care assistance.
There is a 1-year warranty from the date of purchase along with a 60-day money back guarantee. PetChatz really wants you to give their product a fair chance. They state that you should use it for at least 3 weeks, and if you are unhappy after that, you can return it for a refund.
You will need high speed internet, and a wireless router. For PetChatz to work properly on your smart phone, you should either have an iPhone iOS 8.1.1 or later or an Android 4.1 or later.

Installation And Set-up Of PetChatz
Set-up is easy to do. Put the unit into an outlet and screw securely into a wall stud.
Place the PawCall button on the floor near your system.
You mount the unit, plug it is, and connect to a wireless router and you are set to go.
PetChatz Treatz
It is recommended that you use the PetChatz Treatz for the unit to avoid it jamming up, but it is not a requirement.
All PetChatz Treatz are made in the United States.
They are a moist miniature treat made with single source protein using chicken or salmon. There is no grain, wheat, corn, soy, added fat, artificial flavors or by-products in the treats.
The treat dispenser can hold approximately 100 PetChatz Treats.
Summary
Leaving your dog behind can be hard for you and your dog. You might even experience human separation anxiety from guilt of leaving your friend alone each day.
With the PetChatz Pet Camera, you will be relieving some of that stress that you feel along with your dog's stress. It will let you video chat with your dog and see that they are doing OK while you are gone.  This PetChatz Pet Camera Review should help you understand all of its features.
Your dog being able to see you during the day and listen to you talk will help their day go faster and not feel as alone when you are gone.
Take PetChatz with you when your dog is at a dog sitter or anywhere else they might have to stay. There is a PetChatz stand that is available to help your PetChatz be as mobile as your dog might be.
If you have any questions or comments, please leave them below and I will get back with you. You can follow justforyourdog.com on Pinterest or FaceBook for all the latest doggy updates.
Some of the links within this post are affiliate links of which I might receive a small compensation from sales of certain items.