At some point, your dog is going to leave you with that awful yellow vomit stain on your carpet that seems impossible to get the stain removed. Over the years, it has happened to me many times, and it seems that no matter how quickly I try to get it cleaned up, it is hard to get the yellow out of the carpet.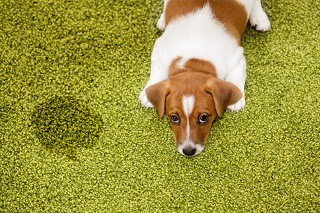 That was until now. I have recently come across a product that will not only remove dog vomit stains on carpet, it is also great for removing dog urine stains on your carpet and many other carpet stains you might have.
The good news is that you don't have to purchase an expensive carpet cleaning machine to get the stain out.
Bissell Stomp N Go Pet Lifting Pads
If you are looking for an easy quick way to get rid of a pet stain on your carpet, the Bissell Stomp N Go is perfect for the job. I have a new puppy, and unfortunately accidents happen. I was running around blotting and spraying carpet cleaner, which always seems like you put too much on and have a soapy residue after.
The Stomp N Go is a quicker better choice to quickly take care of the mess. The sooner you catch the stain, the better it is to remove.
It will remove tough pet stains even if they are set-in on your carpet, rugs, upholstery, car and pet beds. There is no scrubbing or touching the stain.
I have found that the Bissell Stomp N Go works best on new stains, but others have had success on old stains as well.
It works on pet stains from blood, vomit, feces and urine. I have always struggled to get the yellow bile stains removed from carpet, but this works.
It will also work on beverage stains, dirt/mud stains, greasy/oily stains and comes with a patented odor elimination. The Oxy pet stain destroyers lift and penetrate tough stains at the source.
How Does The Bissell Stomp N Go Work
The product is shipped as 20 individually wrapped pads that measure 4 inches x 8.25 inches. (This is the only quantity and size that it is offered.)
Simply open up one treated pad, place it on the stain and then stomp on the pad to release the cleaning formula. Leave the pad on the stain for at least 30 minutes and then toss the pad in the trash. For really tough stains, you can leave the pad on the stain for up to 24 hours.
There is no scrubbing or touching the stain. This is a hands free cleaning process that has fast action on fresh stains.

Stomp N Go Is Safe To Use
The Bissell Stomp N Go is an earth friendly formula that is biodegradable and contains no harsh chemicals, solvents, or dyes. It is safe for your family and pet if used as directed by the manufacturer.
It comes as a premoistened pad that will leave your carpet smelling fresh. The scent is wildflower breeze, but unless you put your nose right in it, you really only smell a clean scent.

Reviews of Stomp N Go Pet Lifting Pads
The majority of consumers consider the Stomp N Go to work like a miracle. Over 79% of consumers have rated this product 5 stars out of 5 on their review of Stomp N Go.
Some have mentioned that it cleans the spot to well, that you can see how dirty the rest of your carpet is.
Some might consider the pricing a bit high, but I feel that it is worth it because vomit stains are really hard to get out of carpet no matter what other products I have tried. It is easier that bringing out a carpet cleaner or having to rent a carpet cleaner every time your dog has a problem.
If you are interested in my recommendation for in a carpet cleaner, look at this Bissell Pet Stain Eraser Carpet Cleaner review. This product is a cordless spot cleaner, which allows you to be able to quickly take care of the stain.

My Recommendations For Cleaning Dog Stains On Carpet
I do believe that the Bissell Stomp N Go Pet lifing pads are a great way for how to remove dog vomit stains from carpet along with removing urine stains from carpet, but I also have additional suggestions for you.
If you have the bile stain or urine stain on your carpet, it always works best the quicker that you can clean it after the accident. I would still recommend blotting the spot with paper towels or a clean cloth before you place the cleaning pad on the stain, removing as much of the urine or bile before cleaning.
Make sure to never rub the carpet. Only blot as much moisture out of the carpet as you can without rubbing the carpet. Rubbing the carpet will damage the fibers of the carpet.
If you have a younger pup like I do, it can be a bit challenging having the cleaning pad remain where you need it without them trying to steal it. I place an item over the pad so my dog can't get at it. Older dogs will most likely leave it alone, but keep an eye on them so they don't run off with it.
There has been a few people that have mentioned that they could still slightly smell dog urine after using this product. I have not noticed that. If you can smell it, your dog definitely can still smell the urine, and could go in the same spot again.
If you don't feel completely comfortable that the urine smell is gone after using the Bissell Stomp N Go, I would recommend spraying your carpet with Bissell Enzyme Action Pet Stain and Stink Remover. Getting rid of urine smell is one of the hardest odors to eliminate from your carpet.
If you have any questions or comments, please leave them below and I will get back with you. You can follow justforyourdog.com on Pinterest and FaceBook for all the latest doggy updates.
Some of the links within this post are affiliate links of which I might receive a small compensation from sales of certain items.