Little is better than going boating on a warm summer day, except maybe being able to take your dog along on the boat with you. Dogs love the wind in their face, smelling all the new smells and being able to go along wherever you are going. Before you decide to take your dog along on your boat, be prepared ahead of time.  There are some dangers to watch for.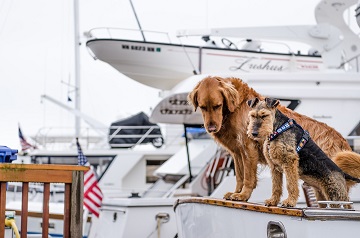 Here are some tips on how to take dogs on boats safely so the trip is more fun for everyone. Be prepared before you leave on your day of boating fun, and have all your dog boating supplies ready to go.
Invest In A Life Jacket
It doesn't matter if your dog is a strong swimmer or not such a strong swimmer, you should put a life jacket on your dog. At times there can be some pretty strong waves that you might hit and your dog could fall out of the boat. Depending on the weather, the waves or your dog's overall health, they could get tired swimming or afraid. They may have also gotten injured when they fell out of the boat.
Choose a life jacket that fits your dog properly, is a bright color so you can easily see them and one that has handles on their back for you to grab and pull your dog in the boat with. Never pull on your dog's collar to get them in the boat.
If your dog has never had a life jacket on before, have them practice swimming around with the life jacket on ahead of time in swallow water so you know they are comfortable with the life jacket.
The Ruffwear K9 Float is the best life jacket you will find for your dog. It comes with a telescoping neck closure that adjusts for a range of dog sizes and it keeps your dog's head above water. Cut outs around shoulders provide plenty of mobility on land and in the water, allowing your dog to swim naturally.
It comes in 6 sizes to ensure a proper fit. You should order the size based on your dog's girth (measurement around the widest part of the rib cage) xx small fits 13″ to 17″, x small fits 17″ to 22″, small fits 22″ to 27″, medium fits 27″ to 32″, large fits 32″ to 36″ and X large fits 36″ to 42″.
You can read a full review of the Ruffwear Life Jacket here.
Provide Shade And Keep Them Hydrated
Even with the wind blowing, your dog can quickly become overheated. It is important that you provide an area where your dog can get out of the sun.
Make sure to bring plenty of water along to keep them hydrated throughout the day. Collapsible bowls work great, but you can also use any bowl.
Avoid letting your dog drink from lakes and sea water. Lakes are often contaminated from factories and boats and contain harmful organisms. Make sure that is your dog is a lake drinker, you have your dog get the leptospirosis vaccine to help protect them.
Sunscreen And Paw Protection
Dogs do get sunburned and it is important to protect your dog. There are many great sunscreens available for dogs, but if necessary, you can use kids sunscreen that has an SPF of 30 or higher. Also, make sure that it has no scent, as the scented sunscreens might irritate your dog. Read can dogs get a sunburn for information on dog sunscreens and where dogs are most likely to get sunburn.
Protect your dog's paws. The fiberglass or any metal can get very hot from the sun. Either keep your dog off these areas, use some type of pad protectors or cool it off with water before your dog walks or lies on these areas.
Block Off Slippery Areas
Getting in and out of the water brings lots of water into your boat. Block off areas from your dog that become slippery to avoid your dog falling and injuring themselves.
Watch For Seasickness
Dogs can get seasickness especially if they get car sickness. If you are concerned that your dog might experience seasickness, you can give your dog Dramamine prior to getting on the boat. Ginger also works great for keeping a tummy settled. There are ginger dog treats available. Give your dog the ginger treats at least 30 minutes prior to help them before they start moving.
Bring A First Aid Kit
Your boat is probably equipped with a first aid kit, but if not, it is always a good idea to have one available. Most things that are in a standard first aid kit should work for any emergencies, but you can take a look at what you need in a dog first aid kit to help make sure you have everything covered.
Getting Your Dog In And Out Of The Boat
It is an important area to address to make sure that you protect your dog from getting injured when they are getting in and out of the boat. If you have a smaller dog, it isn't as hard, since you can just carry your dog in and if they are wearing a life jacket and decide to go for a swim, someone can easily lift them back into the boat when they are done.
Having a large dog makes it much harder. I know I have struggled to try to get a Golden Retriever back in the boat after they have gone for a swim. A dog ramp for boats can make this whole process much easier on you and your dog, and it will help them from getting injured.
You should check out the Dog On Water Ramp. It can be used with sailboats, pontoon boats, other boats, in ground and above ground pools, docks and more.
Your dog swims in between the flotation tubes until he feels the gentle slope of the ramp underfoot and than just walks up. A safe way to get your dog into the boat from the water.
The inflated dimensions are 34″ wide x 63″ long and the deflated dimensions are 34″ wide x 2″ long x 8″ deep. Check it out, it just might be the best thing you have done for your water logged dog.  This is worth the money.
Summary
Fun in the water and on a boat is a great way to spend a summer day, especially if the whole family can come along, including your dog. Dogs on boats need to be given the same care as a child does on the boat. You should keep an eye on them to make sure they are getting enough water and enough shade.
Bring a leash along to help you keep your dog where they are safe. The safest place for a dog is on the floor, but if you have a well-behaved dog, they can probably safely lay on the seats of the boat as well. Being prepared will make the adventure that much more fun for all involved.  Have your dog boating supplies ready for whenever you get to hit the water.
If you have any questions or comments, please leave them below and I will get back with you. You can follow justforyourdog.com on FaceBook, Pinterest or Twitter for all the latest dog updates and please share with the social media icons with your friends.
Some of the links within this post are affiliate links of which I might receive a small compensation from sales of certain items.