Having to get up and down to let a dog outside that just can't seem to make up his mind where he wants to be can be frustrating. That is why in the warmer months it would be great if your dog could just let himself in and out by himself. You need to get a dog door for your screen door.
This Namsan Pet Screen Door Review will show you how it works and the good and the bad of this dog door for screens. Your life could get easier with a dog door in your screen door.
Namsan Pet Screen Door Review
Product: Namsan Pet Screen Door
Price: Around $40 for the largest size, Small is under $30
Available: Amazon
Size: Small measures 8.25″ wide by 10.4″ high and large measures 12″ wide by 14″ high
Colors Available: Pewter – it comes with a decorative large paw print on door
Namsan Pet Screen Overview
Having a dog door that installs directly into your screen door can be a real convenience for you and your dog. This dog door for your screens can install in patio door screens, screen doors or work great for screened in pool areas that will allow your dog to come and go as he pleases.
This Dog Screen is a swinging wire mesh pet door made with high impact plastic and includes 2 sliding locks to control your dog's access for going in and out. The frame mounts directly through any standard screen door.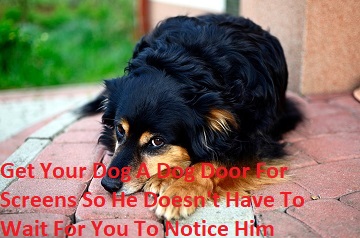 There are 2 magnetic flap closures that will keep to door closed and a strong seal when the door isn't in use and won't blow open on windy days.
The door swings both in and out, making it easy for your dog to get through the doggie door.
The door and frame are made with a sturdy plastic and ABS material that won't warp from extreme temperatures and is easy to install. (I will explain installation a little later.) Detailed installation instructions included with door.
Unique paw print design that any dog lover will love.
The Good And The Bad
Good 1: Locking latches to control when your dog can use the door.
Good 2: Magnetic flap closures to help prevent door from opening when not in use.
Good 3: Easy in and out for your dog when they want.
Bad 1: Screws for frame are nylon and could easily strip when installing.
**Special Note** Customers have been very happy with everything about this dog door for screen doors with one exception. Many have complained about the nylon screws. Several have purchased their own galvanized machine screws along with bolts, washers and lock washers and were completely happy with the product than. They have used #6 32×3/8″ screws and drilled holes through existing screw holes and than bolted together. All that have used this method have been happy and satisfied with the dog door. You might want to consider using this approach for installation.
Installation Of the Namsan Dog Door
The installation of this dog door couldn't be simpler, but it will require 2 people to get it installed.
Decide the best placement on your screen door, making sure the height is good for the size of dog that you have. One person will need to be on the outside and one person on the inside. You will just snap the 2 frame pieces together from inside and outside and than screw the inside and outside frames together.
After you have the frame screwed together, cut out the screen from your screen door inside the framed area. The new dog door will be covering that area with screening and the dog door. Make sure to cut the screen as close to the frame as possible, or the old screen will get in the way of the dog door when it needs to swing in and out.
Who Is Namsan Dog Door Good For
The dog door is great for anyone who has a screen door and feels safe about their dog going out on their own whenever they want. If your dog goes into a fenced yard or you have a dog that doesn't leave your property, then this dog door for your screened door will give your dog the freedom to come and go as they please, and will mean fewer trips to the door for you when the weather is warm enough to just be using a screen.
My Overall Opinion…
I love the look of the Namsan dog door and how easy it is to install. Within 10 minutes you can have an operating doggie door through your screen door for your dog. I am not a big fan of having to get different screws and bolts to install the dog door, but knowing that ahead of time helps to be prepared and to get less frustrated when it comes to installation.
I do believe it is a great option for letting your dog have their own freedom to go out when they like and the price tag is something that is affordable for most to at least give it a try.
Summary
This Namsan Pet Screen Door Review shows that there are some positives and a negative with the nylon screws. When looking for a dog door for screens, this dog door should be one that you consider. The paw print shows your love of dogs, and it is a very functioning dog door.
Remember, this dog door for screens is not going to provide you the type of security that a regular dog door offers. The locking latches will prevent your dog from going through when you don't want them to, but that is about it.
It is on a screen door, which anyone could go directly through if they wanted to. If you need something that has the added protection against intruders, you should take a look at a wall mount pet door. These will provide security and is something that your dog can control with a tag on their collar. It is also a dog door that can be used year round, not just when the temperatures have you use your screens.
If you have any questions or comments, please leave them below and I will get back to you. You can follow justforyourdog.com on Pinterest, FaceBook or Twitter for all the latest doggie updates and please share with others using the social icons on this post.
Some of the links within this post are affiliate links of which I might receive a small compensation from sales of certain items.