There are many benefits that an elevated dog bed can provide for your dog. I am going to share with you the benefits of an elevated dog bed and some not as positive reasons for an raised dog bed.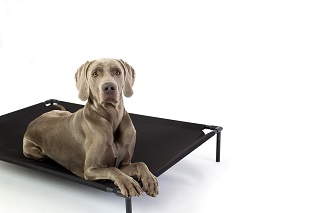 I will also provide you with the best elevated dog beds for large dogs. This list will cover the chewer of beds, comfort and a range of pricing to help you find the best elevated dog bed for your dogs comfort.
Before I jump into the best raised dog beds, I want to give you some information that can help you decide which is the best bed you should choose for your dog. If you are short on time, skip to the bottom to get the exact information you were looking for.
Benefits Of An Elevated Dog Bed
There could be several different reasons that you are looking for an elevated dog bed. Let me provide you with some benefits of the elevated dog bed.
In the summer months, your regular dog bed might be too warm for your dog. An elevated dog bed allows air circulation under the dog bed, keeping your dog cooler in summer. It also reduces the likelihood of mold, mildew and odor.
An elevated bed is easier to get in and out of, especially for older dogs or dogs with arthritis.
Keeps your dog off your furniture.
In the winter, floors can get cold and damp, and there is more of a draft on the floor.
Easy to clean, wipe with a damp cloth or use an outdoor hose.
Great for the aggressive chewers that chew up soft dog beds. Most elevated dog beds are chew resistant.
Work for indoors and outdoors.
Helps a wet dog dry quicker.
Cons Of An Elevated Dog Bed
They don't offer as much support for dogs with joint problems.
Most times there will be some assembly required, but it is minimal.
Not as stylish as other dog beds.
What To Look For In An Elevated Dog Bed
An elevated dog bed is pretty basic, but there are a few things that you might want to keep in mind when choosing the right dog bed for your dog.
Do you want it to fit in a crate? There are some that will fit standard crate sizes.
Durability – Make sure it comes with a strong frame, typically it should be made with steel or metal, there are some good PVC frames as well. Look for reinforced or rounded corners, which will increase the lifespan of the bed.
Mesh panels are pretty standard, but a high-density polyethylene material will help prevent hot spots.
Easy to clean. Most can be cleaned with a damp cloth or hose. If it comes with some type of cushion, make sure it is machine washable.
The right size. Make sure it can support your dog's weight, and that it is big enough for your dog. Measure your dog from the tip of their nose to the base of the tail. Go up one size if you are between sizes to make sure the surface is large enough for your dog.
Chew Resistant. If you dog likes to chew everything, look for the beds that state they are chew resistant.
Best Elevated Dog Beds For Large Dogs
The following list will provide a range in features and pricing to help you find one that works best for you and your dog.
K9 Ballistics Chew Proof Elevated Dog Bed
This elevated dog bed is designed for dogs who like to chew their beds. It resists all destructive dog habits like chewing, biting, scratching, digging and nesting.
Even persistent chewing dogs can not destroy this dog bed. It comes with a 180-day chew proof warranty. If your dog damages the dog bed fabric within the first 180 days, they will replace the fabric free of charge.
The fabric is ripstop ballistic fabric, which is indestructible.

Key Features
Provides even support for joints
Arrives pre-assembled
No fabric edges to chew
Designed to fit most standard sized crates
Includes a waterproof membrane to prevent any moisture from seeping through to the floor
Resists dirt, hair and moisture and easy to clean
180-day chew proof warranty
Ripstop ballistic fabric
Rounded reinforced frame corners
Kuranda Dog Bed
The Kuranda elevated dog bed is chew proof and works both indoors and outdoors and provides orthopedic support.
It is a more expensive elevated dog bed, but it is built tough and supports more weight than most. Built with aircraft grade aluminum frame that supports up to 250 pounds, no matter what size bed you choose.
The durable fabric will work even for the most determined diggers and chewers and is the strongest fabric Kuranda uses out of all the dog beds they make.
Fabric edges are hidden inside frame, to prevent chewing and destruction.

Key Features
Aircraft grade aluminum frame
Supports up to 250 pounds
1 year warranty
Made in U.S.A.
Orthopedic sleeping platform
Chew proof/Bite proof
Rounded reinforced corners
Easy to clean
Indoor/Outdoor
K&H Elevated Dog Bed
The K&H Elevated dog bed provides a fluffy plush bolster for more comfort, support and security. The plush bolster is removable and machine washable.
It comes with a stay cool mesh center for helping your dog stay cool in the warmer months. It is made with 600-denier nylon fabric which is waterproof, bacteria, mold and mildew resistant.
The raised dog bed comes with non-skid rubber feet for safety when your dog is getting in and out and also protects your floors.

Key Features
Supports up to 150 pounds
Available in 3 sizes
Non-skid rubber feet
Machine washable – removable bolster pillow
No tool assembly
Waterproof, bacteria, mold and mildew resistant
Indoor and outdoor use
Canopy available for added shade – ordered separately
Replacement covers available to change from cooling cover to warming cover on the same bed
Floppy Dawg Just Chillin Elevated Dog Bed
This raised dog bed features a removable shade canopy that provides a cool place to rest on those hot summer days.
It is made with high quality 1680D Oxford Fabric that provides a breathable mesh allowing airflow to keep your dog cool. It is built with a steel frame and comes with rubber feet to protect floors and prevent sliding.
This is a light-weight, portable raised dog bed that fits in a travel bag so you can take it along when you are on the go.

Key Features
Removable shade canopy
Indoor and outdoor use
Lightweight and portable
Easy to assemble
Breathable mesh fabric
Supports up to 80 pounds
2 sizes available
Steel frame
QZ Elevated Dog Bed
The QZ raised dog bed provides comfort indoors and outdoors, along with summer months or winter months. In the summer, the raised mesh bed surface allows air to flow through it, keeping your dog cooler.
In the winter months, place the included orthopedic pad on the mesh surface to provide additional comfort and warmth for your dog. Pad is machine washable and made with durable material that resists rips from your dog's claws.
This bed is chew resistant and resistant to digging, scratching and other destructive behavior.

Key Features
Indoor and outdoor use
Waterproof design
Cooling and warming bed
Steel frame
Chew resistant
Easy assembly
4 sizes available
Supports up to 100 pounds
Easy to clean
Summary
When you are looking for an elevated dog bed for large dogs, you want to make sure that the bed is large enough for your dog and that it can support their weight.
A raised dog bed is a great way to provide comfort for your dog during the warmer months, since the air flow around them will keep them cooler.
I had an older Golden Retriever that could barely get up off the floor, but in the summer after a walk, the only place that he would lay would be on the hard tile floor, since it was cooler for him. A raised dog bed would have been better to help cool him and for him to get in and out of.
In general, elevated dog beds do provide support for your dog's joints, but if you think you need to provide more than what a raised dog bed can provide, you should take a look at orthopedic dog beds review.
The list I have provided you with are what I consider the 5 best elevated dog beds for large dogs. There are ones to choose from if you have a chewer, your dog needs extra comfort and for all budgets. I hope you found the perfect raised dog bed for your dog here.
If you have any questions or comments, please leave them below and I will get back with you. You can follow justforyourdog.com on Pinterest or FaceBook for all the latest updates on dogs.
Some of the links within this post are affiliate links of which I might receive a small compensation from sales of certain items.