If your dog gets bored, they can find all kinds of trouble to get into. When your dog is healthy, they usually need to be active to be happy and sometimes they need some guidance to keep them active.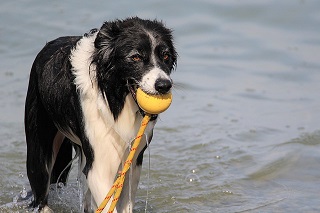 Here are some of the best dog toys for active dogs or to get your dog active.
They are toys that will help keep your dog active physically and mentally. They will help prevent your dog from chewing on your furniture and they are going to help provide the mental stimulation that your dog needs to help prevent them from getting bored.
Some of these toys your dog will be able to entertain themselves with and some of these toys will require you to participate playing with your dog. It is a great time for bonding with your furry buddy, and it will help your dog be healthier by staying active.
These active dog toys have a wide price range, so there should be something for whatever budget you have.
Pet Qwerks Blinky Babble Ball
What dog doesn't at least find some interest in a ball? You can chase them, pick them up and toss them around.
Now how about a ball that interacts with your dog? The Babble Ball does just that, it babbles. Lights flash and there are 18 different sounds that it makes.
It is motion activated or turns one when it is touched. Great for stimulating both sight and sound for your dog.
This ball that plays with your dog has sounds including a bark, hello, banjo music, whistle, ding-dong and many more.
It is covered in tough rubber and is intended for indoor use only.
Turns off automatically when not being played with to preserve the batteries. Batteries are included and should last for 4 to 6 months or 12,000 to 15,000 phases or sounds.
Batteries can be replaced with three 1.5 volt button cell batteries.
Comes in 3 sizes: small for up to 10 pound dog, medium for 12 to 25 pound dog or large for dogs over 25 pounds. If you have a very aggressive chewer, go up one size.
Do not submerse in water, it will damage the electrical components.
If you find you don't like this exact model, there are several different babble balls available that make different sounds.
The Babble Ball will be fun for your dog and your family, when you see your dog tilt his head trying to figure the ball out.

Snuffle Mat For Dogs
The snuffle mat will train your dog's sense of smell and keep them busy when you are away or at home.
It is a dog puzzle that will keep your dog active physically and mentally while they search for food, treats or toys. (Most dogs won't lose interest with food or treats.)
You simply scatter food or treats across the snuffle mat and let the pieces fall between the fabric turf, than let your dog go to work searching for their rewards.
This mat helps stimulate dog's foraging instincts and provides reward for working to find the treats.
You can also use this mat if you have a dog that eats their food too quickly which has the risk of leading to dog bloat.
Great for indoor or outdoor use, is machine washable and dryer safe.
Comes with a non-slip pad on the bottom and measures 15.7″ x 15.7″. If you would like a large area, you can purchase multiple mats and splice them together to make it even more challenging for your dog.

PetSafe Busy Buddy Bouncy Bone
This is a treat holding dog toy. Not only are you providing a durable dog chew, it is holding 2 dog treats for even better fun. It is a nylon bone with a rubber ball, in between the bone and ball it firmly grips the treats.
It helps you redirect unwanted chewing behavior into play time, and the treats last longer because of the challenge.
I just recently purchased this for my puppy that was driving us nuts with his chewing, biting and how to keep entertained, and he loves it. It kept him busy for an hour, which is a big accomplishment for a puppy to stay interested that long.
The ends are bone shaped, with a ball in the middle. You simply unscrew the bone ends and place a rawhide treat ring in between. It was challenging for my little guy, so we eventually loosened it a bit to make it easier for him to work on the treat.
If you want it more challenging for your dog, just tighten the ends more.
Busy Buddy Bouncy Bone is made of safe, non-toxic and BPA-free materials. The materials are tough even for the aggressive chewers.
Comes with 6 natural rawhide treat rings. I would purchase refill packs at the same time that you order the bone.  You will need them, since I think your dog will love this one.
The small size is great for dogs under 10 pounds, medium size for 10 to 50 pounds, medium/large for 50 to 90 pounds and large for over 75 pounds.
Dishwasher safe on top rack only.

Lechong Dog Rope Toy
This rope toy is considered for medium to large dogs and can even hold up to the aggressive chewer, but I think it is a great toy for dogs of all sizes.
It is a heavy rope that is 3 feet long and comes with 5 knots in the rope to give your dog a good place to hang on when playing tug of war. I don't know about you, but every dog I have ever had seems to love playing tug of war.
A rope toy is one of the best toys for teething puppies and dogs of all sizes and breeds. It can reduce anxiety, prevent boredom, increases exercise and helps with teeth cleaning.
Your dog can play tug of war with you or other dogs you may have, flip it around like a rag doll, or carry it around with them. It will keep them entertained for hours.
It is made with 100% natural washable cotton.
Lechong provides a 100% satisfaction guarantee. It should stand up for even the aggressive chewers, but if your aggressive chewer destroys it, contact the company for a replacement or a full refund.

Tumbo Tugger Exercise Dog Toy
Like I have mentioned before, dogs love playing tug of war, but sometimes we aren't available to play tug of war with our dogs. The problem is solved with the Tumbo Tugger Toy.
This dog toy will provide entertainment and exercise for your dog and it is a solo interactive toy.
It is made with a strong and safe bungee cord that is covered with a tough outer layer to protect the bungee cord.
It creates a fun stretching force for your dog to pull against and when they let go, the ball launches off for them to chase like a game of fetch.
It is tough enough to withstand aggressive dogs big or small.
There are options with this exercise dog toy. If you have a small dog that is under 25 pounds, you can purchase the indoor ceiling model. It is attached to a hook that you put into your ceiling where you have a wooden beam.
There is also the outdoor version for small dogs and large dogs that can be attached to a strong tree limb or a second story deck beam.
It is easy to hang with the "no knot" design that allows you to hang in minutes. Toss bungee cord over a strong tree limb, loop it and pull snug. Attach rope and ball toy at desired height for your dog. You can adjust the height from 8 feet to 13 feet off the ground.
Your dog will always know where this toy is, it won't get carried off and lost and you won't have to pick it up before you mow the lawn.
The Tumbo Tugger will provide hours of exercise for your dog along with lots of fun.

iFetch Interactive Ball Launch
The iFetch Ball Launcher lets your dog play fetch for hours on end, even when you are busy. This is a great dog toy for exercise and mental stimulation all in one toy and can be used indoors or outdoors.
Teach your dog to drop the ball in the top of the machine by themselves and the launcher will launch the tennis ball either 10, 20 or 30 feet with the small iFetch or 10, 25 or 40 feet with the large iFetch. You can even put the setting on random to keep your dog guessing where the ball will end up.
The small machine uses mini tennis balls, and the large used standard size tennis balls. Comes with 3 balls each.
Your dog can entertain themselves whenever they want with this interactive dog toy.
If your dog loves tennis balls and loves playing fetch, this is the perfect toy for active dogs.
Get your dog something that keeps them active and works their brain at the same time and you will have one happy pup when he lays down for his nap.

iDig Digging Toy
If your dog isn't playing fetch or tug of war, they might be digging a hole in your yard. I have never understood the joy of digging holes, that is probably because I am the one who has to repair them.
The iDig provides a positive outlet for those dogs who love to dig.
You load the pockets of the iDig with treats or favorite toys, and encourage them to "find it".
This toy will tire out your dog mentally from having to figure out how they can uncover their treats, and physically from digging to find their reward.
The flaps for the treats can be easily removed for washing so it is ready to go the next time you want to put your dog to work.
It is available in 2 styles, the iDig Go is made of fabric with a collapsible base and is great for storage and travel. The iDig Stay has a hard shell, plastic base and is best for aggressive diggers.
If you have a dog that loves to dig, this is the perfect active dog toy that will wear them out mentally and physically and might help you have a few less holes dug in your yard.

Wickedbone Smartbone
This is an automatic and interactive toy for dogs, puppies and cats that can keep them active and entertained all day.
Your dog can chase the Wickedbone or the Wickedbone can chase him. My dog loves being chased around.
You can choose between the interactive auto play mode or control the Wickedbone yourself on your smartphone.
The interactive auto play automatically adjusts to how your dog reacts. When your dog runs, Wickedbone runs after it. When your dog chases it, it turns around and runs away.
Drive mode allows you to control the Wickedbone yourself, giving you 9 available motions. You do need to be within 10 to 30 feet of the Wickedbone for the app to work.
The interactive mode is programmed to attract your dog's attention. There are 12 types of emotional driven systems, making it more entertaining for your dog. It reacts to different types of touch, such as chasing, teasing, avoiding and more.
The Wickedbone is safe and durable made with FDA food-grade poly carbonate that protects your dog's claws and teeth.
The tires and protecting cover are detachable, making them easy to remove and clean or replace if necessary.
This smart and fun interactive smart bone will keep your dog active and entertained all day long.
It is available in white, blue or green.

PetDroid Interactive Dog Ball
My dog loves playing ball, but there is only so much ball I can play before I get distracted and need to do other things.
For dogs that love to play ball all day long, the PetDroid Interactive Ball is a perfect solution. Most dogs can have fun with a ball on their own for a short period of time, but it gets pretty boring when no one is bouncing or tossing the ball around.
The PetDroid Interactive Ball is motion activated that has automatic rolling and bouncing.
There are 2 setting modes to choose from. You can pick rolling with a few bounces or for the really active dog, choose active bouncing wicked ball mode.
This ball provides self play and provide hours of fun for your dog and keeps them active.
Comes with a rechargeable battery that will normally work 2 days without charging. Has automatic shutoff to help preserve the battery.
It is made of hard plastic, helping to prevent destruction from those chewers.
This ball works on hard floors only, you won't get much action on the carpet.

Franklin Pet Supply Dog Fetch Toy
I am back to fetch and balls, since dogs seem to love both. Like I mentioned, I can only play fetch for so long, and to be honest, I am a pretty bad thrower. I guess it does challenge my dog, since you never know where it might end up, but sometimes there is a look of disappointment since the ball only went a few yards.
With the Franklin Dog Fetch, you can make fetch easy for you and more enjoyable for your dog.
This fetch toy firmly grasps the tennis ball and releases it as you swing forward, making the ball go further and faster than you could toss the ball.
No longer will your arm get tired or will you have to bend over to get the slobbery tennis ball. Simply grab the ball with the launcher right off the ground.
It is made of lightweight flexible plastic and has a comfort grip handle. Comes with one launcher and a squeaky tennis ball, but any tennis ball will work if you lose this one.
Spend some quality bonding time with your dog, and make it easier to be the ball thrower your dog wishes for.

Getien Dog Molar Bite Toy
This is a self playing rubber ball on a dog rope. You simply suction cup it to your floor and your dog can tug away in his own game of tug of war.
It helps reduce anxiety, boredom and chewing on furniture, since they have their attention and energy focused on trying to destroy a tough toy.
The rope is designed to help clean your dogs teeth by reducing plaque build-up keeping your dog's breath more fresh. (All rope toys are great for helping remove plaque on your dog's teeth.)
It is made from food-grade TPR materials, making sure that it is safe for your dog.
Stick it on your kitchen floor while you are making dinner, and let your dog have some fun on his own.

PetGeek Electronic Toy Pet
This automatic dog bone will provide entertainment, and exercise for your dog.
It is a bone-shaped automatic dog toy that moves in unexpected routes to keep your dog guessing. It is great for mental stimulation.
Touch the bone to active, and it will move forward, backward and circles. It will go into standby mode after 10 to 15 seconds of none use to help prolong the battery.
Comes with a recharging USB cord, and works for at least 2 hours in interactive mode.
Comes with rubber covers and shell to protect the core that is dishwasher safe and can be replaced if necessary.
This toy is not for aggressive chewers.
A great toy that provides companionship for your dog and gives entertainment to your dog and entire family.
When you can't get outside because of bad weather, the PetGeek automatic dog toy will help exercise your dog and keep their brain working trying to figure out what will happen next.

Pet Qwerks Tug & Toss Dog Toy
So another one of those toys for your dog to tug and toss. Having a new puppy, I am reminded how very sharp those little teeth are and how quickly your hand can get nipped when playing with them.
That won't happen to you with the Pet Qwerks Tug & Toss. It is almost if you have a short fishing pole with a toy on the end for your dog. It keeps your hands and fingers far enough away from the action, but lets you be involved in your dog's little tugging game.
The Flipstick is build for tough tugging and rough play. The fabric teaser is designed to spread the tension over all of your dog's teeth, keeping it safe and fun, and the knotted rope keeps your dog's teeth a safe distance from accidental nips.
This Tug & Toss will even stand up to the strongest of dogs.
Helps them get a bunch of energy out and a good way for your both to spend time together.

Kong
This is one of the most basic toys and one that has been around for a long time. I have had one for years, and my dogs have never shown much interest in one.
That was until I realized that I wasn't using the Kong correctly. A Kong is a great way for your dog to get rid of some of his chewing energy, and it can be used as a brain game as well.
You can place small little treats inside for them to figure out how to get them out, fill the hole with peanut butter or freeze some yogurt inside. Trying to get the treats out of the little hole will keep them busy for a long time and will help them work their brain as well.
I realize this is a more simple toy, but it is one that works to keep them active and busy.
Kongs are available in several sizes, making it a toy that can work for whatever size dog you have.

Summary
Whichever toy for active dogs you choose, your dog will be happy that they have something that will keep them busy mentally and physically. If you choose a toy that you both can enjoy together, they will be even happier being able to spend quality time with you.
Many of these active dog toys are very reasonably priced, so you might want to consider getting 2 that are completely different from each other. It will help keep your dog from getting bored and from getting in trouble when he has nothing fun to do.
If you have any other good suggestions that you would like to share, please do below. I am happy to share with everyone items that make for a healthy happy dog.
If you have any questions or comments please leave them below, and I will get back with you. You can follow justforyourdog.com on FaceBook or Pinterest for all the latest dog updates.
Some of the links within this post are affiliate links of which I might receive a small compensation from sales of certain items.