Getting your dog an orthopedic dog bed has many benefits for your dog, especially if your dog is older and suffering from arthritis, joint pain or hip dysplasia. There are so many dog beds to choose from and some of them are really expensive.
I am going to show you an affordable orthopedic dog bed that still offers great support for your dog. This Milliard Dog Bed Review will show you the design of this dog bed and the benefits of this dog bed has to offer.
Milliard Dog Bed Overview
Dog beds that are made with memory foam can offer the greatest comfort, not only for dogs, for humans as well, but memory foam is what also makes the beds more expensive. The Milliard Premium Orthopedic Memory Foam Dog Bed provides memory foam, but not as thick as some of the other orthopedic dog beds, making it more affordable.
The Milliard Dog Bed provides a 4″ bed for added comfort, but it uses 2″ of premium memory foam (many others use 4″ to 6″ of memory foam – making them more expensive.) They also use 2″ of polyurethane sturdy foam for the base. The bed is designed to conform to your dog's body contours, relieving the pressure from their joints.
The memory foam is soft and the polyurethane foam keeps it firm enough that your dog won't have problems getting up from the bed. The foam base ensures that your dog's weight will be fully supported with no sagging or dipping of the dog bed.
The cover is an anti-microbial waterproof cover made of 100% polyester that is lined with a TPU coating that will protect the foam if your dog has an accident. It is a machine washable cover that is easy to remove and put back on the bed because it has a zipper on two sides of the cover. Make sure that if your dog does have an accident on their dog bed, that you always check to see that the foam is still dry.
The bottom side of the cover has rubber grips for a non-slip dog bed, that has recently been redesigned since there were complaints of the rubber grips coming off in the wash. Milliard has addressed that problem within the last 6 months with their new design making it so the rubber grips don't come off during washing.
All foam is certified by CertiPUR-US to contain only safe and chemical free materials.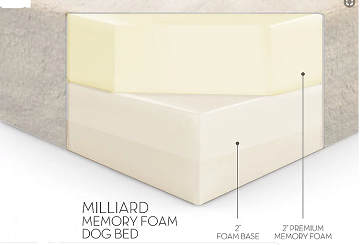 There is only 1 color available, which is a light tan color.
This dog bed is rated 4.6 out of 5 with 82% of customers rating this dog bed a 5. Dog owners and dogs are happy with this dog bed.
Sizing Of The Milliard Dog Bed
There are 4 sizes available for this dog bed. They are small, medium, large and extra large, and the pricing greatly adjusts with the different sizes.
Small measures 24″ x 18″ x 4″ and fits Chihuahuas, Yorkie, Pugs, and Shi Tzus.
Medium measures 34″ x 22″ x 4″ and fits Scotties, Jack Russell, Corgis, Shelties and Beagles.
Large measures 40″ x 35″ x 4″ and fits Huskies, Border Collies, Schnauzers, Labradors and Pit Bulls.
Extra Large measures 46″ x 35″ and fits Golden Retrievers, Rottweilers, German Shepherds, Collies, Greyhounds.
Here are the 4 sizes along with their pricing for each size.  You can order directly from Amazon below.
Information On Memory Foam
Memory Foam is allergy friendly. The dense construction limits allergen build up.
It molds to the body and relieves pressure points by creating a custom fit for the user, and returns to its original shape after being laid on. Memory foam provides the best support for dogs with arthritis and joint pain.
It has a distinct odor that is completely harmless, but may bother someone who is extra sensitive. This smell will dissipate over time. Leaving it outside to air out or opening a window will help, but within 1 to 2 days you should be able to get rid of this smell.
What To Do When You Receive A Memory Foam Bed
Not only this memory foam dog bed, but most memory foam dog beds will arrive rolled up and compressed into a very small box. This bed is also in a vacuum sealed bag. You will need to unroll the dog bed and lay it completely flat. Allow up to 24 hours for it to fully decompress before your dog starts using his new dog bed. This is a great time to get it aired out, before your dog starts using as well.
Summary
If you are looking for affordable orthopedic dog beds, the Milliard Dog Bed is a great dog bed for the price. Remember, this orthopedic dog bed is less expensive than many others that you may find because the memory foam is thinner than many others. The thicker the memory foam, the more expense the dog bed is going to be.
There are many other great orthopedic dog beds available that come at a higher price. You can take a look at 2019 best orthopedic dog beds for older dogs if you would like to make some comparisons.
When you get your dog a memory foam bed, you are investing in the best dog bed you can get your dog. You should notice a difference in your dog's ability to get up after laying on a memory foam bed, and you should also notice that your dog will be able to move around better than before.
By providing your dog with a comfortable place to sleep, your dog will get a more restful nap and you might even notice them crawling on your furniture and bed less often now that they have their own comfy spot to sleep.
If you have any questions or comments, please leave them below, and I will get back to you. If you like the post, you can share it or follow it on Pinterest, FaceBook or Twitter and receive all the latest doggy updates when they become available.
Some of the links within this post are affiliate links of which I might receive a small compensation from sales of certain items.