Having 2 dogs doesn't mean that you need to go and purchase two complete dog training collars. It can be confusing enough making sure you are hitting the right buttons at the right time, you don't want to have to worry about carrying 2 remote controllers and keeping straight which controller is for which dog.
Dog training collars 2 dogs capability is available on several quality training collars, and some of them can even handle more than 2 dogs. I am going to show you the best training collars for multiple dogs, to help you decide which training collar will work best for your pack of dogs. This should help you from researching for hours on which training collar to get.
These are my 4 favorites from the lowest price to the highest price.
Dog Care Training Collar
This collar is an affordable training collar that can provide everything you need in a training collar. It works great for training in the yard or using at a dog park.
Specifications:
3 modes – beep, vibration and shock modes
Waterproof Collar
Range 330 yards
99 levels of stimulation
Up to 9 dogs capabilities – comes with 1 collar, need to purchase each additional collar separately
Collar fits neck sizes 7″ to 25.2″
Receiver and collar rechargeable. No charger included, use USB charger.
Fits dogs 15 pounds to 100 pounds
12 month warranty and lifetime tech support
4.3 rating out of 5 with 87% of customers rating it 5
Petspy P620B Dog Training Collar
I would consider this training collar to be a step above the previous training collar. The range is further along with some additional features. This training collar is a bit more rugged. It comes with 2 training collars along with the remote receiver. It is great for expert trainers and first time dog owners.
Specifications:
3 training modes, beep, vibration and shock
16 adjustable levels
650 yards range
For dogs 10 pounds to 120 pounds
Remote and collar waterproof
Remote and collar rechargeable
Blind operation design – touch distinguishing buttons, which helps with making sure you are giving your dog the type of correction you intended to give your dog.
Silicone sleeves to cover metal prongs – which help protect your dog's skin
Free dog training guide
Lifetime replacement warranty
Rating of 3.9 out of 5 with 63% of customers rating this collar a 5
This is really a quality dog training collar for the price.
SportDog Brand Sporthunter 825X
This is a training collar that any hunter would be pleased with. From the options for how many dogs the remote can handle to the range this collar provides, but it is also a great training collar for anyone that likes to take their dogs on hikes in larger areas. This collar is packed with extra features.
This system comes with one training collar, but you can purchase 2 additional collars for a 3 dog system, or upgrade to the 6 dog system.
Specifications:
3 modes – tone, vibrate and shock
21 levels of stimulation
Waterproof and submersible to 25 feet
Rechargeable collar and remote – 2 hour quick charge
Low battery indicator
Fits dogs 8 pounds or larger with a neck size of 5″ to 22″
Batteries last 50 to 70 hours
Split plug charger included
The 3 dog collars can either be purchased with 1/2 mile range or 3/4 mile range
The 6 dog system comes with 1 mile range
Available in black or camo (camo does cost more)
2 year warranty
Rating 4.5 out of 5 – 77% of customers rate this collar at a 5
The brand SportDog has several series available. If you like the SportDog brand, but this collar isn't right for you, read this full review of the SportDog 425X.
Dogtra 1902S Remote Training Collar
The Dogtra Training collar has the most levels of stimulation of all the collars that I have listed, the highest customer satisfaction rating by far, but also the largest price tag of any of the others. Dogtra is also a great brand like SportDog is, and have several different training collars available. You might also want to take a look at the Dogtra ARC Training Collar.
This system already comes with 2 collars, whereas most of the others I have discussed, extra collars would have to be purchased.
This training collar works from mild to stubborn temperament.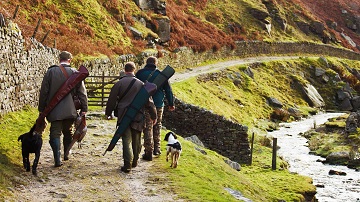 Specifications:
3 modes – vibration, momentary nick, constant stimulation up to 12 seconds
127 levels of stimulation
Waterproof collar and receiver
Slim waterproof collar is ergonomically shaped to your dog's neck
Works for dogs 35 pounds and up with a neck size of 6″ to 26″. Not for dogs younger than 4 months old.
Range is 3/4 mile
LCD screen showing levels of stimulation and battery status
2 hour rapid charge batteries
Rating of 4.9 out of 5 with 96% of customers rating this training collar a 5
Includes The Following
2 collar receivers
1 transmitter
Battery charger, splitter cable, and test light
Gear bag
Owner's manual
Training clicker
Summary
I would consider these training collars to be some of the best training collars for multiple dogs. If you are looking for dog training collars 2 dogs or even more, you should be able to choose from one of these choices to fit the needs that you have for price, range and features.
To help with your decision, I recommend first choosing the units that will cover the number of dogs that you have, I would than decide on what type of range you will need and that should help you narrow down the list helping you make your decision.
When using training collars, always remember to check your dog's neck frequently to make sure they don't have any irritation from the training collar. It is recommended that you periodically spin the collar, so the prongs aren't always in the same location, and don't have your dog wear the collar for longer than necessary. Never more than 10 hours, but 4 hours is a safer time to shoot for.
With training collars, you should always start working with the lowest level of stimulation and work your way higher if necessary. Your goal should be to eventually never need the shock feature, but rather the tone or vibration will be enough for your dog to respond when you need them to. That is why you should never purchase a training collar that doesn't have tone or vibration.
Training collars don't mean you don't still have to train your dog. They are an aid to training and you will still need to work on training with the collar, so your dog understands your requests. They shouldn't be used for punishment, but rather a way to get your dog's attention.
If you have any questions or comments, please leave them below and I will get back to you. Please use the follow or share buttons for Pinterest, FaceBook or Twitter for all the latest dog updates.
Some of the links within this post are affiliate links of which I might receive a small compensation from sales of certain items.