There are so many different dog foods to choose from that it is hard to know which dog food is the best to choose. The bag makes it look like what you are providing your dog is really healthy ingredients, but is that really true?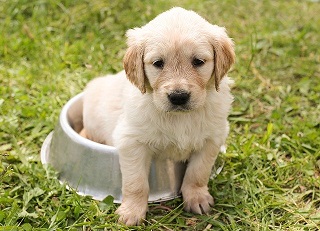 Many dog foods don't provide your dog with the proper or best ingredients for them to maintain good health. Others are charging too much for the quality of dog food that you are actually receiving.
I am going to provide you with some easy to follow instructions on how to read dog food ingredient labels. It will provide you with a scoring system that will help you rate your dog food, to know if you have a high quality dog food or not.
You might also want to take a look at how dry dog food is made. It might give you a better understanding of the products and why they aren't as healthy as it might seem.
Reading The Ingredients In Your Dog Food
Before you purchase any dog food, you should take a look at the ingredient list. The ingredients will be listed in the order of the amount of that ingredient in that food. It starts with whatever ingredient has the highest quantity in that bag of dog food.
Your goal should be that the first ingredient that is listed is meat. That is not the same thing as chicken meal, or beef meal or anything else that is listed with meal behind that.
Proteins that include meal in their description is much different from just the protein itself. In order to make into to meal, the protein is rendered at high temperatures. Because of this rendering, it gets rid of infectious agents which means at times it could include dead, dying and diseased protein. Meal is never allowable or considered fit for human consumption. Why feed our dogs something that isn't allowable for human consumption?
Good And Bad Ingredients In Dog Food
Good Ingredients
Meat – listed as the first ingredient. This provides your dog with their protein which is critical for building and repairing muscles and other body tissues, forms new cells, helps grow hair, provides energy and keeps immune system strong. Your dog needs 1 gram of protein per pound of ideal body weight every day.
Probiotics – Probiotics can aid digestion and modulate the immune system. They are also know to inhibit the growth and activity of harmful bacteria and can help reduce allergic reactions. Some probiotics to look for in your dogs food are Enterococcus, Aspergillus, Bacillus, Bifidobacterium and Lactobacillus. It might also just be listed as probiotics.
Vitamins And Minerals – Your dog receives his vitamins and minerals through a complete and well-balanced diet. Most vitamins and minerals are found in fruits and vegetables, whole meats and oils. Dog food that is heavy processed will lose much of the natural vitamins and minerals from their food. Important vitamins to be included in your dog's diet are Vitamins A, B, C, D, E, K and Choline.
Bad Ingredients
By-products – By-products are what is left from the slaughtered animal after the parts intended for human consumption are removed. They are feet, backs, livers, lungs, heads, brains, spleen, kidneys, stomachs and intestines. They can include dead-on-arrival and condemned parts. With rendering, you are intentionally over-cooking the food to cook away the water, than you skim the fat and bake it. This will remove most of the nutrients from the food.
If there are by-products in the food you are purchasing, at least make sure that it is chicken by-products, turkey by-products, beef by-products or poultry by-products. If it doesn't list what the by-product is, it is a generic by-product.
With a generic by-product, you never know what the source is. It could be road kill, dead zoo animals, dead on arrival poultry, diseased or dying live stock or even euthanized pets from animal shelters.
Never pay top dollar for any dog food that lists animal by-products on its label. They are using cheaper ingredients.
Artificial Colors Or Flavoring – Certain food dyes have been linked to causing cancer in humans, which means they shouldn't be in our dog food either.
Corn – Corn is somewhat debated as good and bad. I consider it on the bad side because of the way corn it is many times stored. Corn that is no longer usable for human consumption is generally the corn that is used in dog food. That means most times it hasn't been proper dried and stored and has mold growing on it. At the very least, don't purchase dog food that is listed high on the ingredient list and it shouldn't be listed two or three times in different forms.
BHA and BHT – Both of these are chemical preservatives. They are added to the fats or oils to help preserve them. They are know carcinogens that have potential to cause kidney and liver damage.
Score Card To Rate Your Dog Food
There is so much information listed on a bag of dog food, that it can be hard for a person that isn't some type of scientist to even make sense of what you are reading. Let me share with you some information that can help you rate the value of your dog food, and help you understand if the price compares with the product itself.
You are going to assign or subtract points to some of the ingredients in your dog food. That will help understand if you are providing your dog with a healthy meal and what price range is fair to pay for that dog food.
Dog Food Scoring System
| INGREDIENT | DESCRIPTION | POINTS |
| --- | --- | --- |
| First Meat Ingredient Is A Meal | | +1 Point |
| Corn Is The First Ingredient | | +3 Points |
| Corn Is The Second Or Third Ingredient | | +2 Points |
| Corn Is Any Other Ingredient | | +1 Point |
| Corn Is Listed More Than Once | | +1 Point |
| By-product is Listed | | +2 Points |
| The Same Carbohydrate Is Listed 3 Or More Times | Grains like Oats, Barley, Rye, Corn, Rice And Wheat | +2 Points |
| Meat Is Not The First Or Second Ingredient | This Does Not Count A Meat Meal | +2 Points |
| Beet Pulp Is Listed | | +1 Point |
| Probiotics Are Listed | Enterococcus, Aspergillus, Bacillus, Bifidobacterium and Lactobacillus | -2 Points |
| Source Of Vitamins Or Minerals Are Provided | Fruits And Vegetables | -1 Point |
Here is how to interpret those scores.
Less than 0 points = Group 1
0-2 points = Group 2
3-4 points = Group 3
5 points or more – Group 4
Group 1 and Group 2 are the dog foods that are more healthy for your dog and the dog food that you should be willing to pay more money for. Don't ever purchase a dog food from group 4 if it costs you more than what group 1 or group 2 cost.
If you can afford dog food from group 1 or group 2, you are providing your dog with a healthy diet that will be beneficial to their overall wellness. I do not recommend purchasing any dog food from group 4.
Examples Of Using The Dog Food Score Card Rating
Example 1
Ollie Dog Food – This is a freshly cooked dog food that is customized for your dog based on their ideal weight, breed and age. The above link will take you directly to order from Ollie Dog Food and a 50% off your first order.
The following is a complete list of all the ingredients that are in their Beef Recipe diet.
Beef, Beef Heart, Sweet Potato, Peas, Potatoe, Beef Kidney, Carrot, Beef Liver, Spinach, Chia Seed, Dicalcium Phosphate, Blueberries, Fish Oil (preserved with Tocopherols), Iodized Salt, Zinc, Gluconate, Rosemary, Vitamin E Supplement, Pyridoxine Hydrochloride (Vitamin B6), Riboflavin (Vitamin B2), Potassium, Iodide.
From the dog food score card, this food would fit into group 1. There are no ingredients that add points to the overall score with this dog food.  This is one of the best dog foods you can provide for your dog.
Read the Ollie Dog Food Review for more information. Going with a fresh dog food diet is more expensive that standard bagged dog food, but it is much more healthy for your dog. If you have concerns with the cost, you can always consider mixing your dog's diet with half fresh dog food and half dried dog food.
Example 2
Blue Buffalo Life Protection Formula – Blue Buffalo comes in a variety of flavors and for several different needs, such as weight management and small and large breeds. For the purchase of this example, I am using their adult formula of chicken and brown rice.
We hear ads for this product all the time on TV, so let's look how it measures up.
Ingredients
Deboned Chicken, Chicken Meal, Brown Rice, Barley, Oatmeal, Chicken Fat (preserved with Mixed Tocopherols), Dried Tomato Pomace, Peas, Flaxseed (source of Omega 3 and 6 Fatty Acids), Natural Flavor, Potatoes, Dehydrated Alfalfa Meal, Calcium Carbonate, Salt, Potassium Chloride, Potato Starch, Dried Chicory Root, DL-Methionine, Caramel Color, preserved with Mixed Tocopherols, Sweet Potatoes, Carrots, Garlic, Choline Chloride, Vitamin E Supplement, Ferrous Sulfate, Iron Amino Acid Chelate, Zinc Amino Acid Chelate, Zinc Sulfate, Yucca Schidigera Extract, L-Lysine, Parsley, Dried Kelp, Blueberries, Cranberries, Apples, Spinach, Blackberries, Pomegranate, Pumpkin, Barley Grass, Turmeric, L-Ascorbyl-2-Polyphosphate (source of Vitamin C), Copper Sulfate, Copper Amino Acid Chelate, Glucosamine Hydrochloride, Nicotinic Acid (Vitamin B3), Calcium Pantothenate (Vitamin B5), Taurine, Biotin (Vitamin B7), Manganese Sulfate, Vitamin A Supplement, Manganese Amino Acid Chelate, L-Carnitine, Thiamine Mononitrate (Vitamin B1), Riboflavin (Vitamin B2), Vitamin D3 Supplement, Vitamin B12 Supplement, Pyridoxine Hydrochloride (Vitamin B6), Beta Carotene, Dried Yeast, Dried Enterococcus faecium fermentation product, Dried Lactobacillus acidophilus fermentation product, Dried Aspergillus niger fermentation extract, Dried Trichoderma longibrachiatum fermentation extract, Dried Bacillus subtilis fermentation extract, Folic Acid (Vitamin B9), Calcium Iodate, Sodium Selenite, Oil of Rosemary.
This dry dog food does score in the Group 1 rating, and I would consider this a very good dog food.
Example 3
Iams Dog Food is my last example I will be showing you. Prior to me going through this exercise, I had no idea how the dog food would rate. I have heard the name frequently and have assumed that it is a high quality dog food.
Ingredients: (There are really a lot of ingredients, which usually isn't a good thing.)
Chicken By-products meal (Natural source of chondroitin sulfate and Glucosamine), Corn Meal, Ground Whole Grain Sorghum, Ground Whole Grain Barley, Fish Meal (source of fish oil), Chicken, Chicken Fat (preserved with mixed Tocopherols, a source of Vitamin E), Dried Beet Pulp, Chicken Flavor, Dried Egg Product, Potassium Chloride, Brewers Dried Yeast, Salt, Sodium Hexametaphosphate, Fructooligosaccharides, Fish Oil (preserved with mixed Tocopherols, a source of Vitamin E), Calcium Carbonate, Flax Meal, Choline Chloride, Minerals, Vitamin E Supplement, Dried Chicken Cartilage (Natural source of Chondroitin Sulfate and Glucosamine), DL-Methionine, Vitamins, Vitamin B12 Supplement, Niacin, Riboflavin Supplement, Inositol, Pyridoxine Hydrochloride, Vitamin D3 Supplement, Folic Acid, Beta-Carotene, L-Carnitine, Marigold, Citric Acid, Rosemary Extract.
When you score the Iams Dog Food, it actually scores in Group 4, the worst group. That did surprise me, and why it is important for you to score the dog food that you are purchasing for your dog. You might be surprised by the quality of food you are feeding your dog.
Conclusion
Choosing the right dog food for our dogs is one of the most important decisions we can make for them, but it is very confusing. The packaging makes us believe we are providing them with the best choice possible, but many times that is not the case.
Learning how to read dog food ingredient labels will help you discover with dog food is good for our dogs, and which dog foods are worth the money. The dog food scoring system that I have provided you with should make the task easier to help decide which dog foods are best.
Never pay premium prices for dog foods that fit in groups 3 or 4. They are using cheaper ingredients and many times not providing the right ingredients for our dogs to have the opportunity to be healthy.
By far, the best dog food that I have found are the freshly cooked dog food. Take a look at what I consider the 3 best fresh dog food services for more information.
If you have any questions or comments, please leave them below and I will get back with you. You can follow justforyourdog.com on Pinterest or FaceBook for all the latest doggy updates.
Some of the links within this post are affiliate links of which I might receive a small compensation from sales of certain items.