Most dogs love to have the freedom to go outside and inside whenever they want. Having to watch the door, get up from your chair or stop what you are doing can get a bit old as a dog owner.
There are several options available to allow you to let your dog go in and out as they please. Today I am going to discuss the screen door doggie door, to help you find the right door for your dog and your home.
You may be surprised with such a narrowed down subject, that there are still many options to look at to get the proper screen door dog door.
What To Look For With A Screen Door Doggie Door
No matter which style of doggie door works best for you, there are a few key items to look for when making your purchasing decision.
Ease of installation
Sizing options
Color options – possibly a concern
Security options
Different height install options
There are doggie screen doors that are a panel in its self that you install in your patio door, and there are also doggie doors where an opening is created within the screen door that you are already using. I will show you my top choices of both types of doggie doors.
Petsafe Freedom Aluminum Patio Panel
If you have a sliding patio door, this might be an option that you want to take a look at. The Petsafe Patio Panel installs directly into your patio door.
It is a full height panel that has a screen door at the bottom for your dog to get in and out. It gets installed tight against the frame where your patio door opens, and your patio door slides up to it. This means that your patio doesn't completely go in the closed position, but rather to the panel.
You are still able to use your patio door, and there is a lock that you use for security when you want your door locked.
It provides a quick installation, no cutting into walls or doors and you only need to fasten 4 screws when you install the patio panel. It is also easy to remove.
There are 2 sizes of panels available, depending on the overall height of your patio door. The height of each one is adjustable, to make sure you get a weather tight seal. The first size adjusts from 75 7/8″ to 80 11/16″ tall. The second option fits patio doors that are 91 7/8″ to 96″ tall.
To find the right size for your application, measure from inside of upper track to inside of lower track.
The dog flap uses a magnetic closure to help keep it closed and the patio panel is made of weather resistant aluminum and shatter-resistant tempered glass for safety.
The slide-in closing panel allows secured control for access to the outdoors.

You will also need to measure your dog to make sure the door itself is the right size. There are 3 measurements that you will need to take to get the proper size.
Measure your dog's width. This is the widest part of your dog either at their hips or chest. Add 1″ to this measurement.
Measure your dog's height. Measure from the top of the shoulders to the bottom of the chest or belly – whichever length is greater and add 1″ to this measurement.
Measure your dog's withers. Measure from the top of the shoulders to the floor and add 1″ to this measurement.
See the chart below to help you with your measurements and choosing the proper size. Also, take note of what the rise is for each of the sizes. This will be how high up the bottom of the door is off the floor.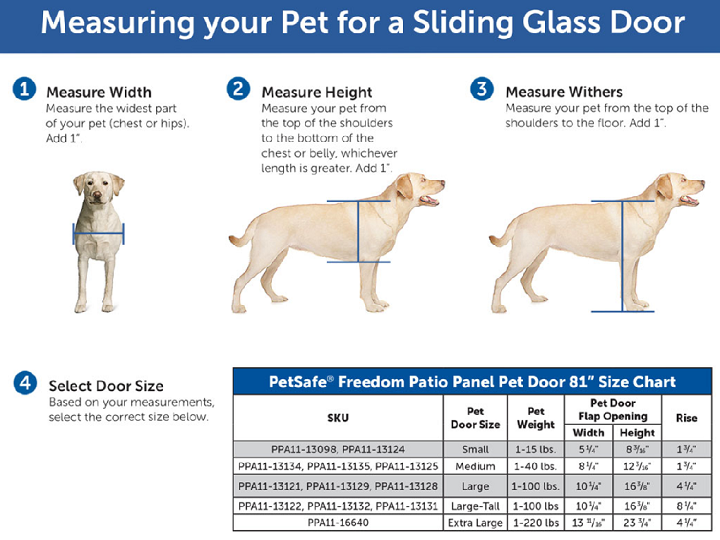 PetSafe Pet Screen Door
If you are not interested in keeping a panel installed in your patio door, there is the option to install a dog door directly into your patio door screen or if you have a screen door, this doggy door will work for that as well.
The PetSafe doggy door is easy to install in your existing screen door, you can install at the proper height for your dog and it has a lock when you want to make sure to keep your dog inside.
It has specially designed mesh material that is puncture and tear-resistant, so you won't be consistently replacing the screen.
Made of a durable plastic frame and screws for support of the frame.
This dog screen door is easy to install. Simply figure out the proper height for your dog, mark it on the screen and place the 2-sided frame on your screen where you want it installed and snap together. Once you have secured the frame, cut out the original screen, and your dog door is fully functionable.
Measure your dog's size the same way I discuss above and use the chart to determine the best size for your dog.


How To Train Your Dog To Use A Doggy Door
In most cases, you won't just be able to install your doggy door and your dog will start using it right away. Most dogs will be a bit afraid and unsure of what and how to use a doggy door. It is important that you train your dog what the door is used for and help them gain their confidence to use it.
Follow these steps when training your dog to use a doggy door.
Never force them through the door, this will frighten them even more.
Start with holding or taping the flap up, making sure it won't fall down on their back.
Place some treats directly in front of the door. Once they show some interest, place some treats outside of the doggy door. Have them repeat this process several times.
Once they are going through the door without fear, let the door lightly touch their back as they go through the door to get used of the feeling of the door weight.
Now see if you can get them to try the door on their own. If there is hesitation, you may need to repeat some of the previous steps.
Conclusion
Having a screen door doggy door can make life easier for your dog and for you. Both of the screen door dog doors that I recommend are made by PetSafe. I have used many PetSafe products before, and I have always felt very happy with the product for the price that I am paying.
If you are going to get a dog door for your screen, I have a few things to remind you of.
Make sure to spend the time to train them to use the door. Most will be afraid at first.
Make sure you purchase the correct size for your dog.
For safety reasons, make sure their is a way to secure the door shut. This will prevent intruders of the human kind and the animal kind.
Install the door at the proper height for your dog. Your dog isn't going to use the door if they have to lay on their belly and crawl through the opening. One size does not fit all.
If you are looking for a more secure doggie door and are willing to install it in either your door or wall, I recommend getting a doggie door that your dog can control with a chip on his collar.  Take a look at this review for a magnetic dog door your dog can control.  This are more costly, but provide much better security.
If you have any questions or comments, please leave them below and I will get back with you. You can follow justforyourdog.com on FaceBook or Pinterest for all your latest doggy updates.
Some of the links within this post are affiliate links of which I might receive a small compensation from sales of certain items.