Do you have a perfectly good dog bed that your dog doesn't seem to use much in the summer? Most times your dog's dog bed gets too warm from them in the summer months for them to feel comfortable laying on.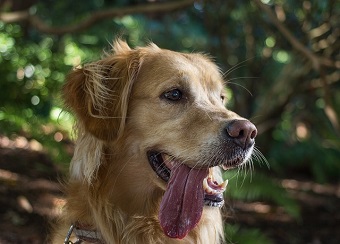 After walking my dog in the summer, the first place that he goes to is the hard tiled floor, since it is much cooler for them, and dogs have a much harder time cooling-off than humans do.
There are not many options available when you are looking for a cooling dog bed, but I will provide you with the best cooling dog beds for summer and the reasons why I feel these are the best options when looking for a cooling dog bed for your dog.
The Sealy Lux Quad Layer Orthopedic Dog Bed
The Sealy dog bed is my number 1 pick of cooling dog beds, but unfortunately it is also the most expensive of the dog cooling beds I will discuss.
I have purchased this exact bed for my Golden Retriever and he loves it. Many dogs have problems with their joints and hips as they age, and laying on a supportive dog bed will help them with their mobility. I don't want him laying on the hard tile floor, but rather his dog bed.
The only way I could get him to use his dog bed when he was warm, was by providing him with a bed that would help cool him down.
The Sealy Dog Bed is an orthopedic dog bed, but it comes with a cooling gel that helps regulate their body temperature by dissipating the heat away from the laying surface, helping your dog to feel more comfortable by not feeling as hot.
It also comes with a memory foam that conforms to their body, which will help with their circulation. There is also a layer of Pro-charcoal on the bottom to help provide support and aids in the absorption of odors to help keep their dog bed smelling more fresh.
You can read the full review of the Sealy Lux Orthopedic Dog Bed for more information.
Follow this Sealy Cooling Bed link to check pricing, sizing and colors.
Kuranda Dog Bed
The Kuranda Dog Bed is an elevated dog bed. Elevated dog beds work great for helping your dog feel cool, since they are able to get air flow all around them. You know the feeling of how hot your bed can get if you lay in one spot, it is no different for your dog as well. If there isn't something from within the bed to help them cool down, their bed can turn into a hot box for your dog.
Elevated dog beds don't provide quite the comfort that an orthopedic dog bed does, but it is still much better than them laying on the hard floor.
There are some real benefits to having an elevated dog bed. If you have a destructive chewing dog, this elevated dog bed is chew proof. It can also be used indoors or outdoors, providing comfort for your dog when you are out in the yard as well. It helps cool them down from all sides since the air can flow through the fabric.
It does provide some orthopedic support and it is built to last. The Kuranda Dog Bed is made with aircraft grade aluminum frame, has rounded reinforced corners and the fabric edges are hidden inside the frame to prevent chewing of fabric.
The durable strong fabric will even hold up to dogs that like to dig or chew on their beds.
This dog bed can support up to 250 pounds no matter what size dog bed you require. The larger size works great if you have 2 medium dogs that like to sleep together or 1 large dog.
It is easy to clean and made in the United States.
If you would like more options to check out elevated dog beds, take a look at 5 best elevated dog beds to find the one that works best for your dog.
Arf Pets Self Cooling Bed
The Arf Pets self cooling bed works great on your dog's current bed, in their crate all by itself.
The cooling pad provides continuous relief for up to 3 hours and is layered over a foam base to provide extra support. This dog bed will not provide nearly as much support for your dog's joints as the Sealy Lux bed though, but it will help them cool down on a hot summer day.
This cooling bed automatically recharges in 15 to 20 minutes of non-use. There is no water, refrigeration, batteries or electricity needed to recharge the cooling bed. It is a solid cooling gel on the top layer.
TheGreenPetShop Dog Cooling Mat
This is a mat and not actually a dog bed, but worth taking a look at if you want to save some money but really want to provide your dog with a better way to cool off on those hot summer days.
TheGreenPetShop dog cooling mat is pressure activated cooling pad. There is no water, refrigeration or electricity needed for it to work. Cools for up to 3 hours and recharges automatically after 15 to 20 minutes of non-use.
You can place it wherever you dog likes to lay. Directly on the floor, in the car, on your furniture, on their dog bed or in their crate.
This is not machine washable. You can clean it with a damp cloth.
Do not leave it in direct sunlight, as this will affect the performance of the cooling mat. (Meaning it will not work correctly outside in the sun.)
The cover is vinyl, so some dogs might not like that feeling. You can purchase a cover for it, or slip it in an old pillowcase to help it be more comfortable for your dog.
Remember, this cooling mat doesn't provide any support for their joints, but does help them cool down.
Conclusion
Helping a dog cool off in the summer can be difficult if you don't have a way to help them out with a cooling dog bed, a cooling vest or a dog pool.
Take a look at some of the best cooling dog beds for summer now, and help your furry friend feel more comfortable quicker. Most dog parents have experienced the overheated pup panting so hard that it never seems like they are going to feel comfortable. I know there has been times when I have keep the air conditioning lower in my home or car than I wanted, just to help keep my dog comfortable.
A cooling dog bed is much less expensive that lowering your air conditioner to please your dog. Check them out on the links above to find the right cooling bed for your dog.
For other ideas on how to keep your dog cool in summer, take a look at the link.
If you have any questions or comments, please leave them below and I will get back with you. You can follow justforyourdog.com on Pinterest or FaceBook for all the latest updates.
Some of the links within this post are affiliate links of which I might receive a small compensation from sales of certain items.